In light of the severity of the current pandemic, the BEYOND Organizing Committee recently issued a statement to move the second BEYOND International Technology Innovation Expo (BEYOND Expo 2022) entirely online in the metaverse on September 21-27, 2022.
This year, BEYOND Expo 2022 will focus on the three newly-launched sub-brands: BEYOND Healthcare, BEYOND Sustainability, and BEYOND ConsumerTech, attracting 500+ exhibitors from around the globe to the BEYOND Metaverse. Concurrently, BEYOND Expo 2022 will host five summits to discuss hot topics around Healthcare, Sustainability, Consumer Tech, Investment, and Web3, inviting tech leaders and industry experts to discuss the future development and growing trends within each sector. 
Events like Startup Roadshows, Fund at First Pitch (VC meetups) and more than 120 networking events will also be organized in the metaverse to enhance interaction among the global ecosystem players, such as corporate leaders, entrepreneurs, investors, experts, and government representatives.
As the conference is focused on showcasing cutting-edge innovation and facilitating discussions between innovators and investors, the organizing committee is launching BEYOND Awards to recognize founders and entrepreneurs in tech. Startups that demonstrate a commitment to solving global issues through innovative technology are invited to apply for a chance to win major prizes and exclusive networking opportunities with investors. This year, there are 2 categories: BEYOND Impact Awards and BEYOND Innovation Awards.
The impact of technology on social and human development is a key area of BEYOND Expo. Therefore, the BEYOND Awards Committee is also recognizing companies that have made great contributions and revolutions to the environment, society, economy, science and technology through the BEYOND Impact Award. Nominations are open to companies and projects focused on using innovative technology to address pressing global problems, and achieve scalable social and environmental impact. 
BEYOND Awards 2022 is dedicated to bringing together the global tech ecosystem and empowering more Asian tech communities to share their innovations on a global stage. 
Selection Remarks
Selections will be made virtually. Winning companies will receive special benefits for entry to BEYOND Expo 2022. 
Nomination Process 
Nominations can only be made by BEYOND Expo Organizers, BEYOND Awards Committee, and BEYOND Expo Partners. 
BEYOND Expo Partners will be announced shortly. 
For partnership inquiries, please email: [email protected]
Eligibility:
Open to all innovative technologies, products and solutions that benefit the industry and society focused on 1 of 3 BEYOND Awards sub-brands: "Healthcare", "Sustainability", or "ConsumerTech".

The applicant must be a legally registered company, regardless of the country; nomination of revenue-generating companies/organizations is highly encouraged, but not a requirement

The products submitted in the application shall not infringe any intellectual property rights, including but not limited to patents, copyrights, and trade secrets.
Selection Process
Nominations:June 30th-August 15th
BEYOND Expo Organizers, Partners, and Awards Committee submit nominations;
Primary selections:August 15th – 30th
The judging panel will review nominations for the preliminary screening process to shortlist candidates
Final selections:August 31st – September 15th
Finalists will be selected
BEYOND Awards Virtual Ceremony: Sep 26th
The BEYOND Awards Committee will announce the 10 winners via livestream
Selection Criteria
Industry Influence:
The company is exerting positive social via technological innovation, and has a strong sense of corporate social responsibility. The project should have high technical feasibility and access to the market, have formed a sustainable business model and generated income, and have a foundation for market expansion. 
Disruptive Innovation:
Innovative companies and innovative products with breakthrough technologies and industry-leading solutions that contribute to sustainable human development and enhance human well-being. Putting scientific and technological innovation as the forefront to innovate and upgrade traditional industry practices. 
Team and Management:
Have a strong corporate culture, company mission and values, take into account both internationalization and innovation. Full understanding of target customers and the industry they belong to, and be able to solve related problems through innovation. Ability to seize future market opportunities. Scalability and ability to look into the potential of future developments while identifying areas for long-term value creation.
Benefits
The top ten companies for each award category will receive:
100% subsidy for 1 Standard Booth at BEYOND Metaexpo 

Fastpass for BEYOND Expo 2022 Fund at First Pitch: companies can participate in the virtual investment summit and engage in 1-1 conversations with investment firms

10 complimentary BEYOND Expo tickets

Access to all media resources & invitation to virtual media press room for participation in conference press releases 

Special Discount for 1 Standard Booth for BEYOND Expo 2023, inclusion in all conference media coverage and livestreams, and opportunities to showcase product demos internationally 

Travel Subsidy (Economy Class) to Macau for 1 cofounder for BEYOND Expo 2023 only if company has registered for a booth 
Note: The BEYOND Organizing Committee reserves the right for all final decisions.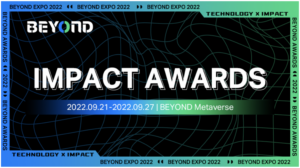 BEYOND Innovation Awards are also open for nominations (self-nominations accepted), designed to acknowledge the contribution of tech innovations in solving global issues. All companies are welcome to apply. Through primary, secondary, and final round selections, the judging panel will assess ideas based on the following criteria: technology, commercial value and creativity to determine the winners for Healthcare Innovation Award, Sustainability Innovation Award, and ConsumerTech Innovation Award. 
At BEYOND Metaverse, nominated companies will have the opportunity to participate in investment summits and engage in 1-1 conversations with investment firms for potential partnership opportunities.
For more information regarding BEYOND Awards, please click to view our official website www.beyondexpo.com!