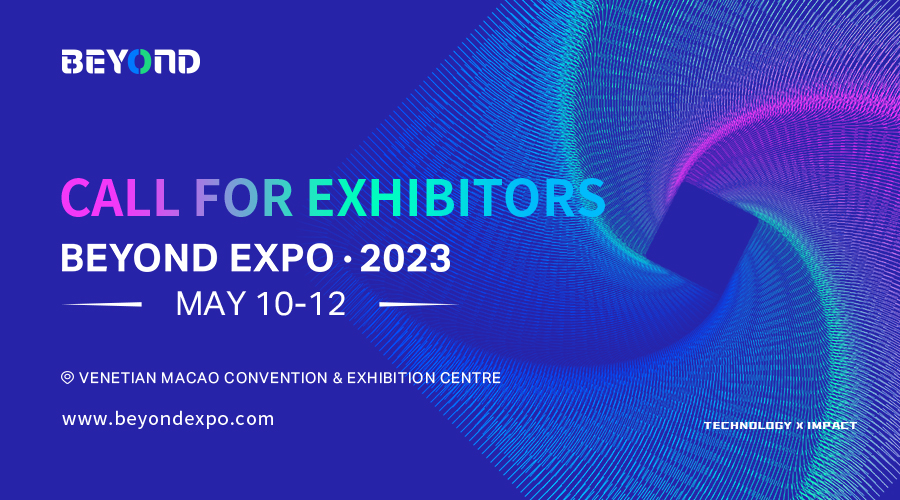 MACAO, March 13, 2023–Now on its third edition, BEYOND International Technology Innovation Expo (BEYOND Expo) returns to its real-world conference format in Macao from May 10 to 12, 2023. The live-streamed and in-person conference format will provide exhibitors and attendees with more direct access to media channels and networking opportunities than ever before through the largest and most influential technology expositions in Asia.
BEYOND Expo 2023 will focus on three key areas: BEYOND Sustainability, BEYOND Healthcare, and BEYOND ConsumerTech, facilitating the exchange of ideas to promote comprehensive industrial modernization, development, and transformation through global technological innovation.
A Platform for Innovations That Matter
BEYOND Sustainability focuses on technological innovation for sustainable development through the application of environmentally sustainable technologies by fostering collaboration among individuals, companies, and governments worldwide. The BEYOND Sustainability Summit will focus on green cities and infrastructure, alternative energy solutions, green transportation, food and agriculture, and green logistics.
BEYOND Healthcare puts cutting-edge technologies, products, and solutions in the life sciences industry at the centre by creating a platform that integrates companies and connects upstream, downstream, investment, and academic exchanges. The BEYOND Healthcare Summit will share innovative insights and visions with global attendees on topics including innovative medicine and biotechnology, big data medical care, AI pharmaceuticals, cutting-edge medical equipment, the future of medical research, innovative medical diagnostics, genetic testing, and anesthesia.
BEYOND ConsumerTech brings together the latest technologies and products in the consumer technology industry, ranging from foundational technologies such as AI, smart manufacturing, and semiconductor chips to industrial applications for individuals, home, and travel, creating a world-leading consumer technology expo in Asia — the largest consumer market and supply chain hub in the world. The BEYOND ConsumerTech Summit will discuss AI, portable devices, drones and robots, IC chips, smart home technology, and financial technology with the attendees.
The BEYOND Global Investment Summit will focus on global investment, cutting-edge technologies, and the impact of technological innovation, serving as a platform for entrepreneurs, top investors, and industry leaders to discuss and share their experiences in discovering promising technological innovations.
A Platform for New Product Launches
BEYOND Expo also highlights the New Product Launch Event, which will provide exhibitors an assured core audience of 15,000 attendees, including major media platforms from China and across the globe.
To be held on May 10 right after the opening ceremony, the New Product Launch Event has been conceptualized with the best visibility in mind, with the largest display stands and the best resource allocation for participating companies, equipped with ultra-clear LED screens and multiple camera angles for viewing by global media. This empowers exhibitors to highlight the details of their product offerings so that potential partners and buyers can have a better view and understanding of their design concepts.
Global Community, and Media Partners
BEYOND is working with the following international community partners: Brinc, Tencent WeStart, Sphere, Startup Thailand, Medtech Innovator Asia Pacific, Worq, KX-Knowledge Exchange for Innovation, Xcel Next, TAO Startup, Singapore Management University-Institute of Innovation & Entrepreneurship, GK Plug and Play Indonesia, Plug and Play APAC, Beyond 4 Tech, KUMPUL, and AAMA.
The following international media partners will be covering BEYOND Expo: CGTN, Reuters, Bloomberg, CNN, Yahoo HK, Time Magazine, TechCrunch,  Engadget, SCMP, Nikkei Asia, Techsauce, Jumpstart Media, Caixin, e27, DealstreetAsia, VietCetera, WHub, The Edge, TechShake, AHEAD ASIA, DailySocial, Teman Startup, The Story Thailand, Channel News Asia.
The following Chinese media partners will be covering BEYOND Expo: CCTV, People's Daily Online, Xinhua News Agency, Global Times, National Business Daily, Tencent Technology, Sina Technology, Netease Technology, Phoenix Technology, Nan Fang Daily, Yangcheng Evening News, Macao Daily News, TechNode, 36Kr, TMTPost.
We shall be updating the list as more partners come on board.
The BEYOND Organizing Committee will also actively promote the event through online and offline channels, including a large billboard at the exhibition area. BEYOND's official website, app, and social media platforms (LinkedIn, Twitter, YouTube, WeChat, Weibo, Jitterbug, etc.) will also carry out announcements, live broadcasts, and reports.
Event Details and Registration
Scan the QR code to register.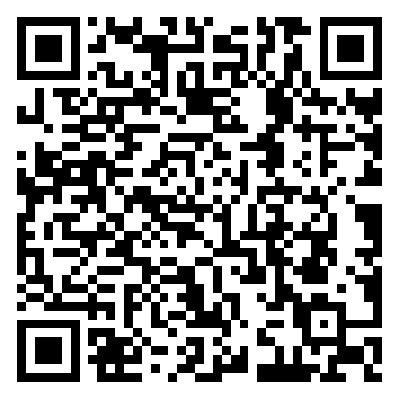 Across Southeast Asia With BEYOND Tonight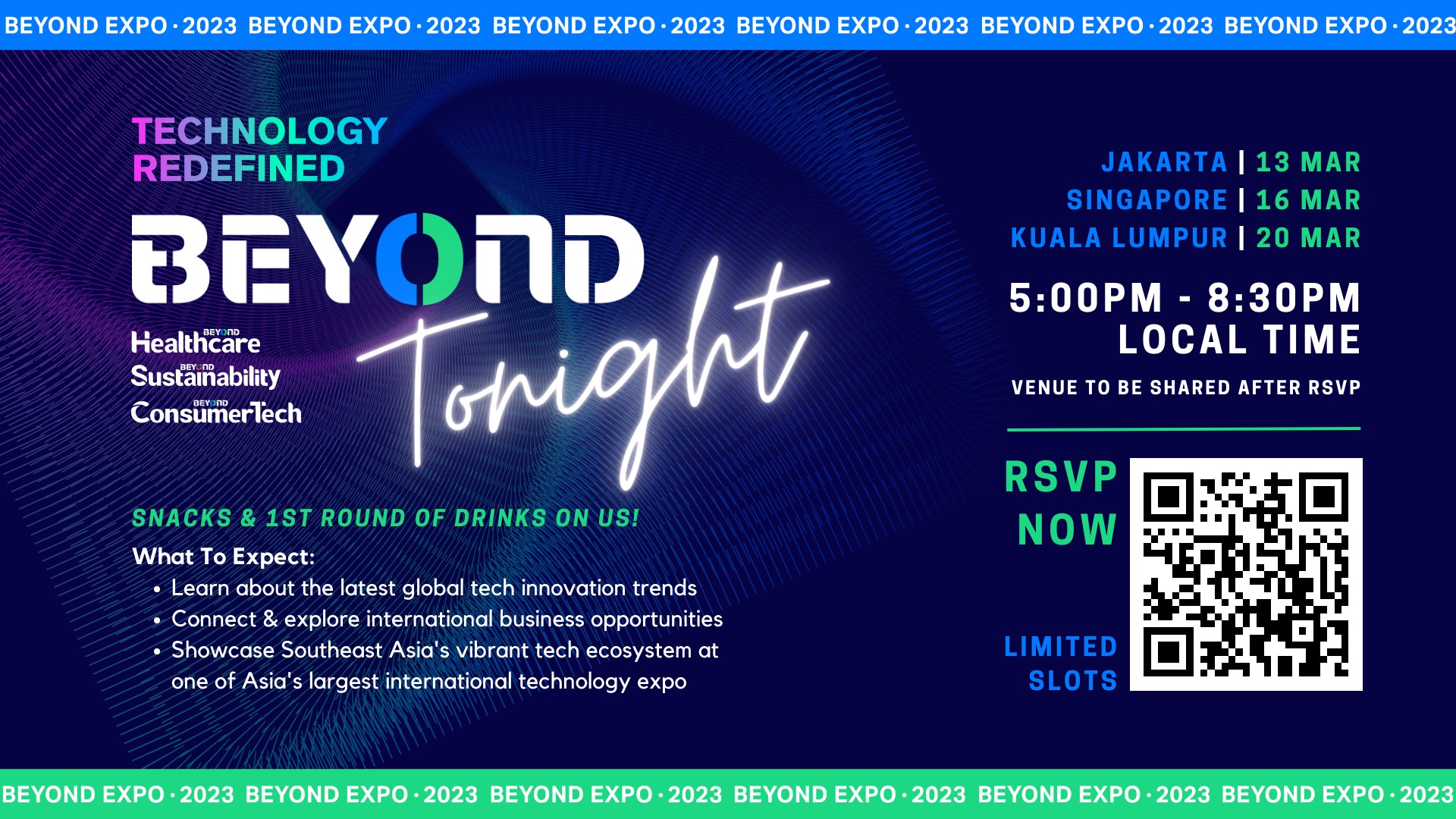 Leading up to BEYOND Expo, BEYOND will also have a roadshow across Southeast Asia, with BEYOND Tonight, to be held in Jakarta, Singapore, and Kuala Lumpur. Through BEYOND Tonight, participants can expect to learn about the latest global tech innovation trends and explore international business opportunities through networking. BEYOND Tonight will showcase Southeast Asia's vibrant tech ecosystem at one of Asia's largest technology expos.
Event details
Jakarta: March 13
Singapore: March 16
Kuala Lumpur: March 20
Venue to be shared after RSVP
RSVP now by scanning this QR code (limited slots):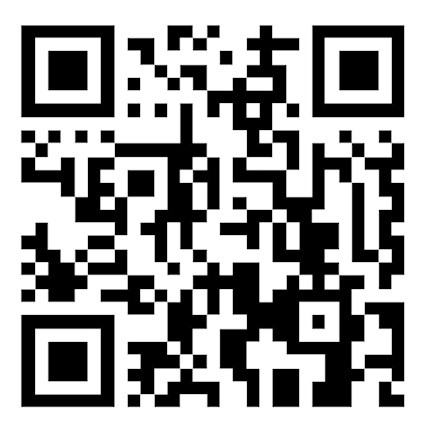 About BEYOND
Since 2020, BEYOND Expo has held two successful events, growing to be one of the largest and most influential technology expositions in Asia, attracting 800+ exhibitors and 55,000+ attendees worldwide. Running more than 150 industry forums with 500+ business leaders as speakers, BEYOND Expo provides a global platform for insightful technology exchange.
BEYOND Expo will be held at the Venetian Macao Convention and Exhibition Center, which is spread across approximately 100,000 sqm and can accommodate more than 1,000 exhibitors. We expect Fortune 500 corporates, large multinational enterprises, tech unicorns, and startups to participate in this year's event. There will be more than 100 events and networking sessions at BEYOND Expo.
We look forward to connecting with global tech innovation enthusiasts and facilitating in-depth interaction across all fields, including enterprise, product, capital, and industries, to promote the global tech scene in the Asia-Pacific region and across the world.
Contact Details
Official website: https://beyondexpo.com/