The world faces many environmental, economic, and health challenges. Commitment to sustainable development is key to the survival of future generations and must be a global effort. To achieve sustainable development, continuous progress and innovation of science and technology is necessary to introduce new sources of resources and energy, develop zero to low carbon emissions, and contribute to a greener economy.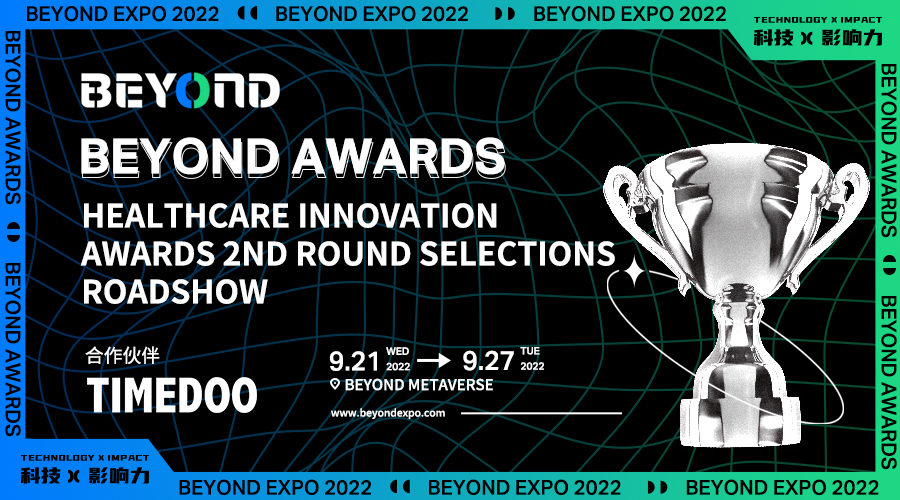 Technological innovation and impact has always been a key focus of BEYOND Expo to bring together the global innovation ecosystem and promote cross-border cooperation across various industries. As the conference is focused on showcasing cutting-edge innovation and facilitating discussions between innovators and investors, the organizing committee launched BEYOND Awards to recognize founders and entrepreneurs in tech. At present, the review of the BEYOND Innovation Award is in progress.
Since launch, over 300 projects have been nominated for the BEYOND Innovation Awards. The BEYOND Awards Committee is currently reviewing projects for 2nd round selections. After all three stages of a virtual roadshow, offline roadshow, and video submission review, 90 companies will be selected to move on for the final round.
On August 18th, 2022, the BEYOND Organizing Committee and TIMEDOO held a roadshow for the BEYOND Awards Healthcare Innovation Awards. Ten outstanding innovation teams displayed their products and services to a judging panel, which assessed each project on technological innovation, market value, and core capabilities. The purpose is to discover innovative companies with cutting-edge innovative technologies and enhance interaction among the global ecosystem players, such as corporate leaders, entrepreneurs, investors, experts, and government representatives.
Judging Panel
Since the beginning of BEYOND Awards, we have received support from various fields. The BEYOND Awards Healthcare Innovation Award Re-selection Roadshow is honoured to invite judges: Feng Jianlin, Head of Amazon Cloud Startups; Dai Minghan, Investment Director of Miracle Light Venture Capital Fund; Wang Yong, Post-Doctoral Fellow of the University of Texas MD Anderson Cancer Center; Cao Hanyang, Senior Investment Manager at Yuexiu Industrial Fund; Dr. Lin Zihong, Deputy Secretary-General of China Cancer Prevention and Control Alliance; Lin Jiani, Investment Director of Meihua Venture Capital, and guests from well-known investment institutions such as GGV and Inno Angel Fund. The judges provided targeted suggestions for projects based on market value, product innovation, team/management among other dimensions, and jointly selected projects to enter the final selection round.
Projects Introduction
Company Name: Huida (Shanghai) Biotechnology Co., Ltd.
Project Title: Application of Novel Gene Editing Tools in Various Diseases
Company Name: Changzhou Xianqian Technology Co., Ltd.
Project Name: LAMP-BIOSENSOR-AI POCT Rapid Genetic Screening Products
Company Name: Shenzhen Huayun Smart Health Co., Ltd.
Project name: Painless blood test chip device
Company Name: Anhui Qinghang Intelligent Technology Co., Ltd.
Project Name: High Precision Medical Microsystem Chip
Company Name: Guangzhou Haige Intelligent Manufacturing Information Technology Co., Ltd.
Project name: Xinshikang wrist fixator
Company Name: Shenzhen Bu Rui Biotechnology Co., Ltd.
Project Name: Buray Technology
Company Name: Shenzhen Non-Balanced Artificial Intelligence Medical Co., Ltd.
Project Name: Smart Medical Electronic Handband and Handheld Terminal PDA Digital Monitoring Solution
Company Name: Hangzhou Nuowei Information Technology Co., Ltd.
Project Name: Nuoweixin® Privacy Protection Computing Platform
Company Name: Lai Meng Madison Medical Technology (Beijing) Co., Ltd.
Project name: Gambican®, Gampexan® Plus – Liver Cancer Methylation Detection Plus, IvyGene®Plus – Pan-Cancer Methylation Detection
Company Name: AICAN
Project Title: AICAN helps radiologists read MRI images and make cancer diagnosis recommendations
Company Name: Huaxia Yingtai (Beijing) Biotechnology Co., Ltd.
Project Title: Innovative STAR-T and TCR-T Cell Immunotherapy Technology
About BEYOND
BEYOND Expo 2022 will fully embrace the metaverse, push the boundaries of reality and virtuality, and provide an immersive and interactive experience for all guests. The week-long conference will focus on the three newly launched sub-brands: BEYOND Healthcare, BEYOND Sustainability, and BEYOND ConsumerTech, attracting 20,000+ tech innovation enthusiasts and 500+ exhibitors from around the globe to the BEYOND Metaverse. Concurrently, BEYOND Expo 2022 will host five summits to discuss key topics around Healthcare, Sustainability, ConsumerTech, Investment, and Web3, inviting tech leaders and industry experts to discuss the future development and growing trends within each sector. Events like Startup Roadshows, Fund at First Pitch (VC meetups) and more than 150 networking events will also be organized in the metaverse to enhance interaction among the global ecosystem players, such as corporate leaders, entrepreneurs, investors, experts, and government representatives.

About TIMEDOO
At the forefront of biotech, medicine, education and innovation, TIMEDOO offers the largest concentration of expertise in China. Since 2015, TIMEDOO has strived to make New-Tech widely available so that biotech and medicine can serve and transform society, and positively impact the lives of people.TIMEDOO is a healthcare Media company dedicated to providing physicians and other healthcare professionals with information directly relevant to patient care.
The focus of TIMEDOO will be practice-oriented products and technology providing clinicians with the latest information needed to improve medical care.Typically, TIMEDOO then executes on the influencer campaign and performs activities about medicine and biotech. Diversity of marketing services, especially the widely use of broadcast live online, distance education, online advertising, real-time video conferencing make New-Tech could spread fast.
Committed to the highest standards of research and education, TIMEDOO collaborates with academic institutions and industry to drive innovation, setting the highest standards in biotech and medicine education and practice.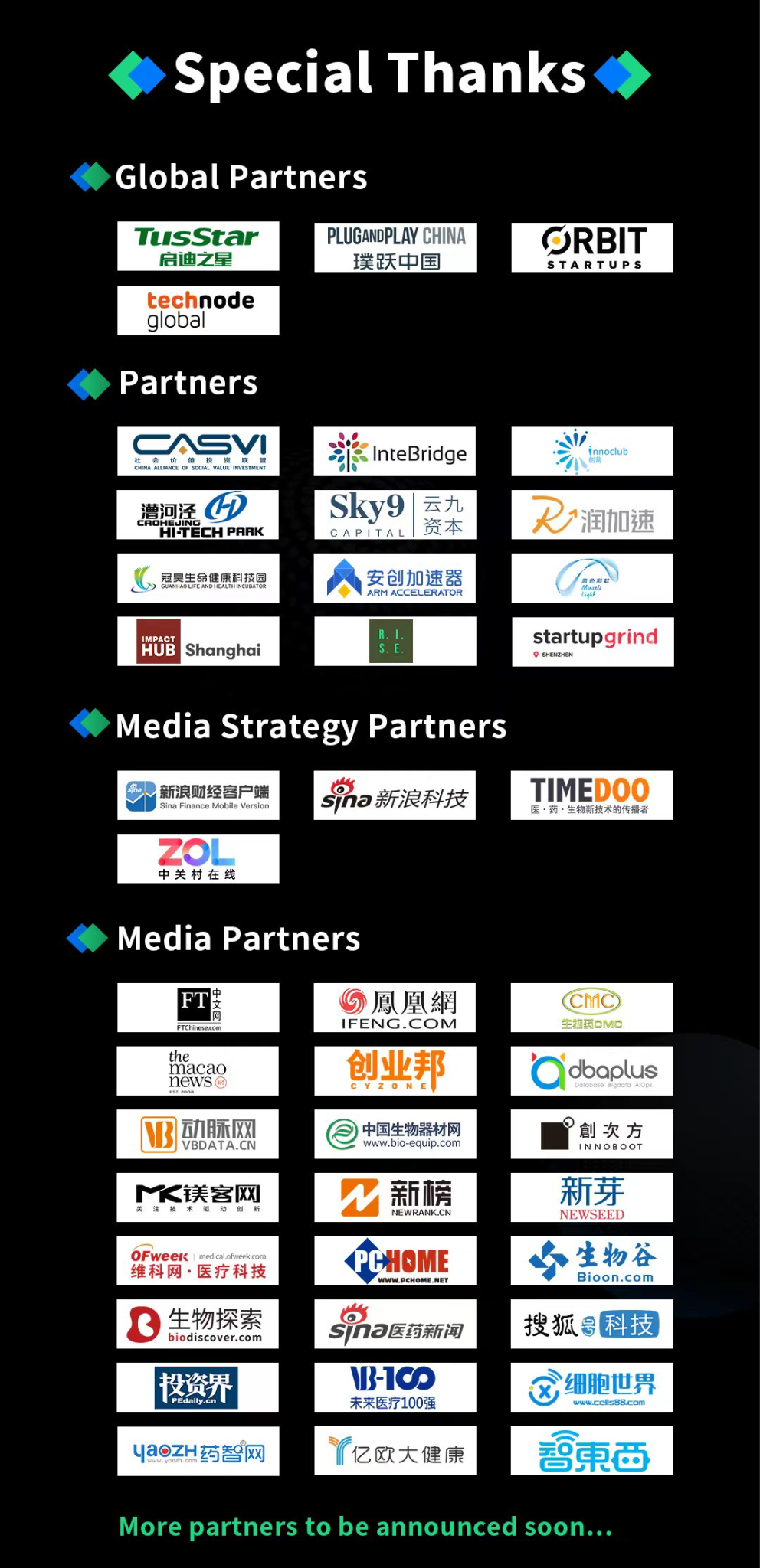 For more inquiries, please contact:
Business Partnerships:[email protected]
Media Partnerships:[email protected]
Exhibitor Partnerships:[email protected]
Other Partnerships:[email protected]