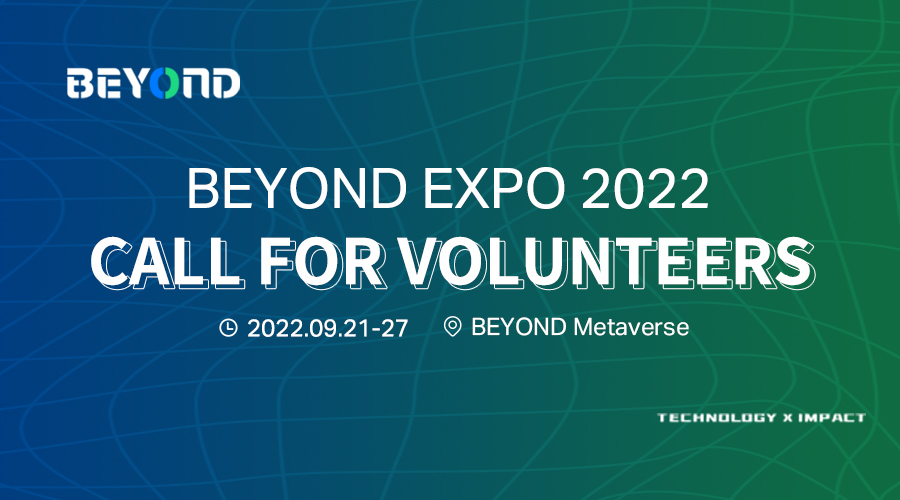 BEYOND EXPO 2022 Call for Volunteers
If you are interested in technology and its impact on society,
committed to understanding international technology and industry development trends;
aspire to meet leaders in various industries and work with experienced industry experts;
and eager to learn about innovative projects that will change the future;
Congratulations!
BEYOND Expo 2022 is Recruiting Volunteers!
The 2nd BEYOND International Science and Technology Innovation Expo (BEYOND Expo 2022) will be held in the BEYOND Metaverse from September 21st to 27th, lasting for 7 days. This year, BEYOND Expo 2022 will fully embrace the metaverse, push the boundaries of reality and virtuality, and provide an immersive and interactive experience for all guests.
This is a conference featuring world leaders from various industries who will discuss industrial development and reform and multiple exhibition areas that will display cutting-edge technology products across different verticals. We sincerely invite all volunteers who are interested in technological innovation, and we hope that through your efforts, we can provide better services to international guests and leading companies across various industries. We will also unveil an open concept platform for conference activities so you can learn, experience and interact with global technological advancements at the forefront of innovation.
Volunteer Recruitment Period: Now till September 14th
Volunteer Benefits:
1. Free ticketto BEYOND Metaverse!
2. Connect with successful startup teams in the tech industry
3. Interact with industry experts and academicians across many verticals
4. Learn about future development plans for global technological innovations
5. Obtain an official volunteer certificate issued by the BEYOND Expo 2022 Committee
Volunteer Requirements:
1. Have the spirit of dedication, friendship, mutual assistance, and progress, and be willing to learn new things.
2. Strong teamwork, interpersonal skills, and ability to work independently
3. Interested in the technology industry and have unrestrained creativity
4. Preference will be given to those participating in on- and off-campus activities and other volunteer services.
5. Preference will be given to those who can proficiently communicate in at least one foreign language, have a global perspective, and have extensive experience!
6. If you have a skill you are proud of, such as writing, photography, video, design, typography, etc. those are bonus points!
Note: You must have an open schedule 1 week before the event, and must be able to participate in mandatory training 3 days in advance
Registration Details:
September 21st to 27th is the official time for the conference, where all volunteers are expected to be present. We will allocate the different positions according to each volunteer profile. Positions include venue guidance, on-site coordination, online interaction, graphic production, etc. If you are interested in becoming a volunteer at BEYOND Expo, please scan the QR code below to fill in your information, and we will contact you as soon as possible.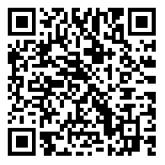 Chinese Version

English Version
About BEYOND
BEYOND Expo 2022 is hosted by the Macau Federation of Science and Technology, and enabled by the following strategic partners: Foreign Trade Development Bureau of the Ministry of Commerce, Planning and Development Bureau of the state-owned Assets Supervision and Administration Commission of the State Council, International Economic and Technological Cooperation Center of the Ministry of Industry and Information Technology, Foreign Cooperation and Exchange Center of the Ministry of Ecology and Environment, China International Science and Technology Exchange Center, Chinese Medical Association, and Landi International Think Tank.
The Expo is co-organized by the Guangdong Federation of Industry and Commerce (General Chamber of Commerce), Guangdong-Hong Kong-Macao Cooperation Promotion Association, TechNode Global, Forte Inc, Nam Kwong International Convention and Exhibition Co. Ltd.
Supporting partners include the Macao Trade and Investment Promotion Institute, Macao Economic and Technological Development Bureau, Macao Health Bureau, Zhongguancun Development Group, Guangdong Provincial Department of Science and Technology, Shenzhen Science and Technology Innovation Committee, Beijing Hong Kong-Macao-Taiwan Science and Technology Cooperation Center, Shanghai Science and Technology Exchange Center, China Environmental Protection Association, "One Belt One Road" International Green Development Alliance, the Chinese Enterprise Entrepreneurs Club, the Social Investment Value Alliance, the Guangdong-Hong Kong-Macao Greater Bay Area Entrepreneurs Alliance, and the Beijing-Macao Economic and Cultural Promotion Association. BEYOND Expo aims to become a focal point of the global technology industry, connect more tech startups to Macao's ecosystem, and position Macao as a growing hub within the international tech ecosystem.
BEYOND Expo 2022 will be held in the metaverse. The exhibition area will focus on three sub-brands: BEYOND Healthcare, BEYOND Sustainability, and BEYOND ConsumerTech, attracting 20,000+ tech innovation enthusiasts and 500+ exhibitors from around the globe to the BEYOND Metaverse. The proportion of enterprises is expected to reach 40%, and five industry summits will be set up to discuss key topics around Healthcare, Sustainability, ConsumerTech, Investment, and Web3, inviting tech leaders and industry experts to discuss the future development and growing trends within each sector. Events like Startup Roadshows, Fund at First Pitch (VC meetups) and more than 120 networking events will also be organized in the metaverse to enhance interaction among the global ecosystem players, such as corporate leaders, entrepreneurs, investors, experts, and government representatives.
BEYOND Expo 2022 Schedule of Events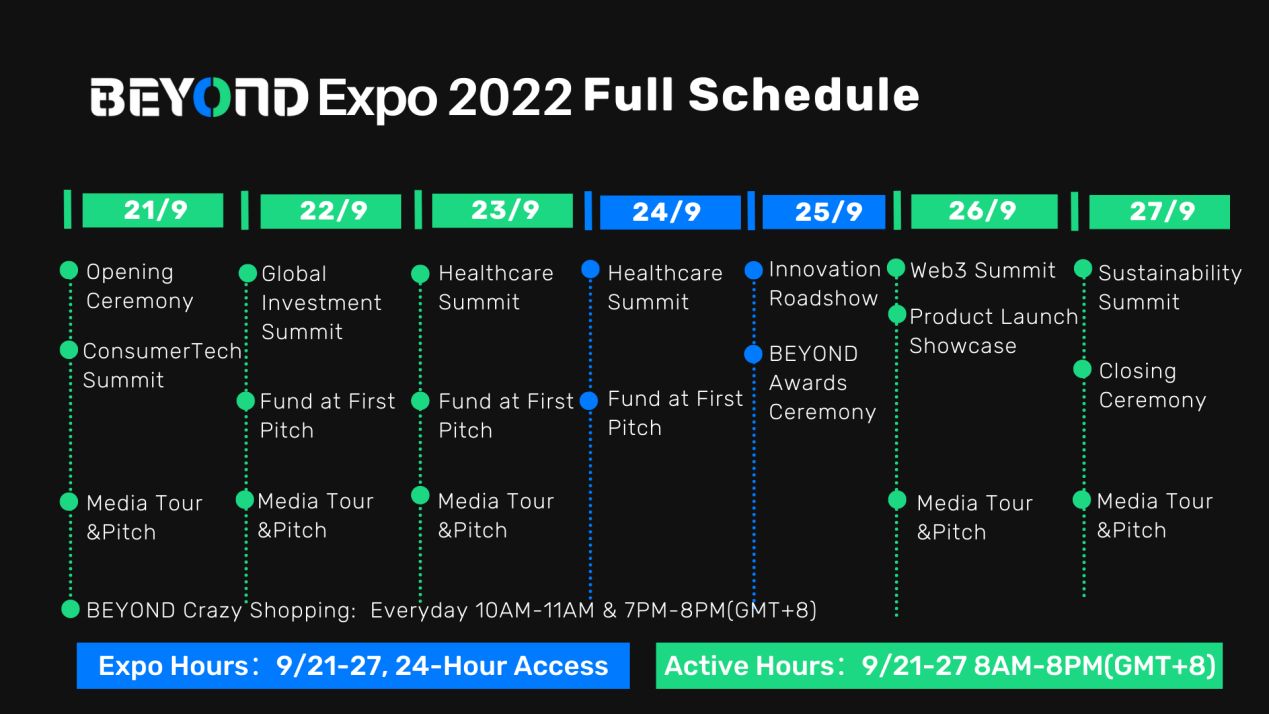 No matter where you are, BEYOND Metaverse can easily participate through smart terminal devices, bringing you a more authentic and efficient online social experience. Furthermore, the BEYOND organizing committee makes full use of the metaverse space to plan the BEYOND shopping festival, media tours, overseas corporate roadshows, new product launches, and other special events to attract more potential exhibitors potential visitors to BEYOND Expo 2022.
Shopping Festival:
BEYOND Expo 2022 will launch the "BEYOND Shopping Festival," which will jointly launch special offers for attendees with Metaverse exhibitors during the BEYOND conference event. Participants can directly understand product information and place online orders in the BEYOND Metaverse. The event will increase the interaction with users and participants and, at the same time, can bring certain business benefits to exhibitors. BEYOND officials will also devote publicity resources to promote, get greater exposure to exhibitors, and create a technology shopping carnival that turns the whole audience up!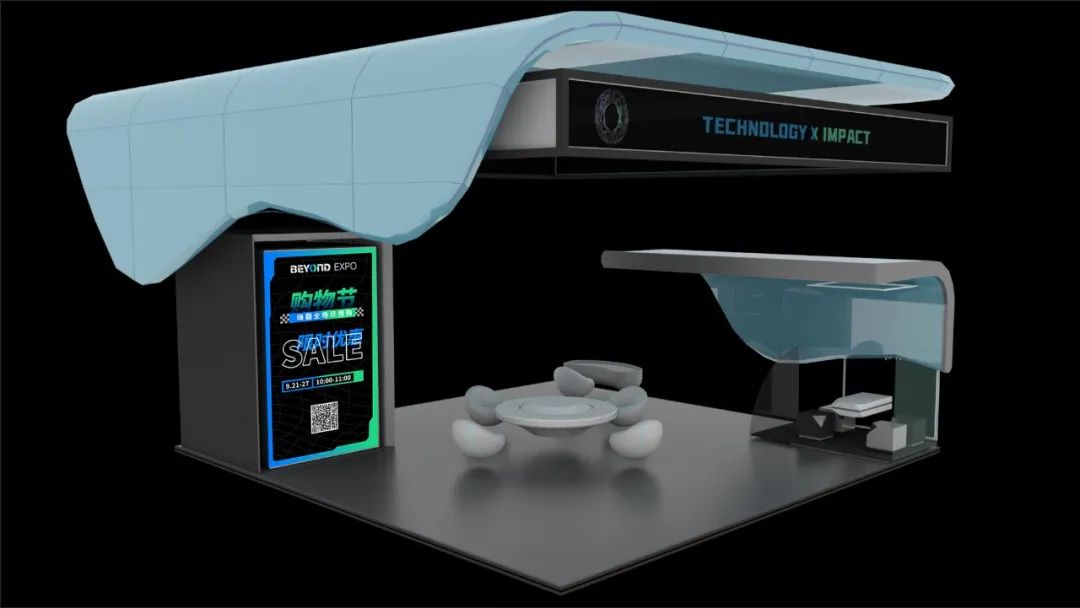 Media Tour
During the BEYOND Expo, based on the focus of the media partners, the media will be led to visit the corresponding booths through exhibitors to show cutting-edge technological innovation products to the media partners in the professional field to promote communication between the media and exhibitors. As a result, media partners will have a comprehensive understanding of the most advanced technology concepts and brand culture in different areas of consumer technology, sustainable development, and life sciences. At the same time, the media can conduct interviews and real-time reports on interested companies. Exhibitors can also interact with media friends online in real-time, enjoy media and live broadcast exposure opportunities, strengthen audience connections, and deepen their valuable experience. In addition, it will bring multi-dimensional, in-depth, and international professional reports to the global audience.
Invited Media List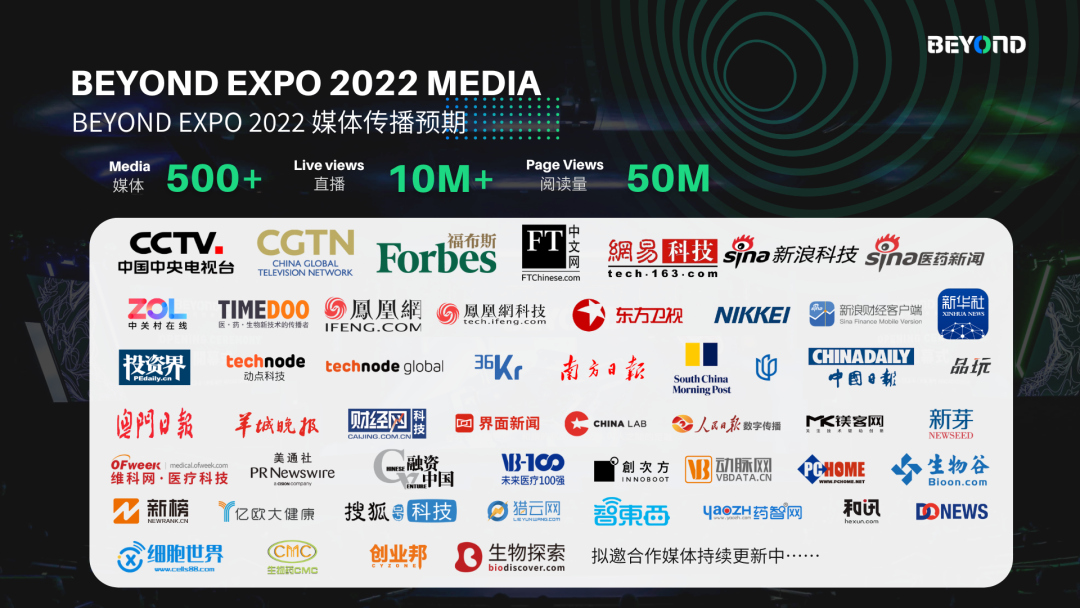 Fund at First Pitch
Capital boosts technological innovation and is an indispensable part of the innovation ecosystem. The Fund at First Pitch event at BEYOND Expo 2022 will foster new opportunities for startup founders, as the BEYOND Organizing Committee has invited some of the world's most prominent investment firms to gather in the metaverse and have 1-on-1 conversations with startup founders without geographical restrictions. Companies that passed a screening process will gain access to a special area with 10 rooms to meet with investors based on a scheduled time. Innovation will be a key focus, and founders can build a strong network with capital providers for future access to financing opportunities. In addition, the Fund at First Pitch and the Global Investment Summit will promote efficient product development based on scientific research while bridging gaps between capital and technological innovation.
Invited Investment Institutions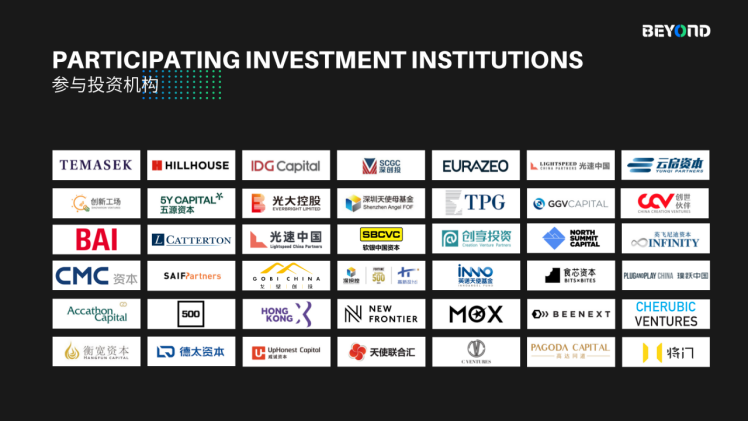 Innovation Roadshow
Founders and company representatives are invited to demonstrate the value of their products/services from various dimensions, including technological innovation, business value, marketing capabilities, corporate culture, and more through Startup Roadshows hosted by the BEYOND Organizing Committee. Startups will receive personalized feedback from judges while showcasing their market potential to capital providers. Through this highly interactive experience, BEYOND media partners can effectively communicate key highlights to enhance the brand awareness and corporate image of participating startups.
Discuss Future Trends with Leading Companies
Technological innovation and impact have always been a key focus of BEYOND Expo to bring together the global innovation ecosystem and promote cross-border cooperation across various industries. BEYOND Expo 2022 has attracted the participation of leading companies in various industries, from Anker, Cowa, NBA, OPPO, Pico, Alibaba Group, Macau Pass, Aoqin Technology Cooperation Demonstration Zone, Changlong Resort, Deloitte, Fosun Pharmaceutical, Huawei, Hengjian Holdings, Economic and Technology Development Bureau, Livzon Pharmaceutical, London Development Agency, Mayi Bank, Nam Kwong Group, Pingan Bank, SenseTime, Tencent, Siemens, Xpeng Motors, Mindfulness Capital, China Telecom, China State Construction International, China Water Environment Group, Sino-Portuguese Science and Technology Exchange and Cooperation Exhibition Area, among many more others. Each will build their virtual booths in the exhibition area of ​​BEYOND Metaverse. They will showcase their latest products and innovation concepts for global participants, effectively achieving product promotion, enhancing brand influence, and building theircorporate image. More exhibitor information will be announced in the future.
BEYOND International Technology Innovation Expo,
September 21-27th,
See you in the BEYOND Metaverse!