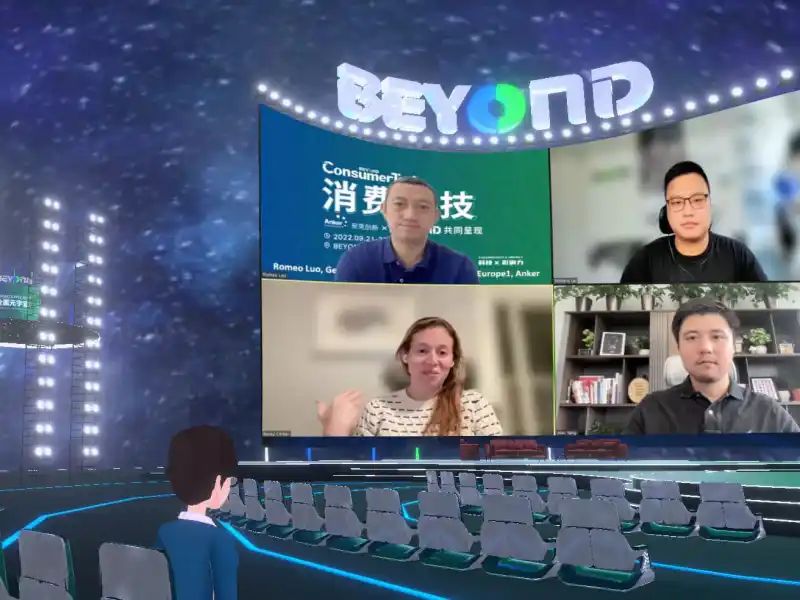 In recent years there has been a concerted push within the field of consumer electronics toward smart devices and digital services, with the emergence and growth of sectors such as smart home, digital health metrics, and online shopping tech. But how has the pandemic impacted such trends?
Becky Center, CEO of Indiegogo, Alex Yang, co-founder and COO of Tuya Smart, and Romeo Luo, General Manager of Asia Pacific and Europe at Anker discussed these major global tech movements, Covid-19's impact, and future trends at a panel discussion on Sept. 26 at the Beyond Expo 2022 tech conference, held online at BEYOND Metaverse.
The text below has been condensed and edited for clarity.

Becky Center, CEO of Indiegogo
From a global perspective, the developing trend of smart home products and smart home services is unstoppable. From an Asian perspective, clear trends can be seen in smart cleaners, smart storage for toys, smart child care, and other add-ons related to in-house scenarios.
I'm the kind of person who wants to buy cleaning products because I want the cleaning robot to help me clean my home while I'm asleep. Smart homes and smart security products have been on the rising trend for a while.
Another [rising] area is dining. There are all kinds of small home appliances for manufacturing food in Asia. The speed of development here has been very fast and during the Covid outbreak, sales of such products got even better. Even areas like generators and batteries for family use saw sales growth. Consumers are paying more and more attention to such products. And it is easy to understand why sales of such products are rising during the pandemic.
Alex Yang, co-founder and COO of Tuya Smart
The biggest pusher of technological progress is that people are getting lazier, and they are starting to care about their health. Also, people increasingly rely on their smartphones to control everything, like their facilities and devices at home. They even want to put their health data into phones, and I think that's a habit that will drive technology forward, helping people to live healthier life.
People usually don't like to work out, so they need to have some power to force them to exercise, such as seeing more data. They need data from apps to tell if they have a good workout and encourage them to continue. If they missed three days' attendance, they would want to get back on track to continue exercising. And this is a very popular trend in our view.
People need to know how many calories they are burning and how much energy they are using in their homes, and more consumers are using data to drive their behavior. Those tools have been high in demand.
Romeo Luo, general manager of Asia Pacific & Europe at Anker
When we talk about changes in [buying] behavior, we have to start with the changes in sales behavior. Many brick-and-mortar stores have opened their own online stores, and major supermarket suppliers have set up online platforms. For companies like Walmart, selling online or offline is the same because they have integrated the two channels.
We also have livestreaming channels on Taobao, which makes it not only an online e-commerce platform. Sellers can interact with consumers in real time, which is a great change. It can better enhance interaction, recording the traffic trend and direction. And we are basically following this trend, tracking consumers' consumption habits and needs, hoping they can find products in the most accessible channels. For example, we know that Austin Li returned a few days ago. He is the king of livestream e-commerce. In the livestreaming room, he can bring waves of sales just by interacting with the audience.
Therefore, we can see the combination of offline products, online sales channels, and communication channels. It would have taken us a decade or two to get there if the pandemic didn't force us, or it would have taken us a long time globally to get there.