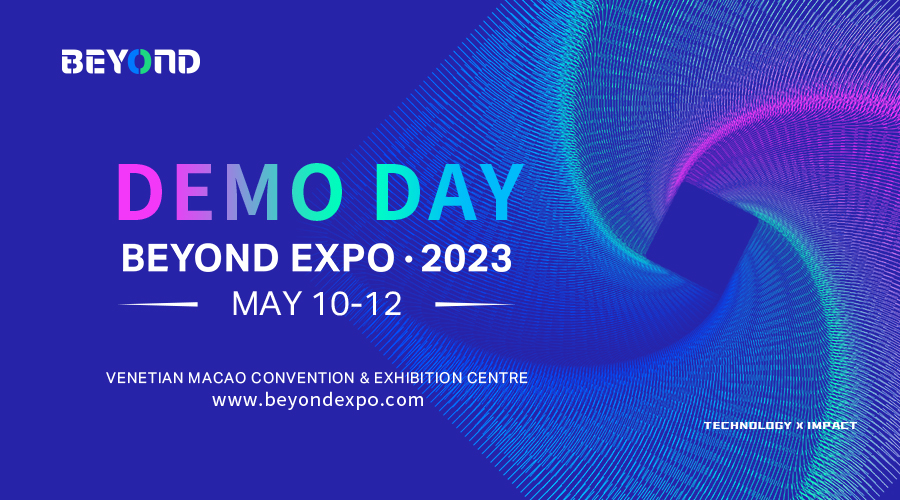 As technological innovation drives social development, it cannot survive without capital. BEYOND International Scientific and Technological Innovation Expo (BEYOND Expo), as part of the innovation ecosystem, focuses on the capital trend and technological innovation. It provides a professional  and international exchange platform to stimulate global market and help excellent innovation projects to solve the problem of business matching. BEYOND Expo 2023 will be held in Macao from May 10 to 12, hosting important investment events, including the Global Investment Summit, DEMO DAY and Fund at First Pitch to help startups find more investment and cooperation opportunities, as well as focus on the implementation of technological innovation concepts and products.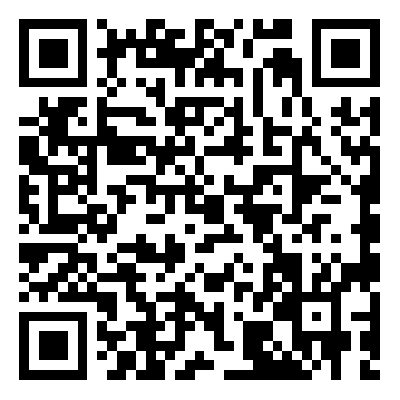 Scan the QR code to become an investor
As an important event of BEYOND DEMO DAY, the Tsinghua Alumni CIE Competition (Belt and Road Area) will be held on May 11 from 15:00 to 18:00. It will include a live roadshow, providing a platform for investors to directly connect with projects demonstrating cutting-edge technologies from over 50 companies.
Seeded Group
Bwell
Bwell is a social booking platform for beauty and wellness services, providing a convenient and efficient solution to both service providers and consumers. We recognise that social media platforms provide inspiration for beauty and wellness activities, while booking platforms offer the functionality to schedule appointments. However, there is often a lack of social and inspirational elements that can motivate individuals to book. Bwell is on a mission to bring the two worlds together, providing a seamless experience that allows users to discover, book and share their favorite services in one place.
WOWWOO  Bear
WOWWOO Bear is an innovative project integrating original IP animation image, franchise, new retail model and Hong Kong-style culture. It has been named as the Top 10 Startups of the Hong Kong Trade Development Council and was among the Top 10 New Retail Global Finals of the Alibaba Global Clash of the Gods Innovation and Entrepreneurship Competition. As a pioneer of the animation image + franchise + new retail model, we are the first franchise system with original IP cultural theme attributes in China. With WOWWOO Bear as the IP image of the brand, we authorize chain stores in China to realize the localization of Hong Kong-style culture. They can thus develop IP content, such as cartoons, serials, animations and peripheral products, to enter retail mode and promote through new media platforms. This helps to expand brand influence in third- and fourth-tier cities and even export the IP value abroad. The vast majority of designers in the market cannot turn their IP image into an SOP operation, and we can incubate the IP to help them become a profit-making SOP brand. In the future, we will continue to develop different IP and SOP and cooperate with other designers. We hope to become the largest IP incubator brand through repeated cooperation.
AiFashions
"Digital Apparel" is a one-click, 2D/3D clothing generation tool offering a true-to-life representation of the garment. The AiFashions startup team comprises of alumni from top-tier academic institutions such as Tsinghua University, Massachusetts Institute of Technology and the State University of New York at Binghamton. We provide high-quality and efficient AI-intelligent clothing solutions. We integrate the principles of clothing aesthetics, fashion trends, clothing design and modification, and artificial intelligence technology by using cutting-edge AIGC technology to generate "digital fashion models and clothing." Our technology vertically empowers traditional clothing industries and other vertical domains such as the metaverse, while horizontally providing businesses with thousands of intelligent clothing solutions that cater to diverse consumer needs. Our core technical functions include 2D/3D clothing design, clothing alteration at the local level, realistic effect display, and the production of promotional videos. Our goal is to refine our products continuously and establish AiFashions as a digital fashion platform that is widely used in both the traditional fashion industry and the metaverse. We aim to provide real-world digital tools and material libraries represented by "digital models and digital clothing," and establish a future-oriented smart clothing design ecosystem.
Belt And Road Startup Accelerator
The Belt And Road Startup Accelerator (BARSA) aims to help outstanding enterprises and talents "bring-in and go-out." It is a comprehensive service provider focusing on digital marketing solutions at home and abroad, providing enterprises with cross-border industrial cooperation and a full chain of service products that can be customized. They include overseas marketing, investment and financing, media & PR, startup competition and influential summit to establish the most global and active overseas industrial ecology.
Mint Art Organization
The commune will learn from international successful cases, sum up the domestic industrial park development experience and lessons and vigorously introduce the academic resources of Tsinghua University as guidance, especially values from its School of Fine Arts. By adhering to the philosophy of Tsinghua Academy of Fine Arts — production, education and research —and relying on the institution's rich cultural and artistic resources, the commune establishes a production and experience based construction mode, integrating research, production and social aesthetic education that can be replicated completely or partially. The commune, registered as Beijing Mint Sky Art Development Co. Ltd., has a rich professional brand, company and members, along with strong cultural and artistic appeal, art industry plan, design and operation guide experience.
Beijing Shuimu Huazhang Health Technology Research Co. Ltd.
Beijing Shuimu Huazhang Health Technology Industry Co., Ltd. also known as Shuimu Huazhang, has committed to become the country's leading green technology building service provider. It offers comprehensive services from investment construction and late operation management to the independent research and development of scientific and technological systems. The company adopts the international SWELA standard to provide customers with the whole life cycle of green building design and construction integration.
Beijing Xinghan Yuntu Cultural Technology Co. Ltd.
Founded in 2018, the Beijing Xinghan Yuntu Cultural Technology Co. Ltd. is committed to the research of multi-modal integration interaction technologies such as visual recognition, speech recognition, pattern recognition, physiological perception and sensor application.  It actively promotes the landing of scene-based intelligent interactive products and industrial applications, and is committed to making the development of scene-based intelligent interactive products more convenient. The company aims to perceive the world with multi-modal fusion and interactions. Xinghan Yuntu adheres to the "platform+content" development strategy and provides developers with one-stop scenario-based intelligent interactive product development solutions with Yuntu A. Yuntu A's open platform has opened eight delivery products and gathered more than 100 developer teams from six universities. They have created more than 300 applications, covered over 1.5 million terminal device users, linked more than 20 operators and terminal manufacturers, and jointly built a new large-screen intelligent interaction industry ecosystem. We strive to predict the future of science and technology with innovative design.
Beijing Ugostar Technology Co. Ltd.
Beijing Ugostar Technology Co. Ltd. is an innovative company dedicated to providing medical instrument and digital therapeutics (DTx) for various mental illnesses and cognitive disorders in the field of mental psychology. The company, which was established in Beijing in 2020,  has a team of experts in the top medical and engineering fields. As a cross-field innovative entity, the company constantly learns to keep pace with the times, reconstructs the diagnosis and treatment process of digital therapy and internet hospitals, and contributes to the continuous completion of human health atlas.
Weaving Planet
Weaving structure grid shell is a large-scale free-form space shape construction system originally proposed by the WX Studio of Tsinghua University's School of Architecture. It uses the principle of elastic material form-finding and the combination of spatial grid algorithm and structural mechanics. The system integrates science and art with significant advantages in construction conveniency, great potential in freeform fabrication and unique artistic language. The technology can be widely applied in public art installations, architecture and land art, among others. The invention won the first prize at the 2019 Huaxia Construction Science and Technology Award of China's Ministry of Housing and Urban-Rural Development. It also grabbed two gold medals at the 2022 International Exhibition of Inventions Geneva, won the special mention award at the 2019 International Innovation Lightweight Structure Competition, and the special award of the Organizing Committee of the Beijing Cultural and Creative Competition. The innovative system was successfully applied at the Shanghai Yuyuan Lantern Festival in 2020, as well as the "Starry Snow" light art sculpture for the 2022 Beijing Winter Olympics. It has received extensive media coverage in major media outlets, including Xinhua News Agency, Global Times and Beijing Radio & Television Network.
Hanhan Digital Twin
Hanhan Digital Twin Cloud mainly helps solve pain points of the current digital twin industry — such as high development cost, over-delayed delivery, privatization of customers — and empower a large number of companies in the energy, medical, smart city sectors. With the development of zero code digital twin simulation software as the core advantage, it assists other information software companies to provide digital transformation for enterprises. For ESG solution, our second stage is to build 3D software, similar to Dassault in simulation software, and open source it to a large number of researchers with base models. By doing so, we plan to break the overseas monopoly. The third stage is to combine AI to build a true meta-universe of industries.
Mitrix Artificial Intelligence Parking Complex
Mitrix is a manufacturing company that builds intelligent mechanical parking garage. Its core product, the Mitrix Artificial Intelligence Parking Complex, is currently the world's leading technology, with the highest space utilization rate, the fastest parking and retrieval speed, and the most intelligent robot handling intelligent mechanical parking garage. It can meet the parking needs of all terrain and extreme density, and can achieve the maximum number of parking under various spatial conditions with efficient and fully intelligent operation. It can provide 100-150 parking spaces within 200 square meters and can integrate various convenient services such as charging, battery storage systems and car washing. This intelligent robot handling technology has 28 patented technologies. The core products can be widely applied to the intelligent handling of various heavy loads. Common industry applications include intelligent parking, intelligent container terminals, intelligent warehousing and other industries that require fast and accurate retrieval of heavy objects. The enterprise has a strategic relationship with China Railway Construction Corporation, China Construction Corporation, China Metallurgical Construction Corporation, China Huaxi Construction Corporation and China Communications Construction Corporation. Mitrix was listed among the Top 10 Advanced Manufacturing Global Finals at the 6th and 7th Tsinghua Alumni Innovation Competition, placed first at the 4th Lishui Entrepreneurship Competition Global Finals and secured a third prize at the 2021 Xi'an International Entrepreneurship Competition.
Guangzhou Zero to One Body Quotient Technology Development Co. Ltd (MKS)
We provide children with age-appropriate sports and basic physical education. We hope to become a first-class physical sports and service platform.
Lunqin Tech/3D AIGC Real-time Virtual Human
Lunqin Tech is a high-tech enterprise dedicated to the development of 3D AI digital solutions and a member of the Tsinghua University Enterprise Alliance. Based on solving the industry problem of digital simulation imaging technology distortion in the virtual reality field, it focuses on providing computer graphics hyperrealism AI digital achievement transformation services.
ACE's Intelligent Technology for the Disabled
ACE's mission is to harness the power of intelligent technology and accessibility assistive technology. It plans to do so by incorporating pioneering new human-computer interaction technology, which improves the digital lives of individuals who are visually impaired or blind. We will drive ubiquitous information and promote equal access to networks to lay the foundation for the Digital world. ACE is a social enterprise that uses technology and user-centric design to break down barriers for the visually impaired community. ACE offers a range of innovative and affordable products that have supported learning, communication, entertainment and travel for over 150,000 visually impaired people in China.
Weisu (Beijing) Technology Co., Ltd
Weisu (Beijing) Technology Co. Ltd. was formed by JadeValue Investment Group. JadeValue is a fintech investor and incubator located in the heart of Shanghai's financial center in Lujiazui. JadeValue provides promising fintech and insurtech startups with the capital and network to reach the next level. Weisu (Beijing) Technology's main target is to provide cross-border content e-commerce with RBF products, which are neither loans nor equity investments and do not require mortgage guarantees. When funds are needed to expand the scale of business activities, we will provide joint venture funds for cross-border e-commerce companies to grow together and achieve win-win cooperation.
Wu Xian AI/OMO Multi-functional Cultural and Creative Lifestyle Design Brand
Through design and innovation, we are committed to creating an all-encompassing fashion lifestyle brand, connecting fashion and culture, and becoming a leader that allows people to experience the infinite possibilities of creativity in their daily lives. By combining various online and offline channels, we provide high-quality products and services, becoming the brand of choice for consumers and creating a one-stop fashion experience. We aim to become an internationally renowned Chinese design brand, dedicated to creating a better life. Meanwhile, we also provide creative, quality and value-maximizing marketing solutions for our partners.
EQunatify
EQunatify aims to quantifying human interactions and become a pioneer in human-centeric data decision application. EQunatify is committed to using AIGC technology to quantify people's personality and soft skills through dialogue-assisted approach to provide comprehensive solutions for HR optimization. The team's founding members come from reputed universities, including Tsinghua, Berkeley and Vanderbilt, and are data scientists, psychologists, HR experts and PhD holders in different fields. Based on the cutting-edge research results and technologies, they gather their respective advantages to create a new AIGC+HR+SaaS service company. With the mission of "quantifying talent soft skills," AIGC+HR+SaaS provides more accurate, objective and efficient intelligent talent assessment services for organizations and individuals by collecting and utilizing big data in multi-person interaction scenarios. Meanwhile, it also establishes a human personality data pool and provides professional data asset services.
Growing Group
AirDroid Business 
Sand Studio was established in 2011 with offices in Singapore, Hong Kong, Taipei, Xiamen and Shenzhen. Our products include AirDroid Personal, AirDroid Cast and  AirDroid Parental Control for the personal market. We also have AirDroid Business and AirDroid Remote Support for the enterprise market. Through powerful MDM, remote control and remote support solutions, we assist individuals and businesses in achieving more effective device remote connection, management and collaboration. AirDroid Personal is a world-renowned Android device management solution with over 500 million downloads and a strong brand influence in the European and American markets. It enables easy file transfer, screen mirroring, remote control and management across personal mobile devices. AirDroid Business is a powerful, high-performance, secure and user-friendly enterprise mobile device management and remote operation and maintenance solution suitable for IT management in organizations of any size. It helps enterprises access, control, manage and maintain devices remotely through a centralized management center, reduces operating costs, improves business continuity and efficiency, and protects enterprise data. It is suitable for both attended or unattended smartphones, tablets, rugged devices, POS machines, smart vending machines, digital signage etc.
Beijing Haibaichuan Technology Co., Ltd.
Beijing Haibaichuan Technologywas established in 2005, with the Metaverse Virtual Digital Human Generation System as it main business. The team members graduated from prestigious domestic and foreign universities and have been deeply engaged in the field of artificial intelligence for many years. Based on AI's deep learning, they have built an AI film-level Metaverse Virtual Digital Human Generation System that can generate the facial features, makeup, clothing, objects and sound of characters in videos, supporting interaction between humans and artificial intelligence. The effect can attain standards required in films and television. Any video scene and character action can be generated into a highly realistic AI virtual image within 1-3 days. The cost of producing AI-generated videos is much lower than that of traditional video special effects, and the production time is also shorter. It is applied to high-definition AI visual processing for films and television dramas, short live streaming sales videos, cultural tourism education etc. It has more than 100 patents and other software copyright intellectual property rights. The company has also obtained qualifications from the Ministry of Industry and Information Technology, as well as value-added telecommunications business license, making it a "specialized, refined, distinctive and new" enterprise.
Exam Star
Exam Star is affiliated with Beijing Mengjianxing Technology Co. Ltd. Established in 2014, it provides all in one exam training solutions for various types of organizations using SaaS, AI and big data. Exam Star helps enterprises establish a stable and efficient full online exam system. Enterprises can use the technology in recruitment exams, online interviews and certification exams. Based on nine years of experience, Exam Star has taken the lead in proposing the concept of "serious exams," which is a form of test with high requirements for the examination process and results. The online serious exam replicates the real offline exam environment and ensures the seriousness and fairness of the overall exam through RTC technology, electronic paper settings and a series of anti-cheating mechanisms. Exam Star has delivered millions of exams to over 500,000 companies, including one-fifth of the Fortune 500 companies worldwide and 46 Double First Class universities.
KIRI Innovations
KIRI Innovations strives to empower 3D creators with AI to bridge the gap between the physical and digital world. We are known for our cloud-based 3D reconstruction engine, known as the KIRI Engine, which can generate realistic 3D assets from photos. We are developing a competitive advantage through our large amount of user-generated 3D data which will be used to create high-quality 3D assets using next-generation generative AI.
Visionary Intelligence Ltd.
Vistel is a new high-tech Chinese enterprise committed to the application of AI in eye health services. Through close cooperation with ophthalmological medical teams of well-known Class-A tertiary hospitals, including Peking Union Medical College Hospital, Beijing Tongren Hospital, Peking University Third Hospital, Beijing Hospital, Shanghai Eye Disease Prevention and Treatment Center and Zhongshan Hospital, Vistel has developed professional capability to provide software and hardware integrated AI solutions for eye health.
Beijing Deepscience Technology Ltd.
Beijing Deepscience Technology Ltd. was founded in 2016 by a group of "technology+ commercialization" alumni from the University of Science and Technology of China. With headquarters in Beijing and branch offices scattered in major cities such as Zhengzhou, Shanghai, Guangzhou, Hangzhou and elsewhere, the company has a wide operational reach. Its investor base includes renowned institutions such as Innoangel Fund, GSR Venture Capital, MYGE and Chenshan Capital. Today, the company boasts thousands of partners, over 80 invention patents and extensive technical collaborations with notable entities such as NVIDIA, Unity and UE Metahuman. The company is globally recognized as a provider of full-stack solutions for the metaverse and virtual human applications.
Guangzhou Inbot Technology Ltd.
We are a national high-tech enterprise mainly focused on R&D and production of commercial service robots. Launched in Guangzhou in 2013, we now have branches in emerging first-tier cities. Our product, PadBot, has been sold worldwide, with distributors in the United States, Europe and Asia, and are attracting more attention from consumers. Inbot Tech obtains patents in core technology of robot and help overcome difficulties like interactive communication, face recognition, auto navigation and intelligent movement, successfully using robots in reception, navigation, delivery and security services.
Hangzhou Guangli Technology Co., Ltd.
Guangli Technology is a national high-tech enterprise established in 2017, focusing on the development and sales of consumer-grade AR underlying technology and products. The company's core founding team comes from the Optoelectronics Department of Zhejiang University and well-known domestic and foreign enterprises, and have rich industry experience and professional knowledge. To maintain independent and controllable core technology capabilities, Guangli Technology has laid out more than 250 patents globally. Guangli Technology's main business is the development and sales of consumer-grade AR products, which are already sold globally. In addition, the company's core optical components have established relationships with some well-known Tier 1 and whole vehicle manufacturers. These cooperative relationships will provide strong support and guarantee for the company's future development.
Golf Butler
Founded in 2013, Golf Butler serves the sports life service market as China's first O2O ballbag express service brand. We have created several service brands to meet the needs of China's middle and high class people We are becoming a high-quality sports life service provider in China by committing to the needs of the country's middle and upper class people, providing them with innovative and experiential services in sports travel, sports health, sports consumption and other sports life sectors. In addition, we also provide golf bags, skis, bicycles, surfboards, fishing equipment and horse tack, among others. Our goal is to become the Didi, Meituan, Eleme, and Airbnb of the outdoor sports industry.
INSKY Intelligent Technologies
INSKY Aviation is committed to the R&D of cutting-edge avionics and provides leading solutions for a fully autopilot flight. In the industrial unmanned aerial system (UAS) field, INSKY Aviation has developed a drone IoT platform for data capture, analysis and visualized management. Using leading technologies such as 5G cellular networks, trajectory planning and obstacle avoidance, INSKY Aviation makes the Beyond Visual Line of Sight (BVLOS) flight operation real in complex urban areas. INSKY Aviation's drone mobility solution largely extends UAV applications in urban complex scenes. In the urban air mobility (UAM) field, INSKY Aviation integrates safe avionics, flight control and intelligent perception technologies into new-generation vertical take-off and landing (VTOL) vehicles. INSKY Aviation provides 4D autopilot and flight control system oriented for airworthiness and is devoted to aviation evolution.
Shanghai Xiaowu Internet Technology Co. Ltd.
The Baopinger Team , established in March 2018, is a third-party professional insurance brokerage team independent of insurance companies. We use new media and internet to popularize insurance knowledge and have signed contracts with nearly a hundred insurance companies to objectively evaluate thousands of products in the insurance market. We adhere to the principles of fairness, objectivity and professionalism. We aim to help you solve all insurance-related problems — from insurance purchase to claims — and save your time and money. Currently, the Baopinger Team has grown to a 100-member staff, serving tens of thousands of households in the past four years. Baopinger Team is the best in the vertical field in Shanghai.
Shenzhen Kaiconn Innovative Technology Co. Ltd
Shenzhen Kaiconn Innovative Technology Co. Ltd., or Kaiconn, is the first innovative passive IoT platform service provider focusing on providing micro-energy harvesting and integrated communication solutions in an ultra low-power environment in China. It is also the only solution provider with independent intellectual property rights and E2E mass production delivery capabilities in this field in China. Based on the NFC/BLE communication protocol adopted worldwide, Kaiconn uses its exclusive RF energy algorithm chip to achieve RF wireless power acquisition, which can instantly store high power and safely drive loads. This technology enables smart switches, smart packaging, smart displays, smart sensors and other products to complete digital interaction with zero battery and zero circuit wiring. Kaiconn's full-scene management SaaS system and big data cloud platform provides global customers with safer, efficient, cost-effective and environmentally friendly one-stop passive IoT solutions for better global interconnectivity. Currently, Kaiconn's core team has achieved a series of major breakthroughs in the field of passive NFC/BLE technologies and solutions, and has provided software and hardware integration services for nearly 100 customers in various industries such as smart home, energy communication, and logistics management. Kaiconn helps enterprises achieve digital upgrade of equipment and management, as well as safer and more energy-saving heavy asset management with its mature project operation and collaborative management experience. Headquartered in Shenzhen, Kaiconn has branches in Beijing, Zhuhai and Changsha.
Ambient Scientific Inc.
Ambient Scientific is a fabless semiconductor manufacturer building a roadmap of high-end fully programmable AI processors and the software stack for battery powered AI applications.
WellBot Technology HK Limited
WellBot Tech is founded by veterans in information technology, AI and big data integrations from the United Kingdom and China. With our extensive past experience and technology innovation, WellBot team lead and advances at the forefront of data science applying to smart city and business intelligence. We aim to create a general-purpose integrated platform for multi-form data and multi-functional applications as a one-stop shop solution. The platform can be used to connect up standard GIS/BIM data and related system to enable Location-Based Services (LBS). IoT data and business intelligence analytical engine can also be integrated to the platform to provide event-driven services. The solution also includes a command and control applications, which help business customer to improve efficiency when utilizing their human resources. WellBot makes it easier and faster for big data to be processed, thus creating value. The successful application will substantially help Hong Kong to upgrade its digital transformation infrastructure and accelerate the smart city integration process. Our solutions would help resolve many real-life issues in Hong Kong's smart city blueprint. WellBot sits on top of the ecosystem for digital transformation and smart city supply chain. The superior capability in system integration and cross platform data processing enables us to maximize the utility of IoT devices and other existing systems, rather than rebuilding them, making it a cost-effective solution. Apart from offering project solutions, WellBot is now researching and preparing a readymade product solution that suits different client demands from many industry. This one-stop shop approach will make WellBot products an Operation System (OS) for infrastructure of future smart cities and business intelligence. Many ecosystems can also be built on top of our OS infrastructure. 
Angel Group
ByeCode
ByeCode is an innovative no-code platform that utilizes the power of AI to enable people with no coding experience to build customized software. With ByeCode, users can effortlessly create a variety of digital tools, including websites, web applications, CRMs, internal management tools and client portals. The platform offers an intuitive interface that guides users through the entire process of building — from designing to publishing their creations. ByeCode's AI technology provides helpful suggestions and automates complex tasks, making the software development process faster and more accessible than ever before.
HelloChat Technology Ltd.
As the only Canadian social mobile payment provider, HelloChat is committed to providing convenient, fast and secure payment solutions to businesses and individuals in North America and around the world, as well as help millions of small- and medium-sized businesses grow faster. Through the combination of advanced AI technology and HelloChat, we will provide merchants with payment solutions in a variety of areas, reducing operational costs and increasing efficiency, while optimizing the consumer and business experience in terms of financial services and daily life.
AB Auto
AB Auto is based on the IUIA China-France cross-border innovation incubator. It combines top domestic and foreign innovative and practical technologies in the field of artificial intelligence, autonomous driving and mobile healthcare, focusing on intelligent network connection, automatic driving for specific application scenarios (new infrastructure, smart sanitation and sightseeing connection)  to launch a series of innovative services and products. We will build a business community that adapts to the new economy and realize differentiation and technological leadership in commercial innovation.
Beidou Cloud Computing Technology Co. Ltd
Beidou Cloud Technology Co. Ltd. relies on the National Beidou Navigation Location Service Data Center to build a Beidou spatiotemporal information application cloud service platform. Based on navigation, remote sensing, communication and its integration technology, it provides professional and personalized solutions for customers such as government, industry/enterprise and the public.
The company adheres to the integrated development concept of "industry, academia, research and application" and strives to create a new image and brand of China's spatiotemporal information services. The company actively promotes the development of the spatiotemporal information industry. Here's the company's vision:
Undertake Beidou Southern Data Center and expand the application of spatiotemporal information.
By taking the opportunity of constructing and operating the National Beidou Navigation Location Service Data Center, the company focuses on building a Beidou spatiotemporal information application cloud service platform. It aims to form four major capabilities: high-precision location services, remote sensing data application services, Beidou communication services and spatiotemporal big data application services.
Remote sensing data application services mainly utilize high-resolution civil remote sensing satellites and drones to collect high-resolution, multi temporal, and high-quality remote sensing images in the target area. It extracts effective information based on user needs and carry out business applications. They have advantages such as wide coverage and flexibility.
The Beidou communication service mainly utilizes the unique short message communication function of the Beidou navigation system to provide bidirectional communication function in areas that cannot be covered by the ocean and land public network. Therefore, it meets the needs of meteorological, environmental protection, water conservancy and other application scenarios.
The spatiotemporal big data application service is mainly based on various spatiotemporal information data collected and aggregated by data centers. Through data cleaning, mining analysis, processing and other technologies, it serves marine meteorological service applications, marine administrative law enforcement applications, national defense applications, among others.
Ainvest
Ainvest is a fintech company founded in Boston, United States, in 2016. The core members consist of Ivy League PhD graduates, along with North American banking and hedge fund managers. After entering the Chinese market, Ainvest has attracted domestic internet giants and elite individuals from top brokerage firms to join the company. We focus on bringing GPT3.0-based big data financial conversation AI to financial institutions and individuals. Users just need to input their industry experience, after which the AI engine will match big data and deep learning technology to form customized solutions for specific smart financial scenarios. We apply deep learning and long- and short-term memory neural network — currently the most cutting-edge deep learning algorithm in North America — to analyze the synergistic impact between financial high-dimensional time series. On the other hand, the biggest problem of financial data is the high volume of noise information, making it difficult to separate effective signals from the noise. Our unique technology, the financial data noise filter, can effectively remove some of the noise data, prevent deep learning from overfitting, and thus improve prediction accuracy. We also combine our own technology with GPT3.0 model for optimization and iteration. This means, we introduce our own LSTM project for neural network model to form a comprehensive AI that can both understand the semantics and make computational prediction.
Note:
Product/Service Features:
Global Smart Investment Guardian Market Size Development and Forecast: The 2008 financial crisis gave space for the formation of few companies in the technology industry. They began to develop various investment service tools to help customers in making investment decisions. By 2010, the concept of smart investment advisors rose rapidly on Wall Street, and two of the most well-known companies — Betterment and Wealthfront — began to launch asset management portfolio recommendations based on the internet information technology and intelligent algorithms for personal finance users in 2010 and 2011, respectively. They included fund allocation, stock allocation, stock option operation, debt allocation, real estate asset allocation etc. It has successfully broken the "$100,000 dilemma" spell that has existed in the U.S. financial market for many years, opening the era of intelligent investment care in a comprehensive manner. Statista data shows that in 2017, the global smart investment advisor assets under management reached $226.4 billion, with an annual growth rate of 78%. By 2020, the proportion of assets under management of smart investment advisors to total assets under wealth management will exceed 10%; by 2022, the global assets under management of smart investment advisors will reach $1.4 trillion.
Scale and forecast of smart investment advising management in China: Most of the institutions launched their smart investment products in 2015-2016. Despite the late entry, the pace of development has been impressive. According to Statista's estimation, the assets under management of smart investment advisors in China reached $28.9 billion in 2017, with an annual growth rate of 261%, which is second only to the U.S. in terms of asset size globally. It is expected that by 2022, the total assets under the management of smart investment advisors in China will exceed $660 billion and the number of users will surpass 100 million. The volume will also grow from 12.9 million in 2017 to 120 million in 2022.
There are two domestic competitors that do AI+finance, producing both the technology and products. There are over 10 companies that are focused on the technology or just the products, but they have not broken the technology chain, and we judge that the most important competitors are the other two that have the ability to do both. We will give full play to our technology and product advantages, increase investment in technology research and development, and strive to become the industry leader.
Lianyu Technology Co. Ltd.
Lianyu Technology Co. Ltd. was incubated in the team led by academician Minggao Ouyang from Tsinghua University. Lianyu is committed to the R&D, product implementation and service promotion of Vehicle to-Grid (V2G), MG management and Energy Internet of Things. The motivation of our startup is to achieve the collaborative innovation of transportation and energy and lead the change under the "Carbon Neutral" mission.
THeWake Systems Ltd.
THeWake Systems Ltd. was established in January 2021 to build high-performance infrastructure software products and solutions for the next generation of HPC and AIoT. We strive to develop better program factory products to improve the user experience of industrial customers. Our core members come from world-class universities, including Tsinghua University, Imperial College and Stanford University, as well as technology companies such as Google and Samsung. Our members have published dozens of papers in top conferences in the fields of computing systems and artificial intelligence in the past five years. Parallel computing often requires complicated processes such as performance tuning and load balancing. Yet, the current open-source compilers cannot implement automatic parallel compilation, and there is no high-performance compilation tool for the ARM architecture. THeWake Systems presents an auto-parallel program factory, a tool which can achieve automatic parallelism. Fiuggi.io is an auto-parallel compiler that allows developers to instantly compile sequential source code and then execute it in parallel via utilising multi-core computing power of the device. Unlike traditional compilers, Fiuggi.io offers cloud-based services that allow users to compile and optimise source code instantly, allowing source codes to be automatically compiled parallelly to produce faster and better-performing products.
Tiantan AI
Beijing Tiantan Intelligence is a leading medical artificial intelligence technology and new type of pulmonary therapy service provider in China. It has nearly 25 years of kinder plumonary therapy through traditional Chinese medicine and 10 years of industry experience in the field of nursing informatization and medical big data. It serves more than 600 hospitals in China and its products cover more than 300,000 beds.
Beijing ZWZ Technologies Limited
Founded in 2017, ZWZ Technology is committed to the construction of a completely independent and controllable industrial operating system platform. It plans to provide customers with efficient and intelligent industrial internet and industrial software platform solutions. The company has developed an industrial big data platform, which can connect global intelligent industrial equipment in real time, realize industrial big data AI algorithms, perform predictive maintenance and real-time AI monitoring on industrial sensors and equipment. It can also realize data-driven industrial equipment 3D digital twins , can perform 1:1 virtual-real symbiosis and reverse control on equipment and sensors, and the project products have been applied in new energy, electric power, aerospace and other fields. The project has received investment from AVIC Lianchuang, and the current team is mainly focusing on the continuous and in-depth research and development of SaaS-based CAD, CAE and other core industrial software platforms that can run on domestic operating systems.
Muzi Technology
Muzi Technology is the first to introduce the solution of hydrogen molecules obtained by material hydrolysis reaction, which greatly reduces the technical threshold of hydrogen application and innovatively expands hydrogen application to functional food, beauty tonic, healthcare and other multi-domain application scenarios. Muzi has built operation centers in the cities of Jinan and Zibo, Shandong province, and has established a complete R&D innovation model using industry-university-research cooperation. Muzi Technology has built a supply chain system for solid hydrogen products, not only fully mastering the independent production of core materials but also establishing supply chain partnerships with many companies in the industry. As an enterprise in the solid hydrogen category, Muzi has products such as solid hydrogen powder raw materials, solid hydrogen tablets, hydrogen herbal effervescent tablets, hydrogen washing and solid hydrogen drinks. The company had 22 authorized patents by 2022, including 10 authorized invention patents. In 2021, Muzi launched the Hydrogen+PLUS co-creation and empowerment model, working with partners from product development and design planning to intellectual property system establishment to create a one-stop all-round hydrogen health product solutions.
Shanghai Tuoxiao Intelligent Technology Co. Ltd.
Established in October 2015, Shanghai Tuoxiao Intelligent Technology Co. Ltd.is dedicated to the research and operation of an intelligent diagnosis system for heart and lung auscultation. Currently, the product has obtained NMPA Class II medical device licenses and has sold over 5000 units. Through cooperation with Shanghai Children's Medical Center and Zhejiang University Children's Hospital, we have accumulated over 100,000 effective cardiopulmonary sound data and established a paediatric auscultation database. Our intelligent auscultation system includes electronic stethoscope, artificial intelligence algorithm and cloud big data platform, which can automatically analyze heart and lung sounds through artificial intelligence algorithm for pneumonia, asthma and congenital heart disease for auxiliary diagnosis. The application scenarios include primary screening of congenital heart disease in remote areas and remote auscultation of heart and lung at home. Currently, the product has been piloted for screening congenital heart disease in multiple children's hospitals and maternal and child health centers. The accuracy of initial screening for congenital heart disease is over 90%, and the accuracy of initial screening and remote diagnosis for paediatric respiratory diseases is over 80%.
Honesty
Honesty is a third-generation semiconductor RF chip and system solution provider dedicated to the development and application of RF chips, striving to achieve domestic substitution. Based on independently developed high-performance RF chips, the company aims to solve energy consumption, energy efficiency and other bottleneck problems at a low cost, aiming to become China's Qorvo.
Jingxun Technology LLC
Established in September 2021 in Shenzhen, Jingxun's core team comprises of graduates from Tsinghua University and Peking University. Team members have worked and served as executives in industries such as semiconductor, mobile phone, smart glasses and wearable devices for many years. We have two factories in Shenzhen and Dongguan, with strong cost and quality control, as well as mass production, capabilities. The company successfully mass-produced the world's first ultra-thin fashionable intelligent audio glasses just one year after it was founded. Jingxun has won the No.1 award multiple times on Amazon U.S. In December 2022, the company was successfully selected as "Shenzhen's new domestic brand."
Shenzhen Kangyiheng Technology Co. Ltd
Kangyihengspecializes in developing a health cloud platform and home doctor robot based on AI technology for patients with chronic disease patients and the elderly living alone. Kangyiheng is one of the few high-tech enterprises on the market that focuses on healthcare services and applications, uses self-developed software as the hardware carrier for robots and matches massive health knowledge base content. It is a leading enterprise in the segmented field.
Shenzhen Zhixing New Materials Technology Co. Ltd
Founded in 2020, Shenzhen Zhixing New Material Technology Co. Ltd. focuses on thermal management material services of electronic devices. The company originated from years of research accumulation and technical reserves in the material field of Tsinghua University. It is the crystallization of diversified deep cross-research achievements of well-known enterprises in the industry at home and abroad. 
Bioactive Artificial Skin
Liquid dressing, the first generation product of this project, utilizes ECM (extracellular matrix) to control cell growth and phenotype, providing structural and mechanical support and biochemical signals for tissue development. It is used for hemostasis, maintaining wound cleanliness, reducing pain and inducing wound regeneration. The relevant technology has obtained two invention patents, while it boasts an internationally advanced technical level. After 2,165 clinical trials and feedback, liquid dressing has the following competitive advantages compared to similar products: promoting scar free healing of general open wounds; inducing the regeneration of epidermis, hair, sebaceous glands, and sweat glands, without scars and restore normal skin tone on the wound surface; and inducing deep wound (acute and chronic) muscle and dermal regeneration. It's application field includes: treatment of burns and radiation injuries; scarless healing of various surgical open and sutured wounds; subcutaneous tissue regeneration of chronic and acute deep wounds such as pressure ulcers; treatment of refractory wounds in diabetic patients; lighten spots and remove acne; and skincare (refining pores, brightening skin). The second generation product plan is to develop bioactive artificial skin containing stem cell exosomes, which can replace allogeneic skin and artificial skin from pigs, and treat skin defects caused by burns and scalds.
Wenke
This project was incubated within zhaobiao.cn. By processing publicly available tender information collected within China, it provides high-quality data products  and services to related companies. Currently, the plan is to gradually spin off the data business into a new company. All data assets, including historical tender data, enterprise data, information source data, intelligent information processing algorithms, information collection tools and algorithms accumulated by zhaobiao.cn, will be transferred to the new company. Additionally, the core algorithm team, data processing team, data product team and data marketing team will also be transferred to the new company, along with previously contracted customers. Since 2019, the project has completed technological reserves, data reserves, product research and customer marketing while maintaining very restrained investment. With 150 users already acquired, the project has generated revenue worth RMB10 million.
Xingzhe AI
Chengdu Xingzhe Artificial Intelligence Technology Co. Ltd. is committed to providing intelligent tools for content creation using artificial intelligence technology. With self-developed deep learning algorithms, we launched AI image asset generation, AI music and sound effect generation, AI virtual robots, AI content moderation and other products, providing professional solutions for the entertainment, education and internet industries. Our company strives to explore and expand the possibilities of artificial intelligence in benefiting businesses and society, while reducing costs and increasing efficiency. Founded in May 2020, our company has more than 70 employees, with over 70% being research and development personnel and more than 40% having a master's degree, owing strong research and development capabilities and technical expertise. Our team has over 10 years of experience in technology research and industry practice, with core members graduating from prestigious universities such as the National University of Singapore, Franklin University, Sichuan University and the University of Electronic Science and Technology of China. They previously worked for large-scale internet technology companies such as Microsoft, Alibaba and Sina. We has accumulated multiple core technologies in AI+ gaming, music, and other entertainment fields and service processes, holding multiple international leading intellectual property rights, and has obtained more than 50 invention patents and high-quality papers (SCI, EI). Xingzhe AI's AIGC products focus on AI content generation tools in the content creation field, deeply understanding the production pain points of the gaming and metaverse industries, including 2D to 3D, from images to videos, from characters to scenes, helping metaverse manufacturers improve art asset production efficiency and promote industry development. Our company provides a rich and vivid asset content for gaming, advertising, media and content creation industries in the metaverse.
Byech Tech Co. Ltd.
Byech's co-founders come from Nokia, Mindray and Huawei, with great product innovation skills. Suomita is focusing on health and sports innovation, development and production. Byech products have their unique identities with high tech and easy user experiences. It has won several top industrial design awards, including the International Design Excellence Awards and the Red Dot Design Award.
Zhejiang Xingjian Medical Union Technology Co. Ltd
Zhejiang Xingjian Medical Union Technology Co. Ltd was established in Anji County Science and Technology Venture Park with a registered capital of RMB 10 million . We focus on the industrialization of intelligent medical devices and digital therapies in the field of reproductive health. Based on digital diagnosis, portable reagent analyzer, multi-category accurate reagent card, cloud-based intelligent analysis system and expert service and special digital therapy service, the company is committed to building an intelligent health testing center and digital therapy platform at home for users. Through the Internet of Things + Artificial Intelligence technology, we develop a home testing reagent identification and analysis platform and intelligent home testing equipment, integrating computer vision, deep learning and instant home testing into an intelligent and convenient "cloud testing" solution. Each home testing device is turned into a "virtual testing laboratory" to provide users with home-based, medical-grade testing and digital medical services with wide coverage of testing items.
Notes: (1) A professional and complementary core team composed of masters and professors from Tsinghua University and Peking University and business backbone of listed companies ; (2) Home self-examination has RMB 100 billion market prospect, and the project is committed to creating an integrated solution for home self-examination, connecting home self-examination and telemedicine services; (3) the home self-examination digital diagnosis technology has a complete independent intellectual property rights, and its performance has reached the industry's leading level.
The above is the roadshow schedule, and further details of the investment events will be announced in the next two weeks. During the three-day BEYOND Expo, top global investors will attend the forum to discuss investment opportunities and future investment trends. They will also have an in-depth interaction with innovators and entrepreneurs at the Fund at First Pitch and Innovation Roadshow events.  We hope to connect high-quality projects from all over the world and create a win-win investment environment.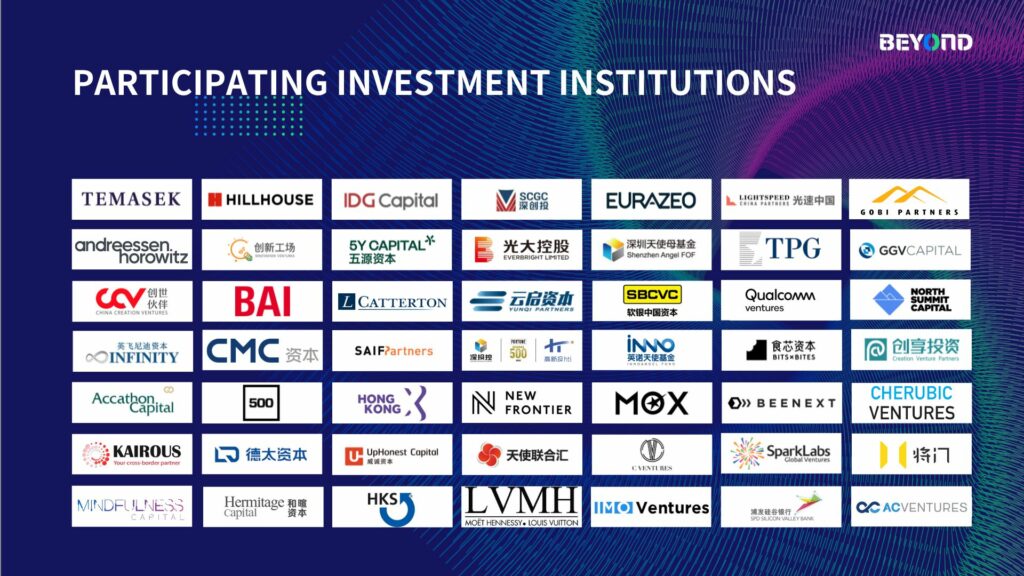 In the last two investment events, investment firms including Temasek, Hillhouse Capital, IDG Capital, Shenzhen Capital Group Co. Ltd., Eurazeo, Lightspeed China Partners, Gobi Partners, Andreessen Horowitz, Sinovation Ventures, 5Y Capital and China Everbright have made excellent contributions to the development of startups. The Tsinghua Alumni CIE Competition (B&R Area) aims to build a bridge between enterprises and investors, and help companies to attract sufficient capital by showcasing their technological innovations to investors. Meanwhile, it is also an opportunity for investors to fully learn about the products and their concepts, and reduce the investment risks by getting more accurate information. The two sides will work together to promote the high-quality development of cutting-edge technology.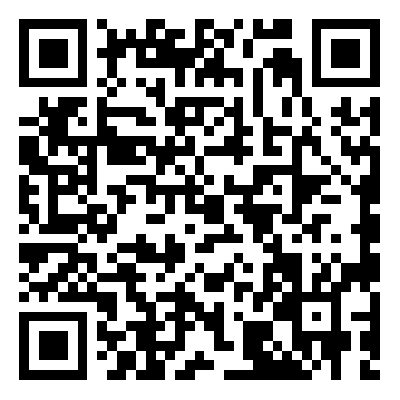 About BEYOND
Since 2020, BEYOND Expo has been held twice with great success. It has become one of the largest and most influential international technology expositions in Asia, attracting 800+ exhibitors and 55,000+ attendees worldwide. More than 150 industry forums with 500+ innovative business leaders as speakers will provide a global platform for insightful technology exchange.
BEYOND Expo will be held at the Venetian Macao Convention and Exhibition Center, which is spread across approximately 100,000 square meters and can accommodate more than 1,000 exhibitors. We expect more Fortune 500 corporates, large cross-border enterprises, tech unicorns, and startups to participate in this year's event. At the same time, there will be more than 100 events and networking sessions. We look forward to connecting with global tech innovation enthusiasts and facilitating in-depth interaction in all fields, including enterprise, product, capital, and industry to promote the global tech scene in the Asia-Pacific region and the world.
Any other cooperation needed, please contact us.
Business Partnerships: [email protected]
Media Partnerships: [email protected]
Other Inquiries: [email protected]