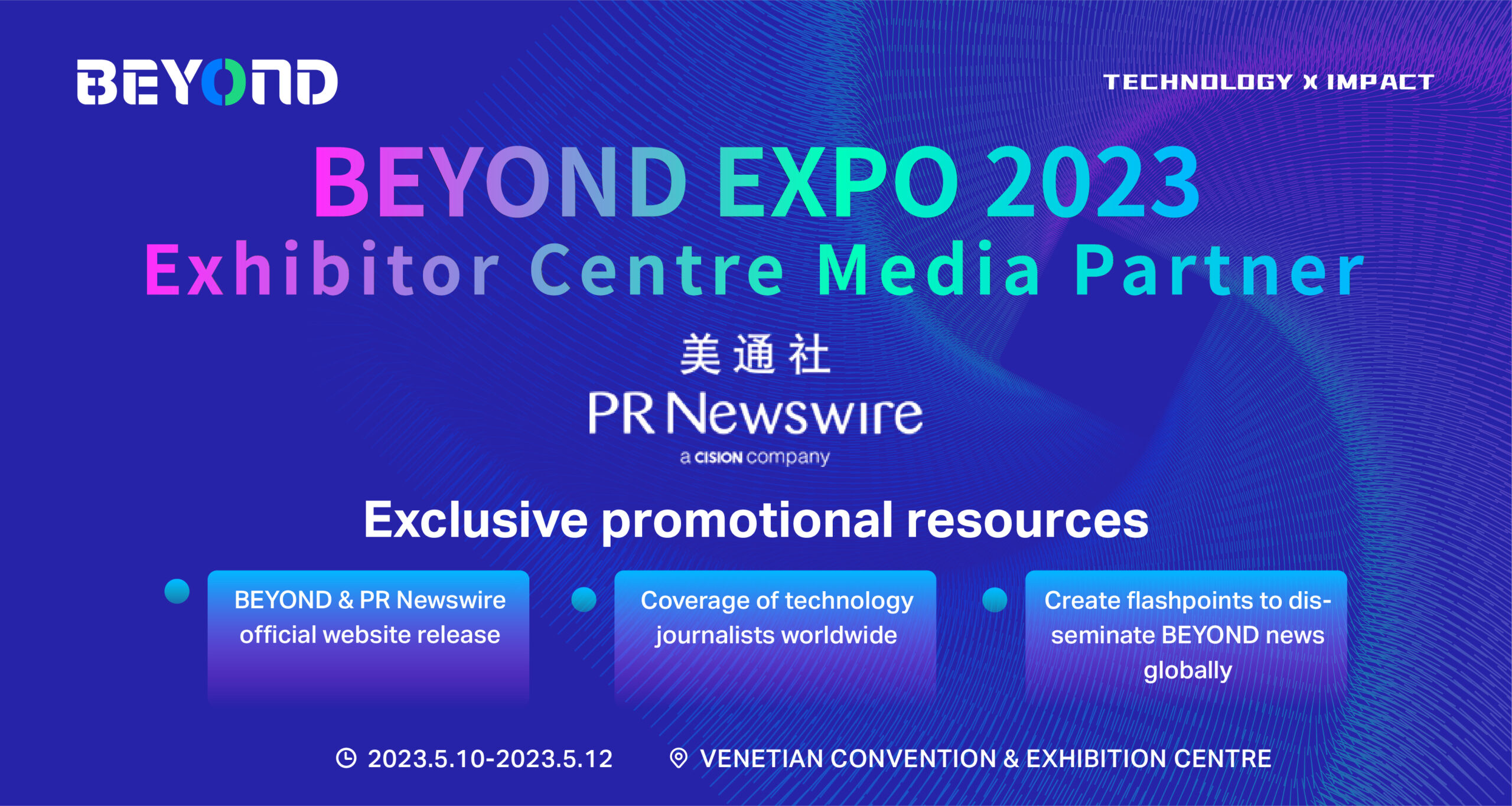 The 3rd BEYOND International Science and Technology Innovation Expo (hereinafter referred to as "BEYOND Expo 2023") will be held at the Venetian Macao Cotai Convention and Exhibition Center from May 10th to 12nd. Around the three sub-brands of BEYOND: sustainable development, life science, and consumer technology, from the independent exhibition area to the industry summit, to promote exchanges in various sub-sectors, jointly promote the comprehensive upgrading and transformation of the industry, and create an international science and technology exchange event!
At present, PR Newswire has reached an official cooperation with BEYOND Expo again, and has decided to become an official exhibitor media center partner. As a leading business news agency in the industry, PR Newswire will empower BEYOND Expo to spread globally and provide exclusive communication resources for the brand:
BEYOND and PR Newswire Agency released the news of brand participation on their official websites;
Accurate contact with BEYOND registered media reporters;
Create flashpoints for the global dissemination of BEYOND news.
 Including but not limited to: providing integrated communication programs such as news planning and production, global release of news press, multimedia dissemination of pictures / videos, industry and regional landing, and presentation of dissemination report effects, to enhance brand exposure and accumulate digital assets, and strengthen brand endorsement. Assist start-ups to have strong international exposure, and achieve the international influence of enterprises spread in depth at the same time , so that the BEYOND impact of dissemination surpasses the on-site booth.
It is believed that with the advantages of PR Newswire in the global cooperative media network layout, BEYOND will be able to carry out overseas media communication more efficiently and accurately during the conference, and enhance BEYOND's international influence; Also, the event will help BEYOND exhibitors to improve their participation effect, to help Chinese science and technology enterprises go overseas, and open up overseas visibility.
For more global outreach resources, please contact [email protected]
About PR Newswire
PR Newswire pioneered the corporate press release industry in 1954 and became a company of Cision in 2016. Over the past 60 years, the company has continuously expanded and gradually built an information distribution network covering hundreds of thousands of traditional and emerging media in more than 170 countries around the world. At present, PR Newswire serves more than 70,000 enterprises and institutions globally, helping customers release their latest text, pictures and video information to target audiences around the world in more than 40 languages every day, assisting them to communicate with the media, the industry, investors, influential groups and the general public to raise their awareness, build brands, promote sales, and attract investment. In addition, PR Newswire also provides global media data, monitoring and analysis services, as well as the data and technical support for customers' daily communication work such as communication strategy formulation, effect evaluation, competition analysis, and public relations crisis.
About BEYOND
Since 2020, BEYOND Expo has been held twice with great success. It has become one of the largest and most influential international technology expositions in Asia, attracting 800+ exhibitors and 55,000+ attendees worldwide. More than 150 industry forums featuring 500+ innovative business leaders as speakers will provide a global platform for insightful technology exchange.
BEYOND has officially announced that "Technology Redefined" is the theme for BEYOND Expo 2023, which will be hosted in Macao from May 10 to 12. BEYOND Expo 2023 is set to reach a new high in terms of scale, attendee influence, diversity of industries, companies, number of exhibitors, and overseas visitors. There will be more than 100 events and networking sessions. We look forward to connecting with global tech innovation enthusiasts and facilitating in-depth interaction in all fields, including enterprise, product, capital, and industry to promote the global tech scene in the Asia-Pacific region and the world.
For more cooperation, please contact us at:
Business Partnerships: [email protected]
Media Partnerships: [email protected]
Other Inquiries: [email protected]