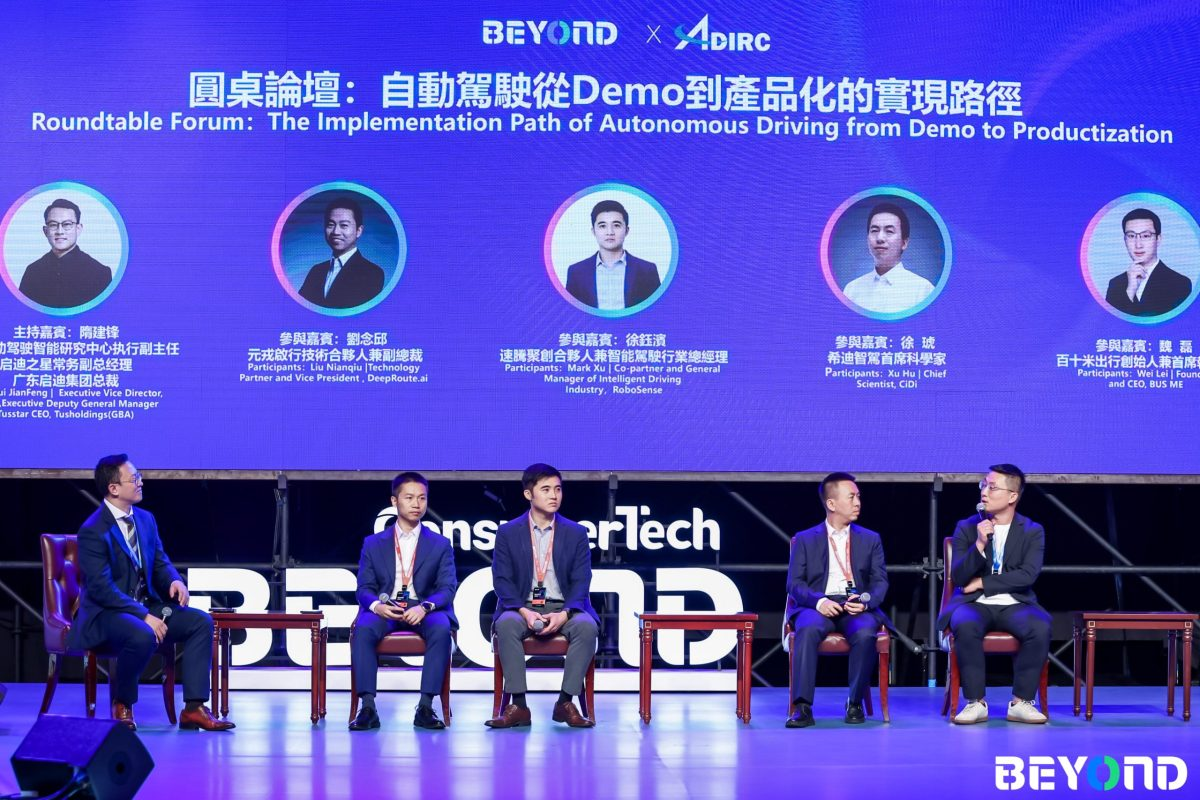 At the BEYOND Expo 2023 in Macao, experts from the autonomous driving sector gathered on Friday to discuss the implementation phase of autonomous driving. Liu Nianqiu, technology partner and vice president of DeepRoute.ai, Mark Xu, co-partner and general manager of the Intelligent Driving Industry at RoboSense, Xu Hu, chief scientist, CiDi, and Wei Lei, founder and CEO of BUS ME, shared their insights on the journey from the demo phase to the productization phase of intelligent vehicles.
Sui JianFeng, executive vice director at ADIRC, executive deputy general manager at Tusstar, and CEO of Tusholdings (GBA) moderated the panel.
The four speakers divided intelligent driving scenarios into two main categories: those involving robotaxis and robobuses. Xu expressed confidence in RoboSense's ability to implement both types of automated driving technology and reduce automated driving takeover in urban areas through safe technology. Wei Lei pointed out that the technology for robotaxis in cities will be more complex and require higher technology standards.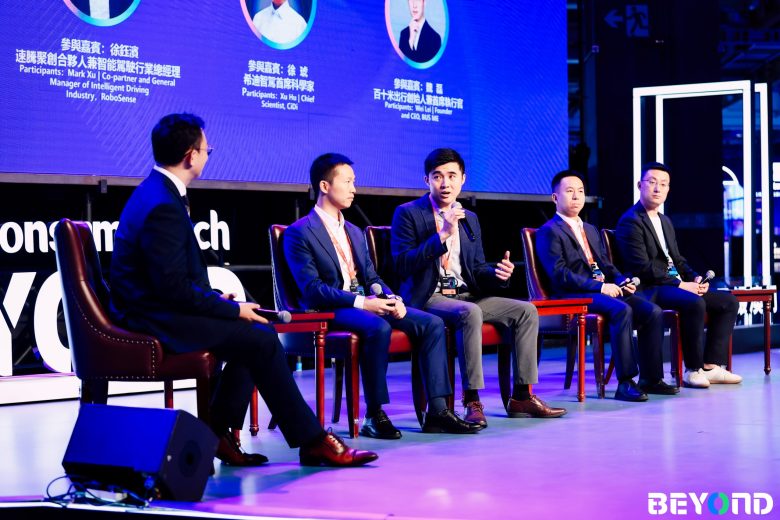 Mark Xu (in the middle with mic), co-partner and general manager of intelligent driving industry, RoboSense. Credit: BEYOND Expo
Mark Xu also predicted that the concept of automated driving will gain momentum either this year or the next year. He said he thought that full self-driving solutions will experience large-scale growth, though admitted that consumer acceptance is an important factor.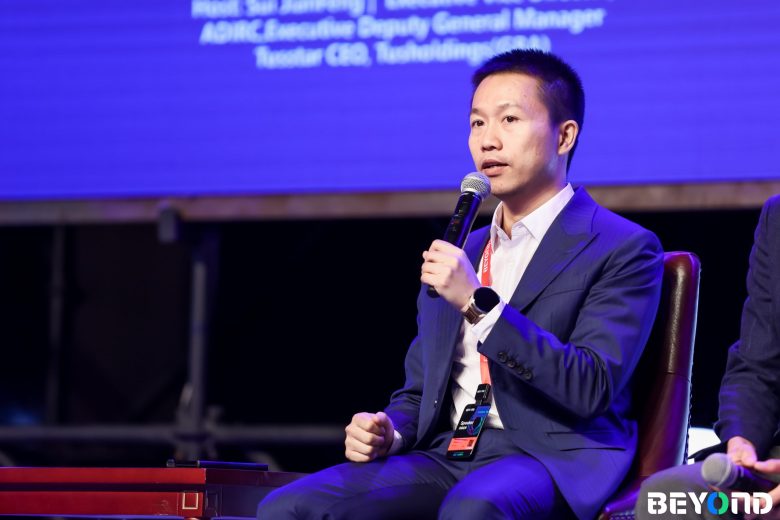 Liu Nianqiu, technology Partner and Vice President of DeepRoute.ai Credit: BEYOND Expo
Liu Nianqiu suggested that one path toward the technology becoming more widely accepted lay in pursuing opportunities for hardware and software collaborations. He cited the example of RoboSense's strategic partnership with DeepRoute.ai, which aims to promote the mass production of L4-level autonomous driving solutions. The two companies will focus on developing an L4 autonomous driving solution that integrates RoboSense's intelligent solid-state lidar system with precise, comprehensive 3D environmental perception capabilities. By leveraging their respective technological advantages and industry resources, they aim to empower robotaxis with more advanced and intelligent autonomous driving solutions, enabling more consumers to enjoy safer and more intelligent travel experiences, Liu said.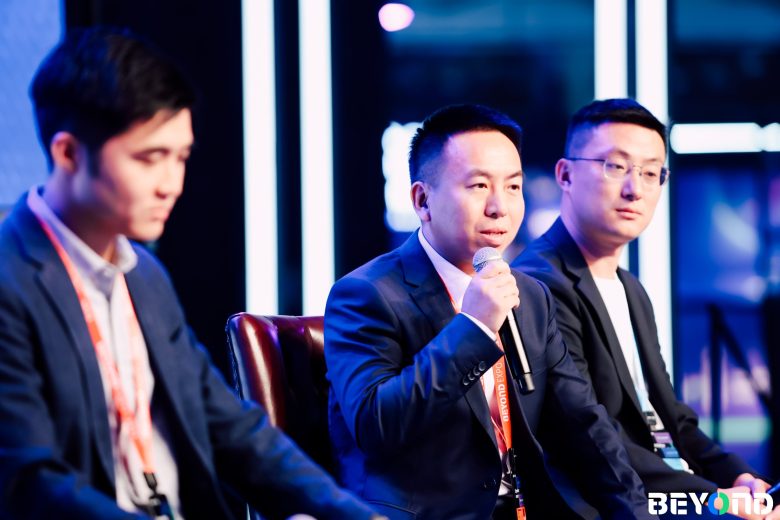 Xu Hu, Chief Scientist of CiDi. Credit: BEYOND Expo
According to Xu Hu and Wei Lei, there is great potential for the application of autonomous driving in various industries and scenarios, including low-speed logistics, commercial logistics, mining sites, and other closed-road industries such as industrial parks. In these closed environments, the structured description of autonomous driving is relatively clear and there is less potential interference, particularly from human factors.
Xu Hu mentioned that CiDi has integrated BeiDou high-precision positioning technology into innovative applications in digital transportation and autonomous driving fields, achieving unmanned transportation in mining areas and industrial parks. In addition, Dongfeng Liuqi and CiDi have jointly developed the Liuqi H5 intelligent logistics vehicle, an intelligent electric truck designed for mass production and used in scenarios such as factory logistics and park transportation, meeting the demands of multi-scene applications. The vehicle has multiple functions such as V2X vehicle-road coordination, 5G remote parallel driving, and cloud intelligent scheduling, which effectively reduce traffic safety risks and improve logistics transportation efficiency.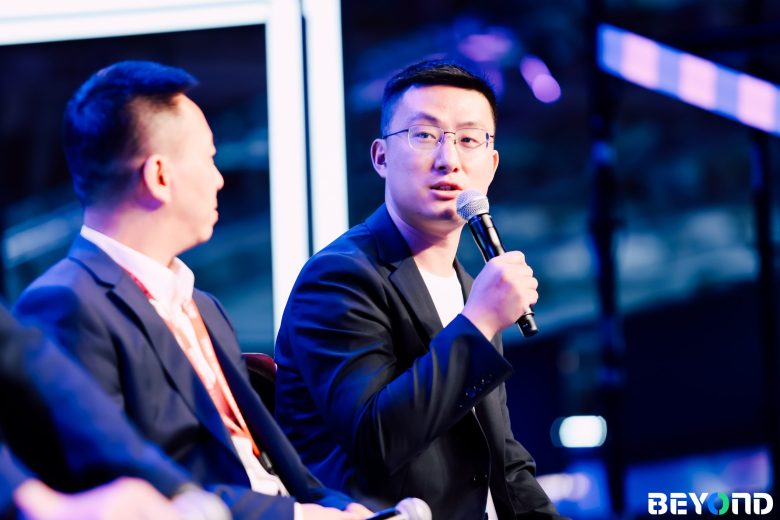 Wei Lei, founder and CEO, BUS ME. Credit: BEYOND Expo
According to Wei Lei, the current challenges related to technology, policy, and cost, make it difficult for robotaxis to land, and it will still take a long time for the vehicles to become scalable. He argued that the landing of robobuses can be much faster. Baishimei, an important promoter of robobuses, is a private travel company that provides automated driving solutions for short-distance travel needs from urban subways to communities, universities, and parks, emphasizing operational capabilities using intelligent sightseeing vehicles rather than standard buses. Baishimei plans to launch L4 autonomous driving in the future. As early as September 27, 2021, Baishimei announced the completion of its first commercial order and completed 25,000 paid orders in just two months.
Sui Jianfeng also highlighted a long road ahead, saying that, "the path from demo to mass production of autonomous driving not only involves the technology itself, but also essential factors such as cost, safety, application scenarios, and consumer experience. Therefore, it is important for all entrepreneurs to jointly promote the development of this industry."
About BEYOND
Since 2020, BEYOND Expo has been held twice with great success. It has become one of the largest and most influential international technology expositions in Asia, attracting 800+ exhibitors and 55,000+ attendees worldwide. More than 150 industry forums featuring 500+ innovative business leaders as speakers will provide a global platform for insightful technology exchange.
BEYOND has officially announced that "Technology Redefined" is the theme for BEYOND Expo 2023, which will be hosted in Macao from May 10 to 12. BEYOND Expo 2023 is set to reach a new high in terms of scale, attendee influence, diversity of industries, companies, number of exhibitors, and overseas visitors. There will be more than 100 events and networking sessions. We look forward to connecting with global tech innovation enthusiasts and facilitating in-depth interaction in all fields, including enterprise, product, capital, and industry to promote the global tech scene in the Asia-Pacific region and the world.
For more cooperation, please contact us at:
Business Partnerships: [email protected]
Media Partnerships: [email protected]
Other Inquiries: [email protected]