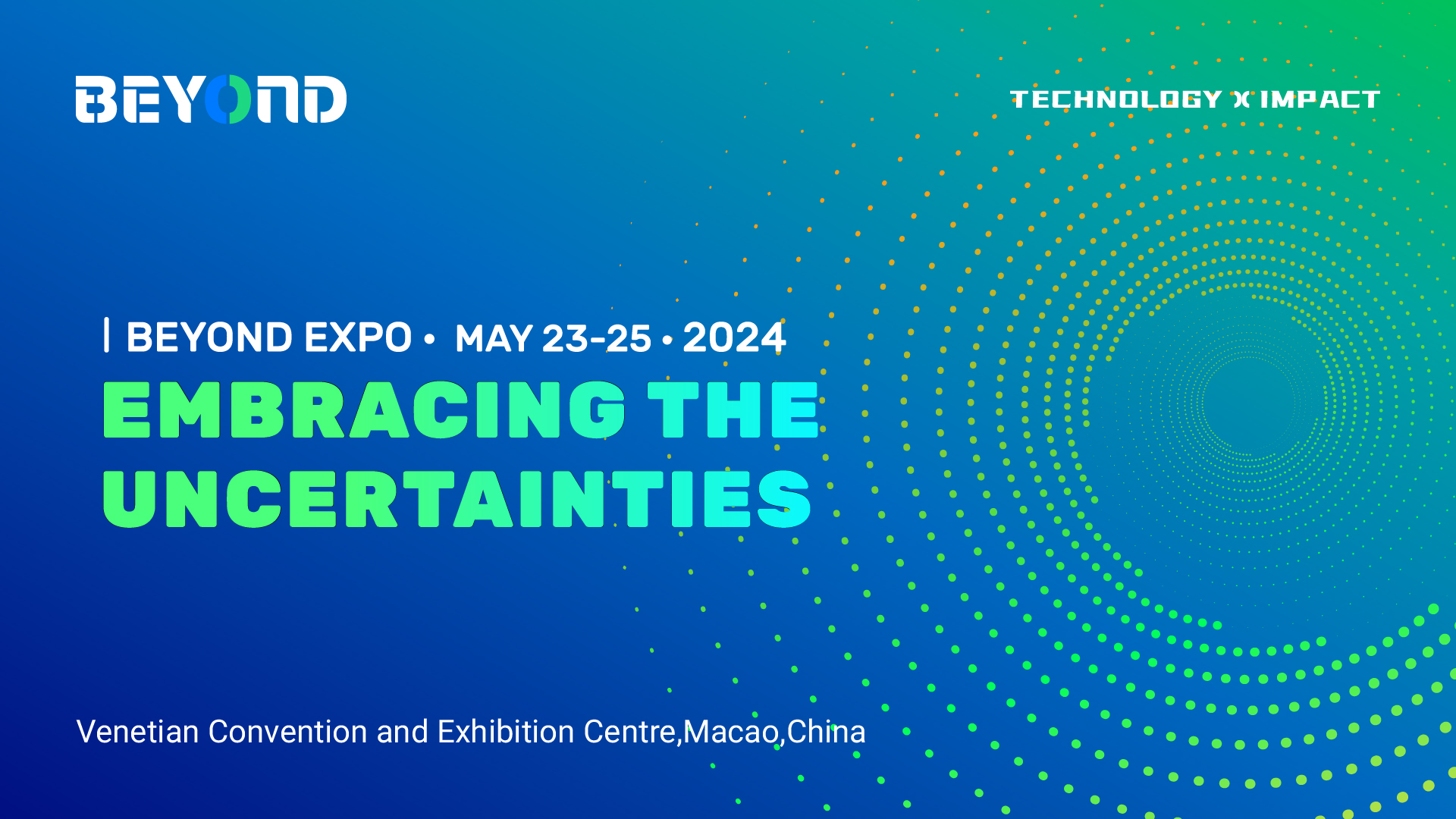 Embracing the Uncertainties: A Personal Invitation from Co-founders of BEYOND Expo
Since the establishment of BEYOND Expo in 2020 until now, we have often been asked why we decided to create BEYOND and why we chose Macao. In the past 10 years, global technological innovation has  increasingly focused on Asia, not only due to the rapid development of China's technology industry but also because of the immense market potential in Asia. According to  research published in 2020 by McKinsey Global Institute (MGI), Over the last decade, the region has accounted for 52% of global growth in tech-company revenues, 43% of startup funding, 51% of spending on research and development, and 87% of patents filed. Moreover, Asia is leading not only in consumer technology but also investing significant resources in technology-driven innovation in the fields of life sciences and sustainable development, from governments to industries. However, due to language and cultural barriers, the innovative forces in Asian countries have not received as much attention as those in Europe and America, and  limited communication between Asian countries and the global innovation ecosystem. Therefore, we believe that Asia needs a platform that can bring together the innovation ecosystems of different countries and regions each year, to share and showcase the latest innovative ideas, products, and technologies, and to propel Asian innovation onto a larger global stage.  These innovations extend beyond consumer technology to include life sciences and sustainable development. Although Macao has a small geographical area and local market, it is backed by the vast market of the Greater Bay Area, which includes Guangdong, Hong Kong, and Macao. With its international and neutral positioning, world-class hotel facilities and exhibition services, and vibrant open city culture, Macao serves as a gateway not only between China and the world but also between Asia and the world. Therefore, we strongly believe that BEYOND Expo will become a unique world-class technology innovation platform in Asia.
Over the past three years, despite the uncertainties brought by the pandemic, we have steadfastly pursued our goals to become an international technology innovation platform . A few days ago, BEYOND Expo 2023 had total number of attendees 15000+, with over 600 companies mostly from the world participating in the exhibition. We curated more than 150 exciting panels, invited in excess of  200 media outlets to cover the event, and received over 11,000 coverage. BEYOND Expo has reached a new level in terms of scale and international influence. Here, we would also like to express our gratitude to all our partners for their support. When we saw so many entrepreneurs, experts, government representatives, venture capitalists, and media from around the world  at BEYOND Expo for the first time, whether in the exhibition area, on stage, or at various banquets and parties, your full three-day itinerary is the greatest value that we hope BEYOND Expo can bring.
The pandemic is over, and the world is in urgent need of restarting cross-regional technological cooperation. Artificial intelligence is causing unprecedented transformations in various industries, and technological advancements are leading humanity into new realms such as virtual worlds, quantum fields, and outer space, among others. In this rapidly evolving technological landscape, where new trends and disruptions are constantly emerging, coupled with unnecessary factors such as geopolitical economic, It becomes crucial for individuals or organizations to have the courage to explore the unknown and embrace innovation and change. Therefore, looking ahead to BEYOND Expo 2024, we have chosen the theme for next year: "Embracing the Uncertainties". We anticipate a more grand and diverse BEYOND Expo and boldly expect over 1000 exhibitors and more than 30,000 attendees, among which you will find a greater number of innovative forces from Asian countries and regions. BEYOND Expo will not only be a showcase platform for innovative technologies but also a gathering of global innovation leaders. We will make every effort to promote BEYOND Week, centered around technology and incorporating various elements such as music festivals, making it an international carnival. BEYOND Expo in 2024, "Embracing the Uncertainties", will truly be exceptional!
We extend our most sincere invitation to you and your organization. Save the date – May 23-25, 2024, and we look forward to gathering with each and every one of you in Macao.
Jason Ho & Gang Lu
Co-founders of BEYOND Expo
BEYOND Expo2023 Overview Video
Deep integration of cutting-edge technology and industry, continued focus on three major sub-brands
BEYOND Expo 2024 will continue to focus on its three sub-brands: Sustainability, Healthcare, and ConsumerTech. The expo aims to promote deep integration of cutting-edge technologies and industries through exhibitions and summits. BEYOND Expo 2024 will continue to expand the scale of its exhibition area, with 100,000 square meters of dedicated expo space in Macao. Next year's exhibition plans to attract 1,000+ domestic and international technology companies, with overseas firms expected to account for 40% of total exhibitors. BEYOND will continue to serve as a stage for technology innovation, which will connect innovators with the market and explore technological boundaries.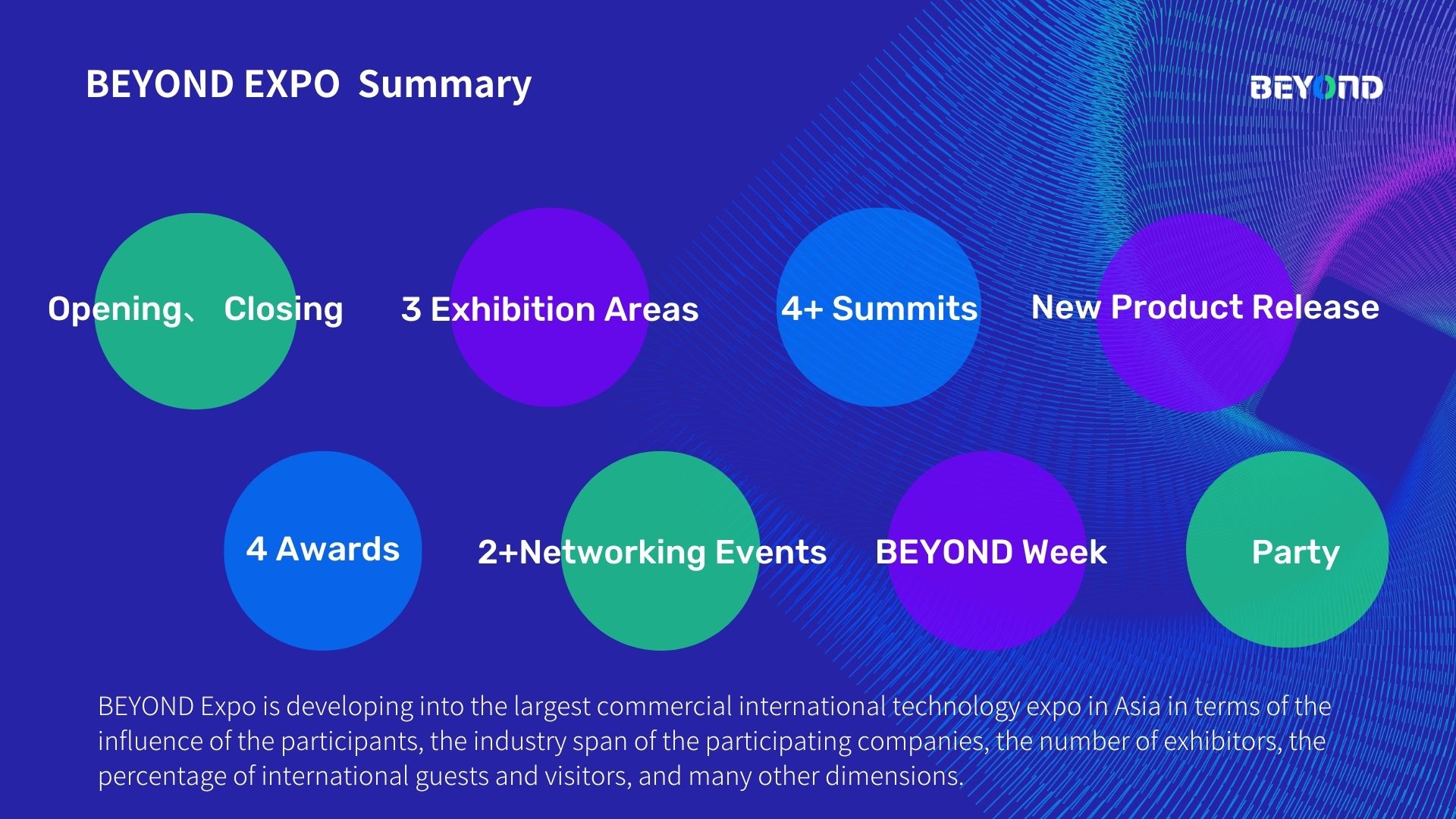 BEYOND Expo 2024 will have an exclusive Sustainability Pavilion that will showcase solutions based on environmental friendliness, social responsibility, and economic sustainability. We will focus on innovations in renewable energy, food technologies, sustainable agriculture and precision farming, new materials, green logistics, energy and waste management, and green city/building property technologies to achieve sustainable development goals. China Construction International Group Limited was present at BEYOND Expo 2023 as the exclusive strategic partner of the BEYOND Sustainability sub-brand. The Sustainability Pavilion at BEYOND Expo 2023 attracted Deloitte, Fujifilm, Guangdong Hengjian Investment Holding Co., Ltd., Nam Kwong Group, China Water Environment Group, China Civil Engineering, XAG, among other enterprises exhibiting low-carbon development and creating a greener and more sustainable future. We will also host relevant summits to bring together industry leaders and experts to promote communication and cooperation, facilitating the achievement of sustainable development goals.
BEYOND Healthcare will have a separate exhibition area focusing on new discoveries in the fields of medical science and health, stem cells, clinical research,traditional Chinese medicine, drug development, digital health, and medical devices, among others. China Taiping was present at BEYOND Expo 2023 as the exclusive strategic partner of the BEYOND Healthcare sub-brand. The Healthcare Pavilion at BEYOND Expo 2023 attracted including AstraZeneca, Eduard, Fosun Pharma, UniTrust, Merck, Abbott, Zaiding Pharma, and others. The companies shared cutting-edge research and contributed to accelerating the improvement of people's healthcare needs. In 2024, we will showcase the latest research results and technology applications to contribute to improving human health and quality of life. Meanwhile, we will organize professional industry summits to discuss cutting-edge topics in life sciences to help drive innovation.
The ConsumerTech Pavilion will be an eye-catcher, showcasing latest technology products and innovative solutions. It will include autonomous driving/electric vehicles, robotics, wearables, e-sports and sports technology, enterprise services, chips and semiconductors, travel technology/retail technology, space technology/drones, financial technology, AI/IoT Smart Life technology, and metaverse/Web3. ICBC Macao was present at BEYOND Expo 2023 as the exclusive strategic partner of the BEYOND ConsumerTech sub-brand. The ConsumerTech Pavilion attracted Alibaba Group, Macao Pass, CTM, Huawei Lenovo, NBA, Ctrip, Shangtang Technology, Xiaopeng Huitian, EVA, Bank of China Macao Branch and other exhibitors to drive industry change and meet the growing demand. We will bring together the latest achievements in consumer technology and organize professional industry summits. Industry experts and business representatives will attend the summit to discuss development trends and business opportunities in consumer technology.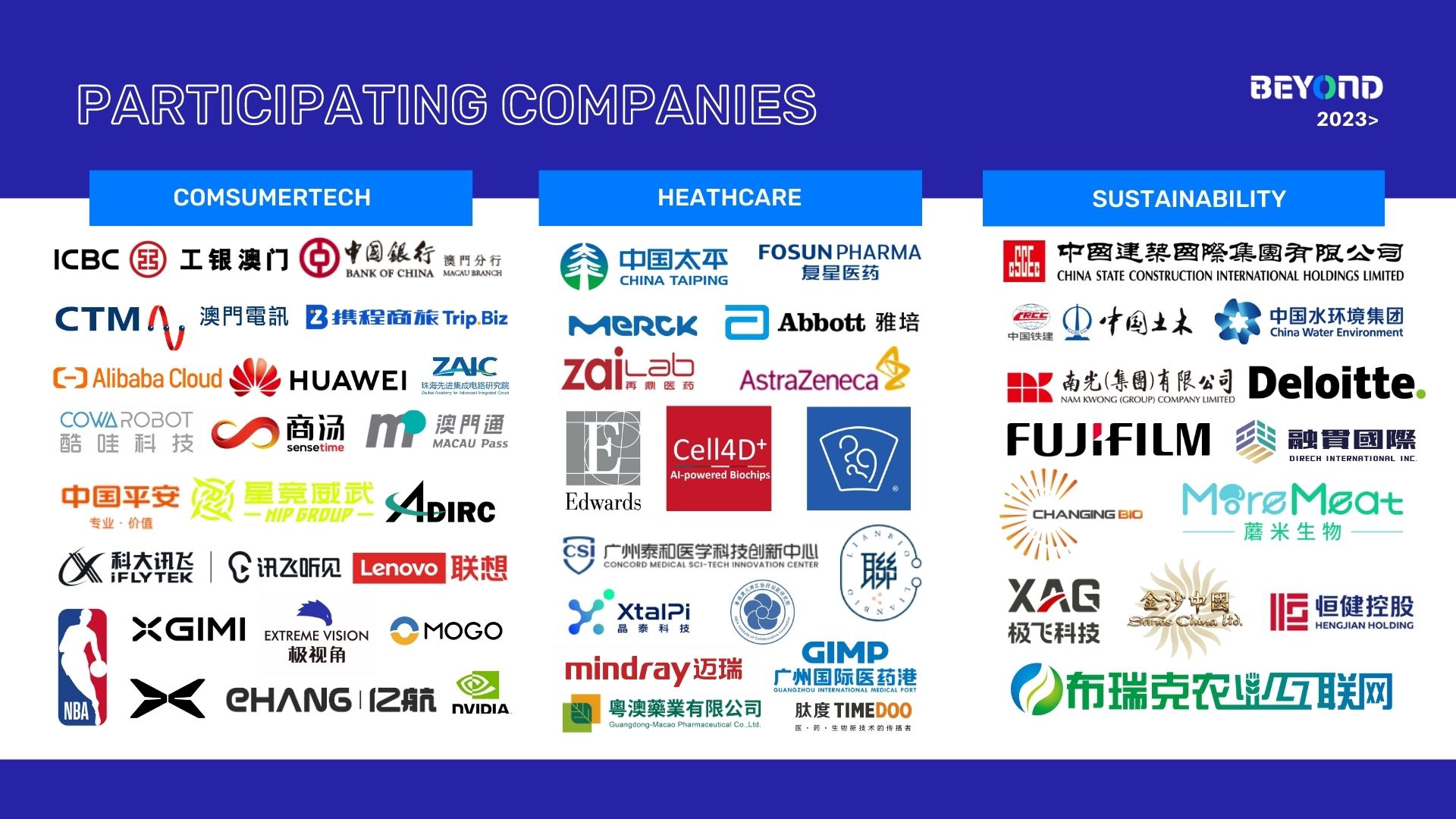 For business cooperation, please contact: [email protected]
To learn more about BEYOND Expo 2024, please check the details on our official website:https://www.beyondexpo.com/
Opening and closing ceremony, along with industry summits to explore the frontiers of innovation
BEYOND Expo 2024 will continue the theme of "What's Next." The world's leading experts, scholars, and business leaders will share their latest research results and vision of the future of technology in next year's expo. Renowned industry leaders will also participate to analyze the development trend of technology, share the importance of innovation, lead industry change through innovation, witness the power of technology, and explore the infinite possibilities of the future together.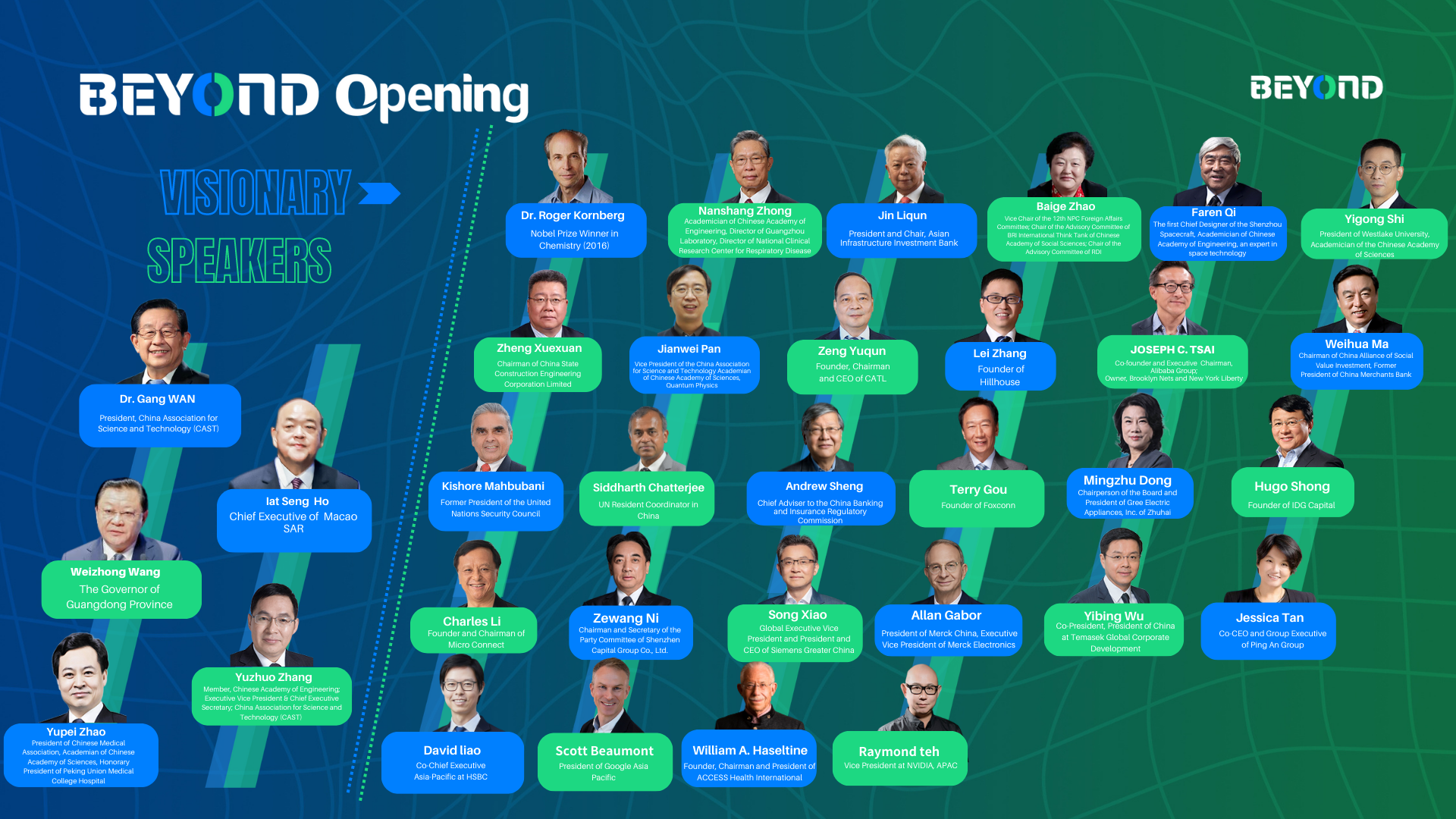 Guests of Honor at BEYOND 2021-2023 Opening
The Industry Summit is the core component of BEYOND Expo. We will host high-level keynote speeches, roundtable forums, and seminars. They will be attended by global industry leaders, experts, scholars, and innovators. Together, they will discuss the development trend and future direction of the industry and explore potential opportunities and challenges. By sharing insights, participants will gain insight into industry dynamics and have the opportunity to network with industry leaders. In BEYOND Expo 2023, we joined hands with China Construction International to organize Sustainability Summit, collaborated with China Taiping to host Life Sciences Summit, and partnered with ICBC Macao for Consumer Technology Summit.
BEYOND Expo 2024 will also host four industry summits — Sustainability Summit, Healthcare Summit, ConsumerTech Summit, and Investment Summit. The Sustainability Summit will explore climate change, renewable energy, clean technology, water management, green building, green transportation, agri-food technology and other environmental issues, aiming to continuously improve people's wellbeing. The Healthcare Summit will promote global cooperation and innovation in the life science field, explore cutting-edge scientific discoveries and technological advances, and share forward-looking thinking and ideas in this field to the global audience.Topics include but are not limited to new drug development, biotechnology, synthetic biology, gene editing technology, ecological and environmental life sciences, etc. The Consumer Technology Summit will focus on cutting-edge thinking and practical experience in the fields of smart home, Internet of Things, virtual reality, artificial intelligence technology, and financial technology, among others. The summit will promote deep integration of technology and consumer industry and leading the innovation of business models. The Investment Summit will promote global investment and financing. It will promote cooperation and exchange in the field of global investment and financing, explore innovative financing models and investment opportunities. Guests will share success stories in the field of investment, promote rapid growth of entrepreneurial projects and startups, help the sustainable development of the global economy, and provide a broad communication and cooperation platform for entrepreneurs, investors and enterprises. At BEYOND 2024, we look forward to exchanging ideas, showcasing innovation and developing the future with experts from various industries.
Showcase new products, gathering of domestic and international media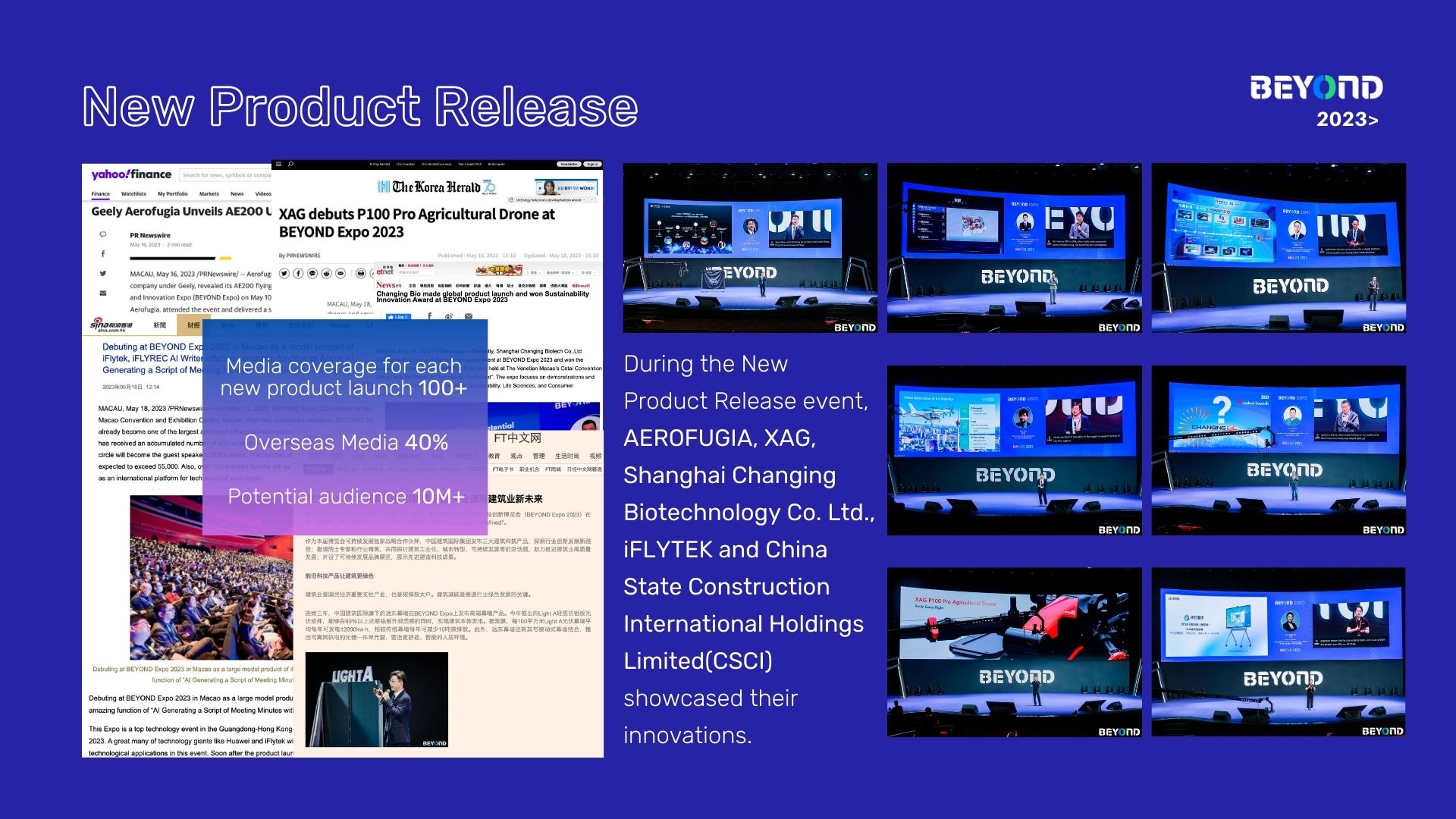 BEYOND Expo has been committed to focusing on the world's most innovative and high-quality technology products. The special venue for New Product Launch event has become an excellent stage for companies to showcase their latest technology and design achievements. The 2023 launch event was hosted in a brightly lit venue with high-hanging LED screens, creating a luxurious top-of-the-line theater experience. Well-known companies such as China Construction International, Wofei Changkong Technology, Jiefei Technology, Shanghai Changjin Biotechnology, and KDDI presented their latest products at the BEYOND Expo 2023. Companies showed the audience their innovative ideas and strengths, allowing users to experience the superior performance of new products and technological innovation first hand. More than 200 domestic and overseas media outlets actively reported about the events in different formats, helping new products gain more exposure. The media attention enhanced the companies' brand awareness and influence, allowing more people to understand and pay attention to these innovative products.
BEYOND 2024 will continue to set up special sessions for new product launches, creating a unique platform for companies to showcase their latest technological achievements and attract attention from industry experts and potential users. The extensive media coverage will further provide more exposure to products, bringing more business and market opportunities for enterprises. These activities not only enhance the brand image and visibility of enterprises but also promote the development of technological innovation and advance the progress of the industry.
Innovation leads, technology for good, BEYOND Awards
The BEYOND Awards, an integral part of the expo, focuses on BEYOND's three sub-brands. The honors are awarded for innovation in Healthcare, Sustainability, and ConsumerTech, along with the BEYOND Impact Awards. These awards are judged by the BEYOND Awards Selection Committee after carefully evaluating their technology, business value, and innovation. The awards aim to honor outstanding individuals and teams that have integrated innovative thinking and practice to make breakthrough technologies and industry-leading solutions for social progress, while promoting innovation in various fields.
The BEYOND Impact Awards are based on the United Nations' 17 Sustainable Development Goals and recognize outstanding companies that have made significant contributions and changes in nature, environment, society, economy, and technology. These companies address important issues such as carbon emissions, health, ecological protection, and poverty alleviation through technological innovation while achieving carbon neutrality. Ten winners are selected after four rounds of nomination, preliminary selection, re-election, and final selection. The final winners will be announced at a grand award ceremony in Macao. The winning companies will enjoy special benefits provided by the BEYOND organizing committee to further enhance their potential.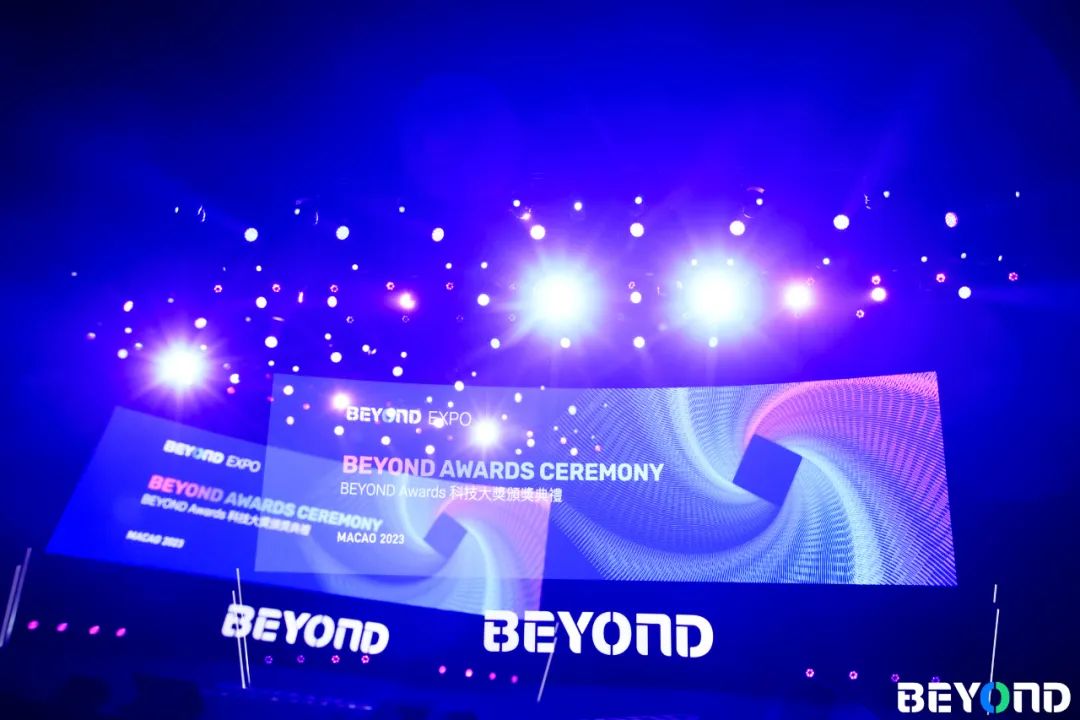 Unleashing the passion for innovation, gathering of vibrant Asian technology in Macao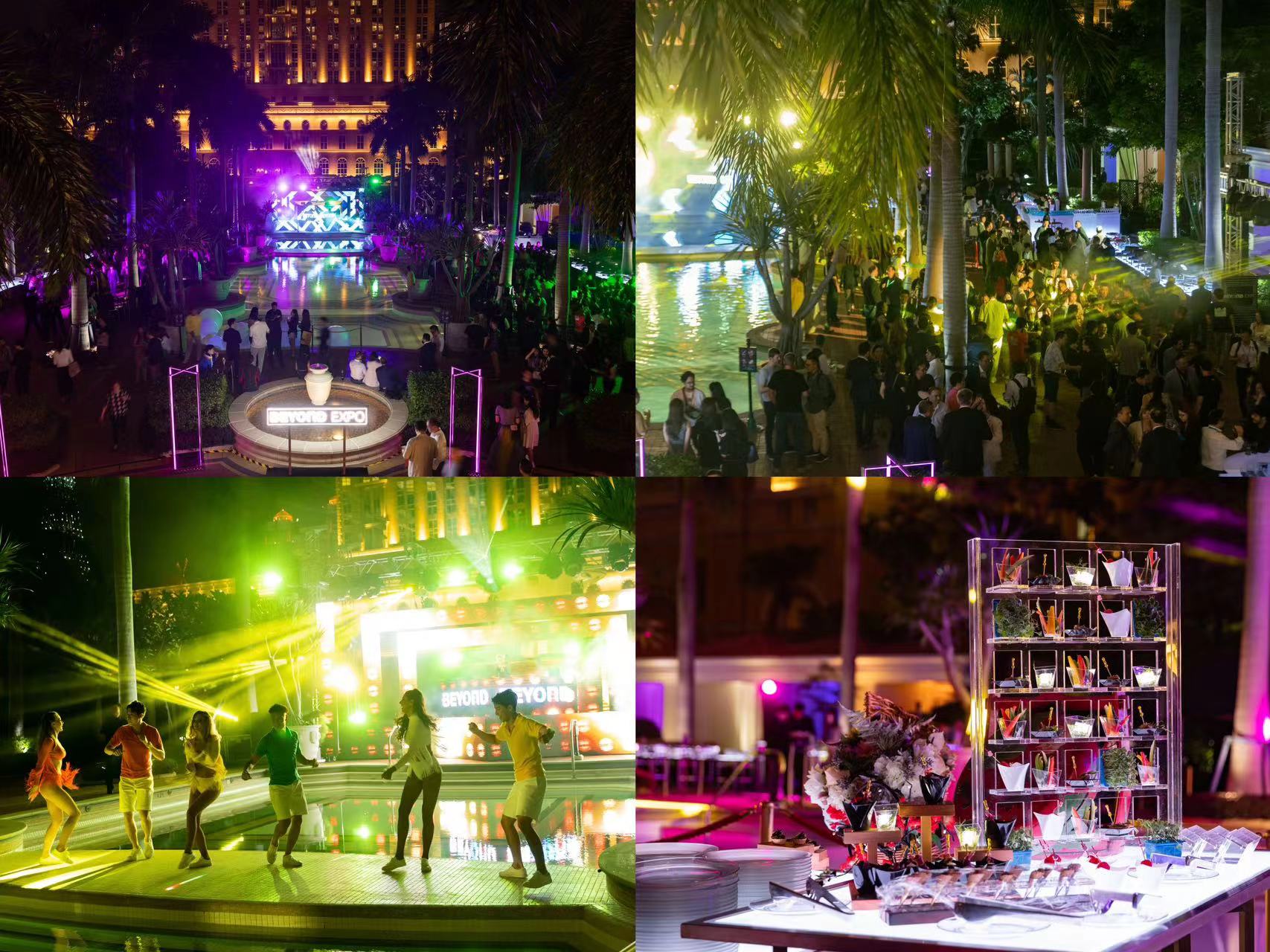 BEYOND is committed to creating a comprehensive innovation platform that provides valuable interactive opportunities for entrepreneurs, investors, and industry leaders. The Innovation Roadshow session will serve as a unique platform for global technology entrepreneurs to showcase cutting-edge products and services, attract investors, and enhance visibility and market exposure. The International Capital Matchmaking Sessions will provide an in-person platform for entrepreneurs and investors to introduce and promote their projects, as well as explore business collaboration opportunities. The multiple media roadshows will showcase the most cutting-edge technology products and corporate concepts, helping to expose the brand widely. BEYOND will also host a series of nighttime events including dinners and various parties to create a networking environment for participants in a casual setting.
Macao provides unique regional character as a host to BEYOND Expo. It blends Eastern and Western cultures, tradition and modernity, providing attendees with the opportunity to explore the unlimited potential of Asia's technology and innovation. BEYOND will be a key driver in helping flourish Asian technology innovation, promoting win-win cooperation between regions, and opening up a broader international stage for innovators.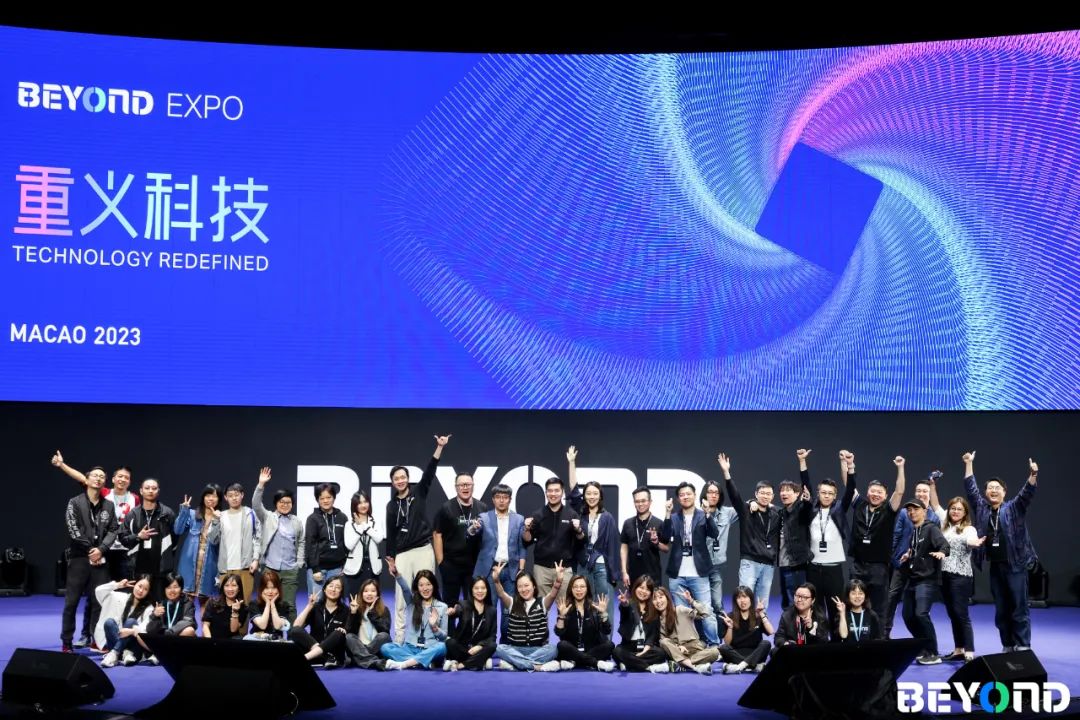 Technology lights up the future and innovation drives development. We look forward to using technology to ignite your inner passion for technology and lead you into a future full of infinite possibilities!
BEYOND Expo 2023 Review Report Download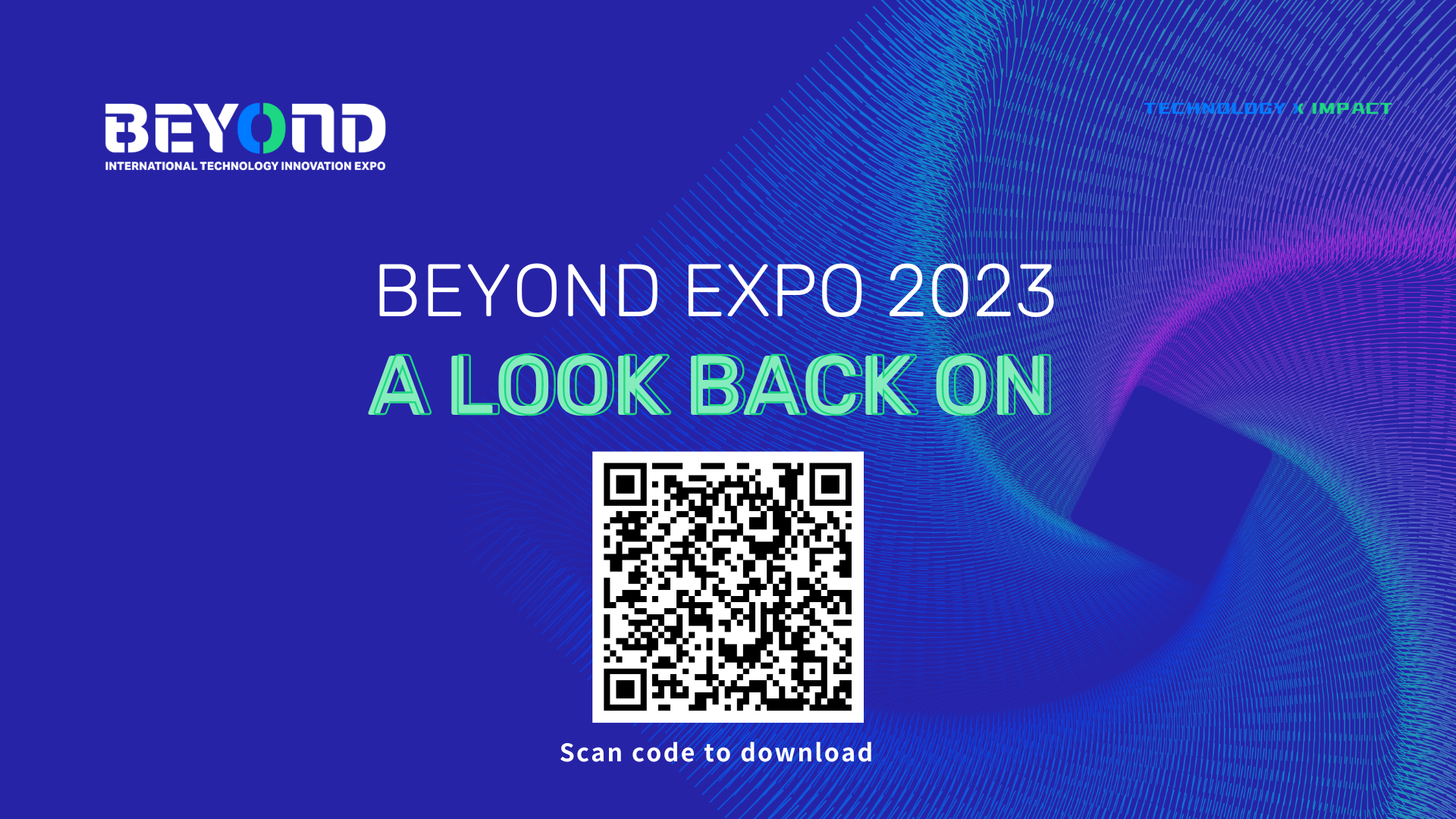 To learn more about BEYOND Expo 2024, please check the details on our official website:https://www.beyondexpo.com/