Since March, the number of COVID cases has increased across China. In light of the severity of the current pandemic, the BEYOND Organizing Committee has decided to put the safety of our participants first by hosting the second BEYOND International Technology Innovation Expo (BEYOND Expo 2022) entirely online in the BEYOND Metaverse on September 21-27, 2022.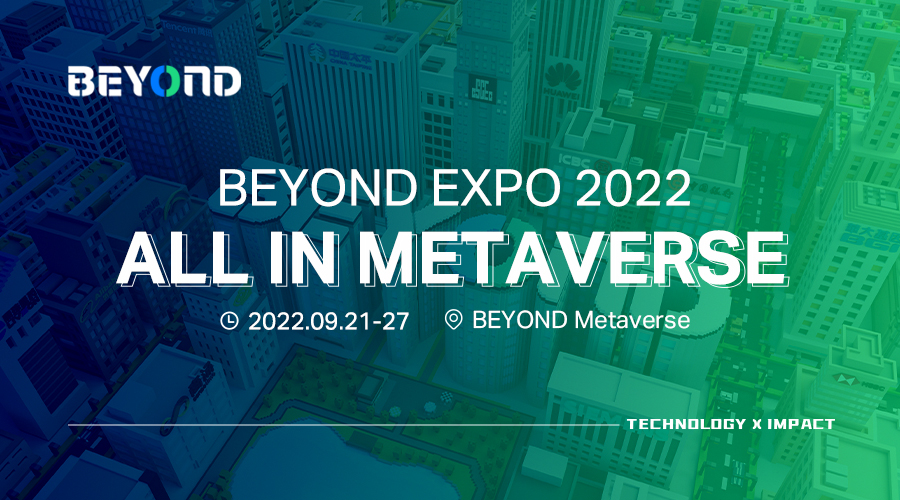 All in Metaverse: Healthcare, Sustainability and ConsumerTech
This year, BEYOND Expo 2022 will focus on the three newly-launched sub-brands: BEYOND Healthcare, BEYOND Sustainability, and BEYOND ConsumerTech. We are expecting 500+ exhibitors from around the globe in the BEYOND Metaverse. Events like Startup Roadshows, Fund at First Pitch (VC meetups) and BEYOND Awards ceremony etc will also be organized in the metaverse to enhance the communications and interaction among the global ecosystem players such as corporate leaders, entrepreneurs, investors, experts, government representatives etc. 
Five Technology Summits to Dive Deep into Industry Trends
BEYOND 2022 will host five summits to discuss hot topics around Healthcare, Sustainability, Consumer Tech, Investment, and Web3, starting from 21st, Sept. As the signature events of BEYOND Expo, this year's BEYOND Opening and Closing will be also held at BEYOND Metaverse. Last year, distinguished speakers including Qi Faren, the first Chief Designer of the China's first spacecraft, Shenzhou; Nanshan Zhong, a National Hero and the director of National Clinical Research Center for Respiratory Disease; Song Xiao, Global Executive Vice President and President and CEO of Siemens Greater China; Jessica Tan, Co-CEO and Group Executive of Ping An Group, the world leading technology-powered financial services conglomerate; Scott Beaumont, President of Google Asia Pacific; David Liao, Co-Chief Executive Asia-Pacific at HSBC; Mingzhu Dong, Chairwoman of Gree Electric, one of the world largest appliance companies; Raymond Teh, Vice President at NVIDIA, APAC; Weihua Ma, Chairman of China Alliance of Social Value Investment; Hugo Shong, Founder of IDG Capital; Yibing Wu, Co-President, President of China at Temasek Global Corporate Development and more were delivering their keynotes at the inaugural BEYOND Expo opening ceremony in Macao. This September, we expect even more industry experts and global tech leaders to join us in the metaverse. We are also inviting international news and media platforms to join us, expanding our reach across. Stay tuned for the announcement of our upcoming guest speakers for BEYOND Expo 2022!
You may click HERE to apply for speaking at one of these summits.
Empowering Businesses Beyond Borders
Despite being entirely online this year, BEYOND Expo will continue our mission of creating synergies within the global tech ecosystem and empowering businesses beyond borders.
We sincerely welcome you to join us in the BEYOND Metaverse in September this year! And, we are very much looking forward to seeing you again in person at BEYOND 2023 in Macao!