The world faces many environmental, economic, and health challenges. Commitment to sustainable development is key to the survival of future generations and must be a global effort. To achieve sustainable development, continuous progress and innovation of science and technology is necessary to introduce new sources of resources and energy, develop zero to low carbon emissions, and contribute to a greener economy.
Technological innovation and impact has always been a key focus of BEYOND Expo to bring together the global innovation ecosystem and promote cross-border cooperation across various industries. As the conference is focused on showcasing cutting-edge innovation and facilitating discussions between innovators and investors, the organizing committee launched BEYOND Awards to recognize founders and entrepreneurs in tech. At present, the review of the BEYOND Innovation Award is in progress.
Since launch, over 300 projects have been nominated for the BEYOND Innovation Awards. The BEYOND Awards Committee is currently reviewing projects for 2nd round selections. After all three stages of a virtual roadshow, offline roadshow, and video submission review, 90 companies will be selected to move on for the final round.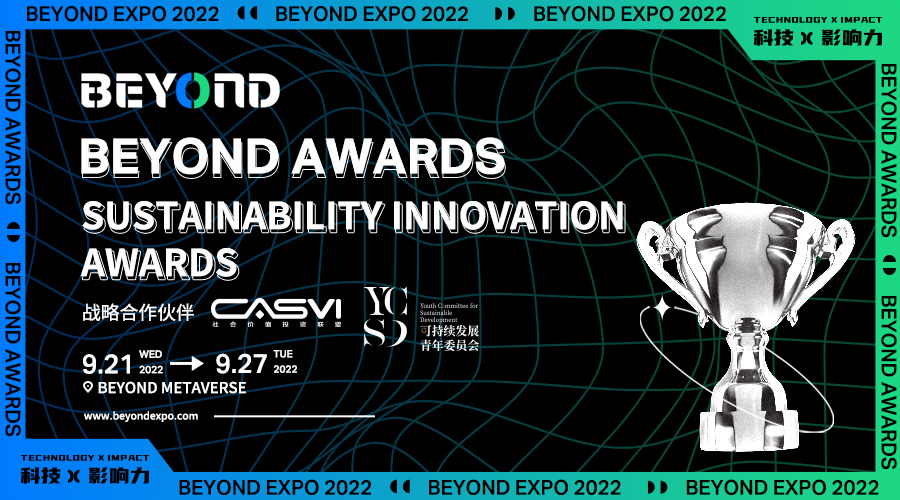 On August 25th, 2022, the BEYOND Organizing Committee and the China Alliance of Social Value Investment held a virtual roadshow for the BEYOND Awards Sustainability Innovation Awards. Ten outstanding innovation teams displayed their products and services to a judging panel, who assessed each project on technological innovation, market value, and core capabilities. Experts from the Youth Committee for Sustainable Development were also invited to assess the projects. The purpose is to discover innovative companies with cutting-edge innovative technologies and enhance interaction among the global ecosystem players, such as corporate leaders, entrepreneurs, investors, experts, and government representatives. We would also like to acknowledge Bayswork for their support for our venue.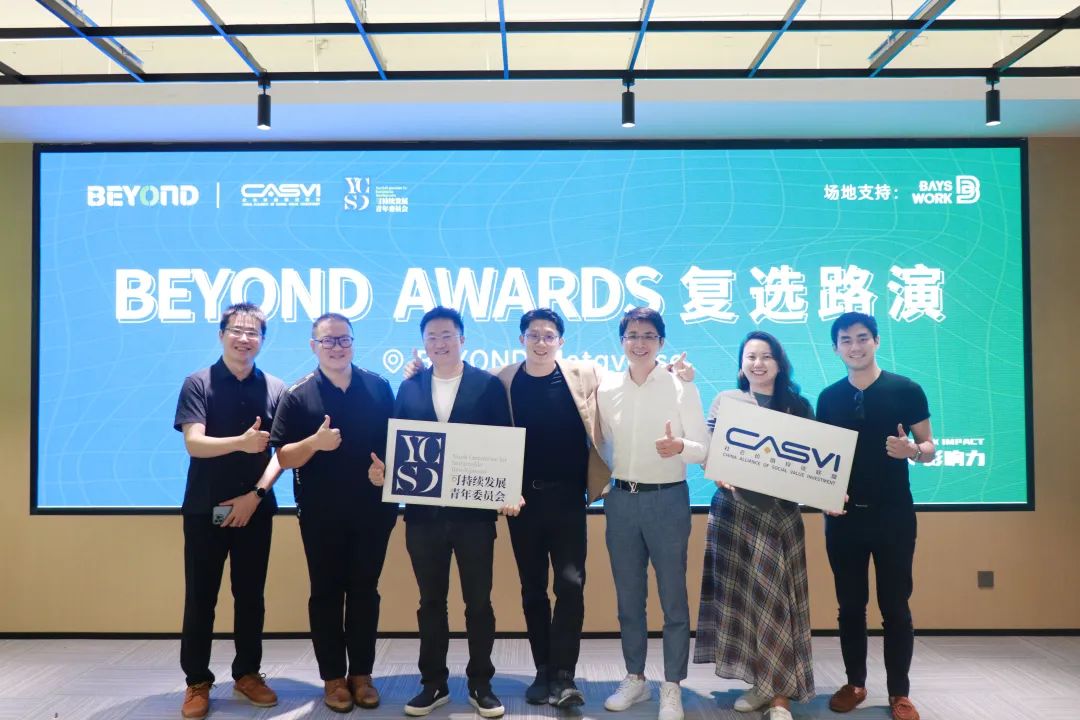 Judging Panel Representatives
He Xiao – Vice President of Investment of CMBC Capital Holding Group, Member of Youth Committee for Sustainable Development
Huang Yun – Co-Founder of LaiDian Technologies, Member of Youth Committee for Sustainable Development
Huang Zhimin – Director of the Guangdong-Hong Kong-Macao Bay Area Public Service Platform for Youth Entrepreneurship, Executive Director of the Youth Committee for Sustainable Development
Li Hongkai – Deputy Director of the Innovation and Entrepreneurship Center of Peking University HSBC Business School, Member of the Youth Committee for Sustainable Development
Lin Xi – Chairman and General Manager of IntelHouse Technology Co., Ltd., Member of the Youth Committee for Sustainable Development
Xi Kaifan – Founder of Wote Baby China, Member of the Youth Committee for Sustainable Development
Yang Ye – General Manager of Guangdong-Macao Fund Outreach Department
Yu Benxi Commercial Director of Nan Hai Corp, Member of Youth Committee for Sustainable Development
Zhang Xiaowen – Sustainable Investment Researcher, Investor, Senior Media Person
Zheng Siyi – Founder of Bayswork
Projects Introduction
Company Name: Shanghai Yo-i Information Technology Co., Ltd.
Project Name: Yo-i Thingswise iDOS Industrial Data Operating System + You-i Light Source Real-Time Energy Efficiency Navigation System
The vision of Yo-i is to reshape the digital transformation of China's basic industries, reducing costs and increasing efficiency by 1% of GDP for China's industry. Since its establishment in 2016, Yo-i has brought more than 30 process industries to steel, power generation, coal chemical, and non-ferrous metals. A total of more than 6 billion yuan in annualized cost reduction and efficiency gains. Yo-i has a great sense of mission, and is working with industrial enterprises and ecological partners to achieve the great vision of reducing costs and increasing efficiency by 1% GDP.These two products of Yo-i (Yo-i Thingswise iDOS Industrial Data Operating System + Yo-i Light Source Real-time Energy Efficiency Navigation System) are positioned to improve the energy efficiency of basic industries through digital technology. It helps enterprises to use innovative means to save energy and reduce emissions, and has verified the additional benefits brought by digital technology in the actual implementation process. For example, Yo-i has a 5 million-ton steel mill in eastern China, which uses industrial Internet technology to conduct real-time intelligent navigation of the gas pipeline network, bringing an annualized cost reduction of 42 million yuan.
Company Name: Seeed Technology Co., Ltd
Project Name: SenseCAP Series Products
As an innovator in the global open technology community, Seeed Technology is committed to using open-source software and hardware, community and ecological resources to promote sustainable development and meet challenges. Many high-profile topics, such as sustainability, carbon neutrality, and wildlife conservation, have largely focused on field scenarios that often lack emerging technologies and applicable solutions. This year, SeeedTechnology launched 12+ AI + IoT solutions for field application scenarios to the global community with the theme of "IoT into the Wild". Products range from low-power sensors to ultra-long-range gateway devices for edge AI, including the SenseCAP series product solutions.
SenseCAP attempts to solve the problems encountered in the construction of urban and rural environmental monitoring systems, such as outdated technology, low equipment utilization, low equipment energy consumption and efficiency ratio, high equipment operating costs, and incomplete coverage of monitoring elements. At the same time, reduce the difficulty of operation and labor cost with higher integration, more friendly human-machine interface and more concise system interface, enhance the interoperability between environmental monitoring systems, and promote the operation of environmental monitoring systems to the level of developed countries in the world.
Company Name: Sensity Corporation Creative Technology Co., Ltd.
Project name: AI-based city-level interaction engine across time and space
Sencity Corporation is a creative technology company founded by well-known Australian Chinese designer Steven Bai (Linsong Bai), headquartered in New York, with branches in the United States, Australia, Singapore and China. Sencity is the world's leading enterprise that applies human interaction perception technology to the built environment of public spaces, and is also the pioneer of the next-generation green intelligent infrastructure and virtual-real interactive content platform for public spaces.
Sencity is also a national high-tech enterprise in China, Beijing Zhongguancun high-tech enterprises and outstanding overseas students set up enterprises. He has won the highest award of the "2020 Edison Awards Edison Invention Award", the most prestigious award in the field of innovation and design of global technology products and services. The company's core products, SencityOS and Sencity SenBox, form a unique "city-level interactive" platform that operates and manages virtual and real space scene assets and produces high-quality creative interactive content in an energy-saving way of IoT data. At present, it has established benchmark projects in many countries around the world, and has established cooperation with more than 100 Fortune 500 companies.
Company name: Beijing Terraqt Technology Co., Ltd.
Project Name: TerraQuanta
TerraQuanta is a technology-driven company that integrates massive multi-source satellite data and makes data at an altitude of 600,000 meters accessible through technological innovation, providing rich and powerful spatiotemporal data products for different industries, helping clean energy, agriculture, forest protection, ecological environmental protection, financial insurance and other industries to achieve data-driven business upgrades, and create a "data encyclopedia about the earth".
TerraQuanta assists the development of clean energy through "satellite remote sensing + AI" technology, accelerates the realization of the dual-carbon goal, and fills the gap in the corresponding "specialized and innovative" venture capital field. At present, related products have been applied to the digital operation of clean energy and forest protection, forest carbon sink measurement, digital agriculture and other fields, and successfully selected for the United Nations Sustainable Development Goals-Science and Technology Impact List. In the future, TerraQuanta will continue to expand the application fields of spatiotemporal data.
Company Name: HurRain NanoTech (Beijing) Technology Co., Ltd.
Project Name: New Air-to-Water Products
HurRain NanoTech is a technology-based enterprise that empowers multi-industry scenarios with advanced functional nanomaterials. It takes advanced materials and functional devices as its innovation direction, and takes human health and sustainable development as its mission and value goals. The core technology of the project comes from the transformation of scientific and technological achievements accumulated by the team of professors at Tsinghua University for several years. He has won dozens of qualifications including the UN 75th Anniversary Special Award. It has been widely reported by well-known domestic media such as People's Daily Online and Xinhuanet.
Currently, nearly one-fifth of the world's population (1.2 billion) lives in areas with physical water scarcity, and nearly one-quarter of the world's population (1.6 billion) faces economic freshwater shortages. It is estimated that by 2025, there will be three Two-thirds of the population are under stress on freshwater resources. The project deeply develops the world's leading passive air water intake technology, and the production of large quantities of clean water that is not limited by water sources and does not harm the groundwater environment. It breaks the bottlenecks of existing membrane filtration and distillation equipment, such as high cost, limited source water, and complicated operation and maintenance. It will deeply empower vertical fields such as off-grid infrastructure, smart oceans, emergency equipment, and Belt and Road assistance, fundamentally solve the crisis of human drinking water shortage.
After the project roadshow, Huang Zhimin, Director of the Guangdong-Hong Kong-Macao Bay Area Public Service Platform for Youth Entrepreneurship and Executive Director of the Youth Committee for Sustainable Development, invited a judge to speak on the Sustainability Innovation Award.
"I am very pleased to learn from today's roadshow that many teams are benefiting more people through continuous technological innovation and can use appropriate marketing methods to promote these technologies to the market in combination with some existing government policies in company operations. Today I am quite impressed with the project of HurRain NanoTech, because I have been to many water-scarce areas when I was working in Africa. On the one hand, the cost of using water purifiers in these water-scarce areas is very high, and HurRain NanoTech can reduce costs through technological innovation, its market is foreseeable; on the other hand, many energy investment companies will operate water purification as a public welfare project, and HurRain NanoTech's business model is very clear, it has been able to create considerable income and has received multiple rounds of investment. I am very happy to participate in today's Innovation Roadshow. I have seen new ideas from many teams, and I look forward to seeing further development of all participating projects in the future."
—— Sharon Zhang
"It can be seen that there are many technical innovations in the participating projects. At the same time, I also found that many projects will have some cooperation with government departments. I think the biggest challenge is the marketing and public relations of the projects. The main creative teams of many projects are from scientific research backgrounds. The lack of government background research may bring certain pressure on product sales. Integrate the characteristics and needs of the government and industry into the system, and slowly drive a single modular operation. I think the project can consider more improvements in this regard. But overall, I think the quality of these projects is very high, and I can see that many projects have successfully created and updated products through technological innovation, and have rapidly developed the market. I believe the development will improve in the future."
——Huang Yun
Co-Founder of Laidian Technologies, Member of Youth Committee for Sustainable Development
About BEYOND
BEYOND Expo 2022 will fully embrace the metaverse, push the boundaries of reality and virtuality, and provide an immersive and interactive experience for all guests. The week-long conference will focus on the three newly launched sub-brands: BEYOND Healthcare, BEYOND Sustainability, and BEYOND ConsumerTech, attracting 20,000+ tech innovation enthusiasts and 500+ exhibitors from around the globe to the BEYOND Metaverse. Concurrently, BEYOND Expo 2022 will host five summits to discuss key topics around Healthcare, Sustainability, ConsumerTech, Investment, and Web3, inviting tech leaders and industry experts to discuss the future development and growing trends within each sector. Events like Startup Roadshows, Fund at First Pitch (VC meetups) and more than 150 networking events will also be organized in the metaverse to enhance interaction among the global ecosystem players, such as corporate leaders, entrepreneurs, investors, experts, and government representatives.
About China Alliance of Social Value Investment

China Alliance of Social Value Investment (CASVI) is the first licensed international NPO specializing in building the ecosystem of sustainable finance in China. In September 2016, CASVI was initiated by more than 50 organizations, including YouChange China Social Entrepreneur Foundation, Investment Association of China, China Society for Social Governance, Philanthropy and NGO Support Center at Tsinghua University, and JIFU Investments. In 2020, CASVI was rated as the 5A National Social Organization and certified as a charity organization.
About Youth Committee for Sustainable Development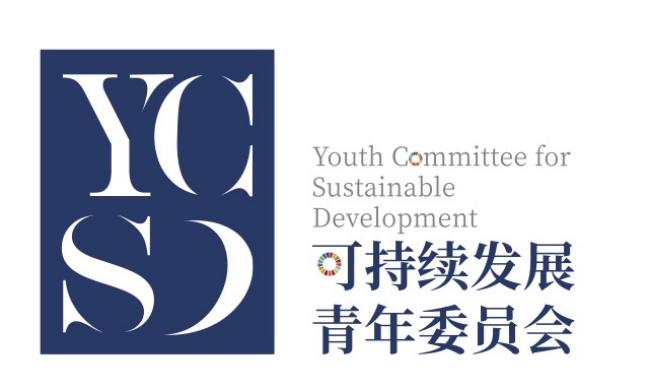 Youth Committee for Sustainable Development (YCSD) is China Alliance of Social Value Investment (CASVI)'s specialized committee composed of youth leading talents from fields such as financial investment, enterprise management, social governance, and technical innovation committing to the cause of sustainable development. YCSD focuses on conducting research on sustainable development, organizing entrepreneurial innovation and venture capital activities, and publicizing sustainable development concepts.
The Youth Committee for Sustainable Development aims to promote young people to practice sustainable development, innovation, entrepreneurship and venture capital. With the power of role models, we can drive young people to practice sustainable development, and guide future capital to invest in future enterprises.
In the future, BEYOND Expo will join hands with CASVI and YCSD to continue to jointly promote youth innovation and technological innovation. Starting from the collaborative interaction of scientific research, technological progress and application innovation, to help build a diversified technology driven by the coordination of government, application, production, learning and research. The innovation system helps enterprises win the initiative in the complex and ever-changing technological innovation environment.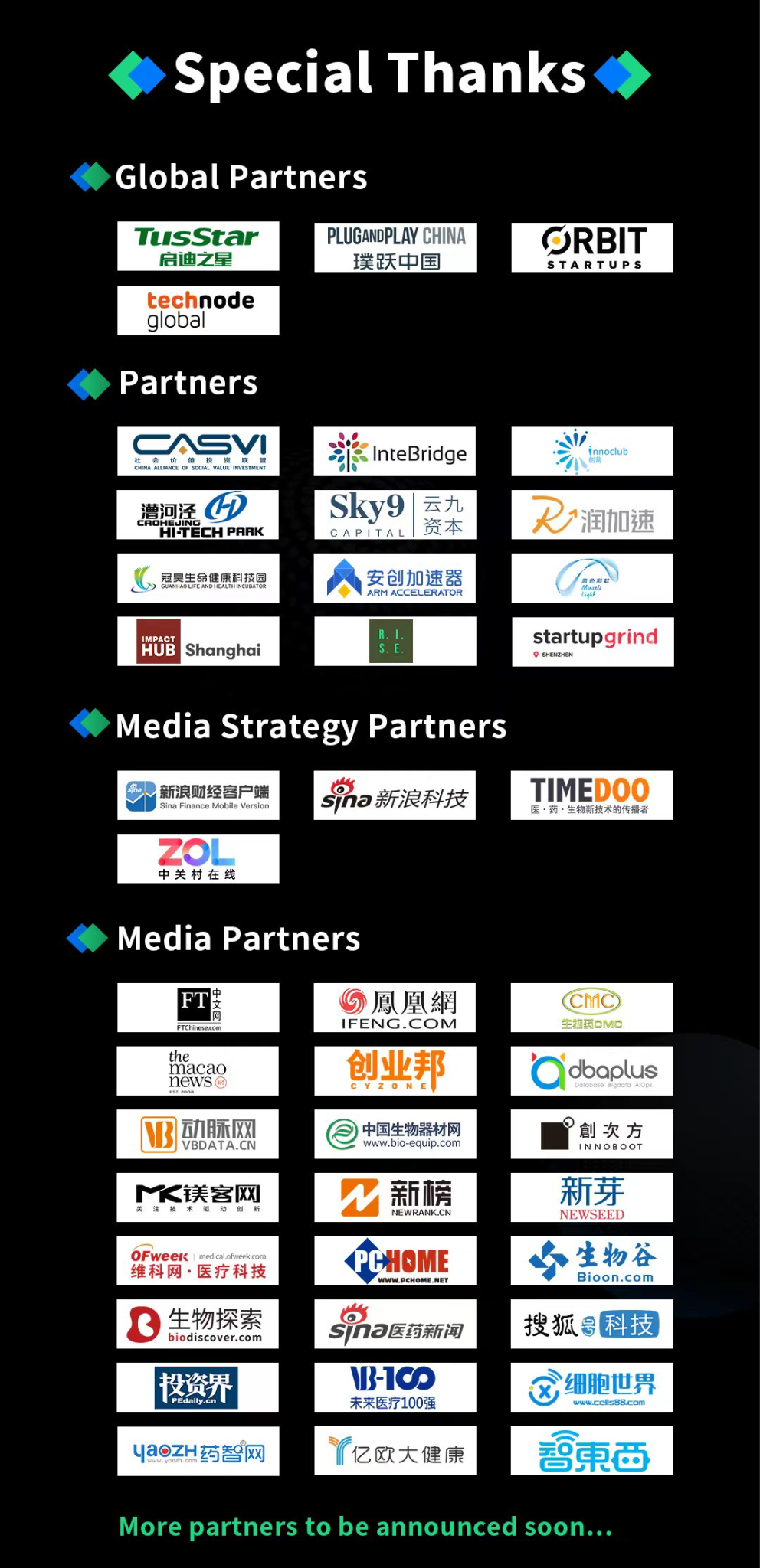 For more inquiries, please contact:
Business Partnerships:[email protected]
Media Partnerships:[email protected]
Exhibitor Partnerships:[email protected]
Other Partnerships:[email protected]