From the number of participants to the extensive list of participating companies, BEYOND Expo 2022 has made history by hosting the largest international tech expo in the metaverse.
From September 21st – 27th, BEYOND Expo 2022 brought together over 35,000 participants, exhibitors, media representatives, enterprises, and government agencies from more than 120 countries into the metaverse to create a brand-new interactive conference experience. The conference brought together 300+ leaders in science and technological innovation, industry experts, entrepreneurs, and 150+ investment institutions in attendance.
The Organizing Committee hosted 150+ networking events across BEYOND's Opening Ceremony, 5 key summits, Innovation Roadshow, and Award Ceremonies. 500+ exhibitors showcased virtual product demos in the 3 Exhibition Areas, and live conference views surpassed 6 million. 300 media representatives from around the world covered BEYOND Expo 2022, and published media views have exceeded 100 million.
Gathering of Top Leaders Investing in the Future of Global Technological Innovation!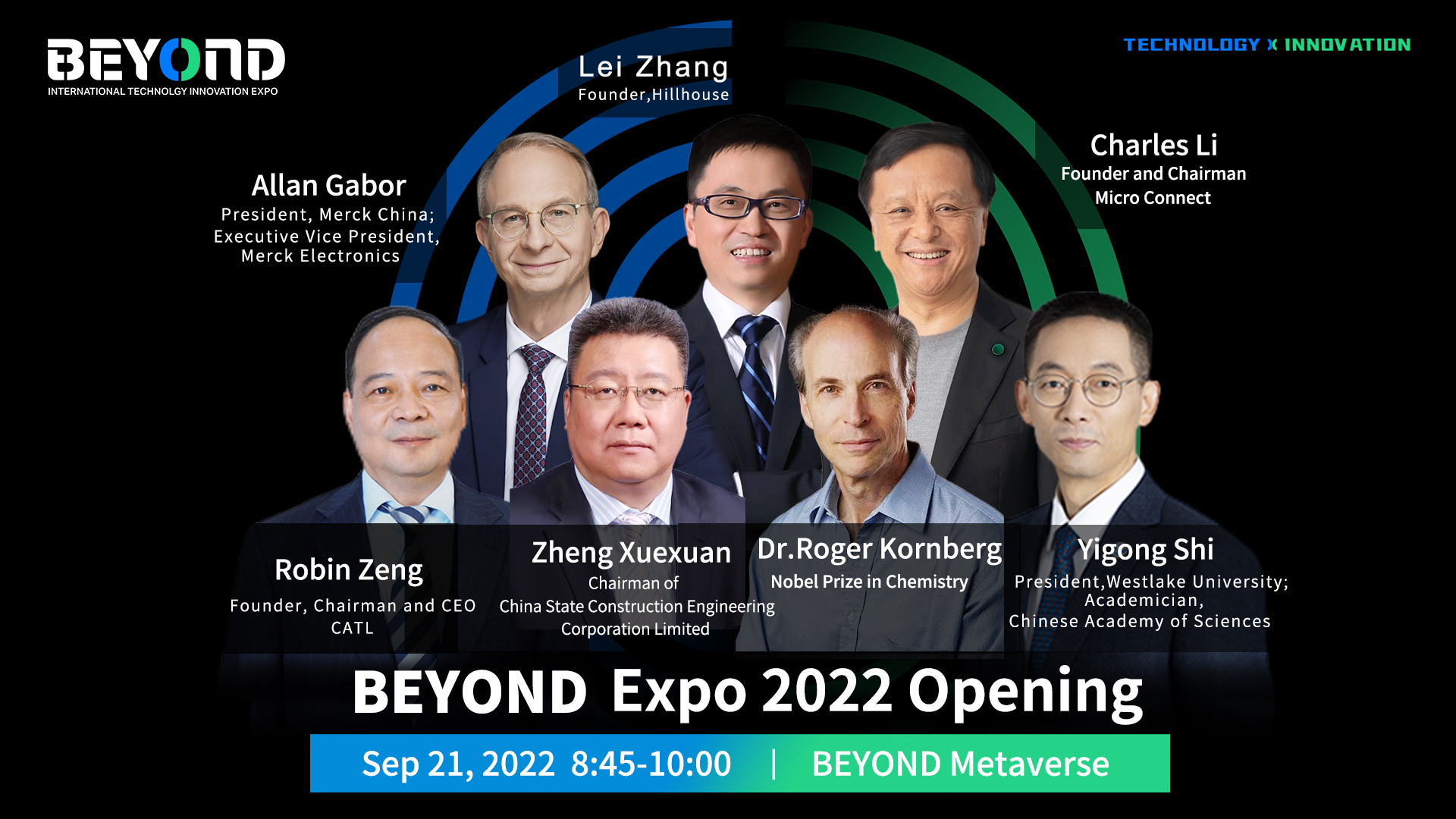 On 21st September (Wednesday), BEYOND Expo 2022, opened online in the BEYOND Metaverse. The opening speeches featured seven top tech leaders and investors, sharing insights on the future focal points of China's tech sector in climate tech, health tech, and the nurturing of top talents.
Speakers included the following luminaries:
●Dr. Roger Kornberg -Nobel Prize in Chemistry;
●Zheng Xuexuan – Chairman and Secretary of the Party Leadership Group of China State Construction, the Chairman of China State Construction Engineering Corporation Limited;
●Yigong Shi – President of Westlake University, Academician of the Chinese Academy of Sciences;
●Robin Zeng – Founder, Chairman and CEO of CATL;
●Lei Zhang – Founder of Hillhouse;
●Allan Gabor – President of Merck China, and Executive Vice President of Merck's Electronics business sector in China;
●Charles Li – Founder and Chairman of Micro Connect.
Each of the speakers shared their insights on the latest trends in their respective industries, with an emphasis on the influence of cutting-edge technological innovation.
Industry Leaders Discuss Digital Transformation and Industry Development Towards a New Future of Work and Living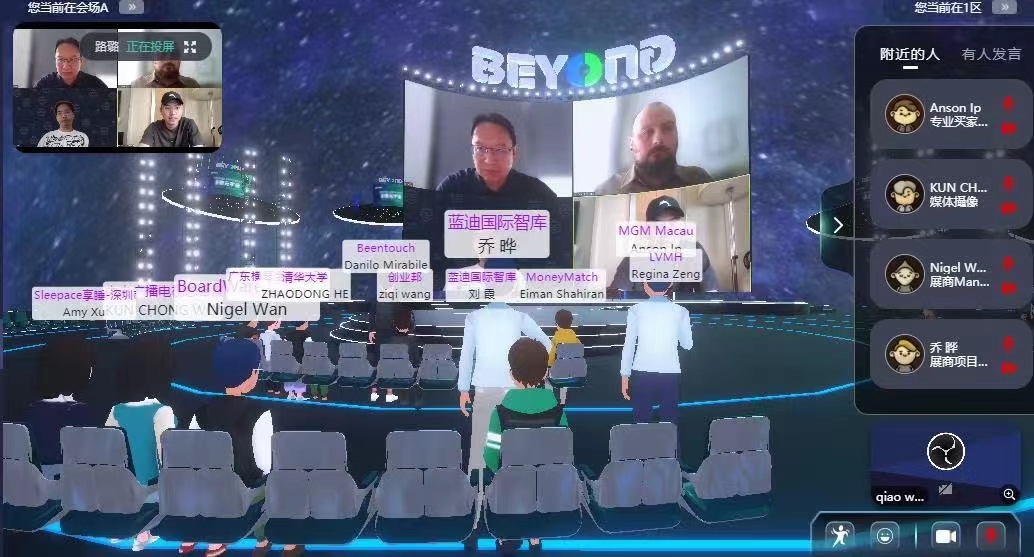 BEYOND Expo has always focused on technological innovation and the influence of technology on various industries in society. This year. BEYOND Expo 2022 hosted five summits to discuss key topics around Healthcare, Sustainability, ConsumerTech, Investment, and Web3, inviting tech leaders and industry experts to discuss the future development and growing trends within each sector. Dozens of roundtable discussion topics with a focus on global perspectives were held during 7 days, with 200+ high profile speakers from global markets including corporate leaders, entrepreneurs, investors, experts, and government representatives.
A Fun & Extraordinary New Virtual World!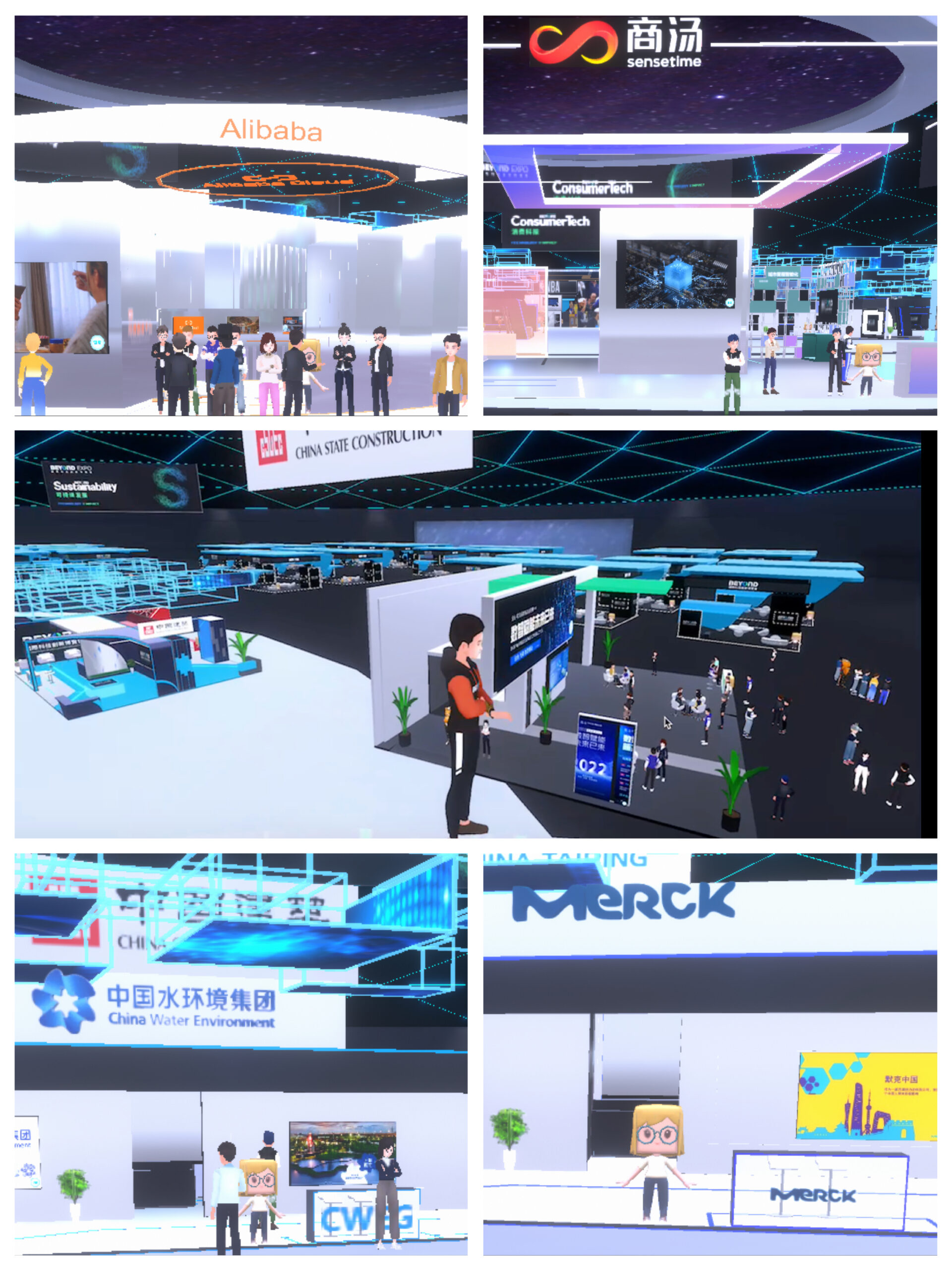 Nearly 500 companies across the globe exhibited at Healthcare, Sustainability and ConsumerTech exhibitions in the BEYOND Metaverse.
Some renowned names include (in no particular order): Anker, BYD, Cowa, DJI, NBA, Nreal, OPPO, Pico, Macau Pass, Chimelong Resort, Ant Bank, Jidu, XGIMI, SenseTime, Xpeng Motors, Mindfulness Capital, Alibaba Group, Macao-Henqing Technology Cooperation Demonstration Zone, Brazil-Portugal Pavilion, Deloitte, Guangzhou High-Tech Industrial Development Zone Private Technology Park Management Committee, Huawei, Hengjian Holdings, Nam Kwong Group, Siemens, ICBC Macau, Tencent, China Telecom, China State Construction International, China Water Environment Group, China Civil Engineering Group Hong Kong and Macau Branch, Bank of China Macau Branch, Australian Trade and Investment Commission, Edwards, Fosun Pharma, BGI, Golden Mile Medical, XtaiPi Technology, Merck, Concord Holdings, Abbott, Pharma Hong Kong, Chia Tai Group, China Taiping, among many others.
Every exhibitor had their 3D and interactive booths set up at the metaverse to showcase its unique products/services, while interacting with thousands of attendees in real-time. In addition, our international partners London & Partners Pavilion from the UK, True Digital Park Pavilion from Thailand etc, invited hundreds of their local innovative concepts to share with audiences from all over the world.
Immersive Experience Attracts Crowds of Attendees, Founders, and Investors!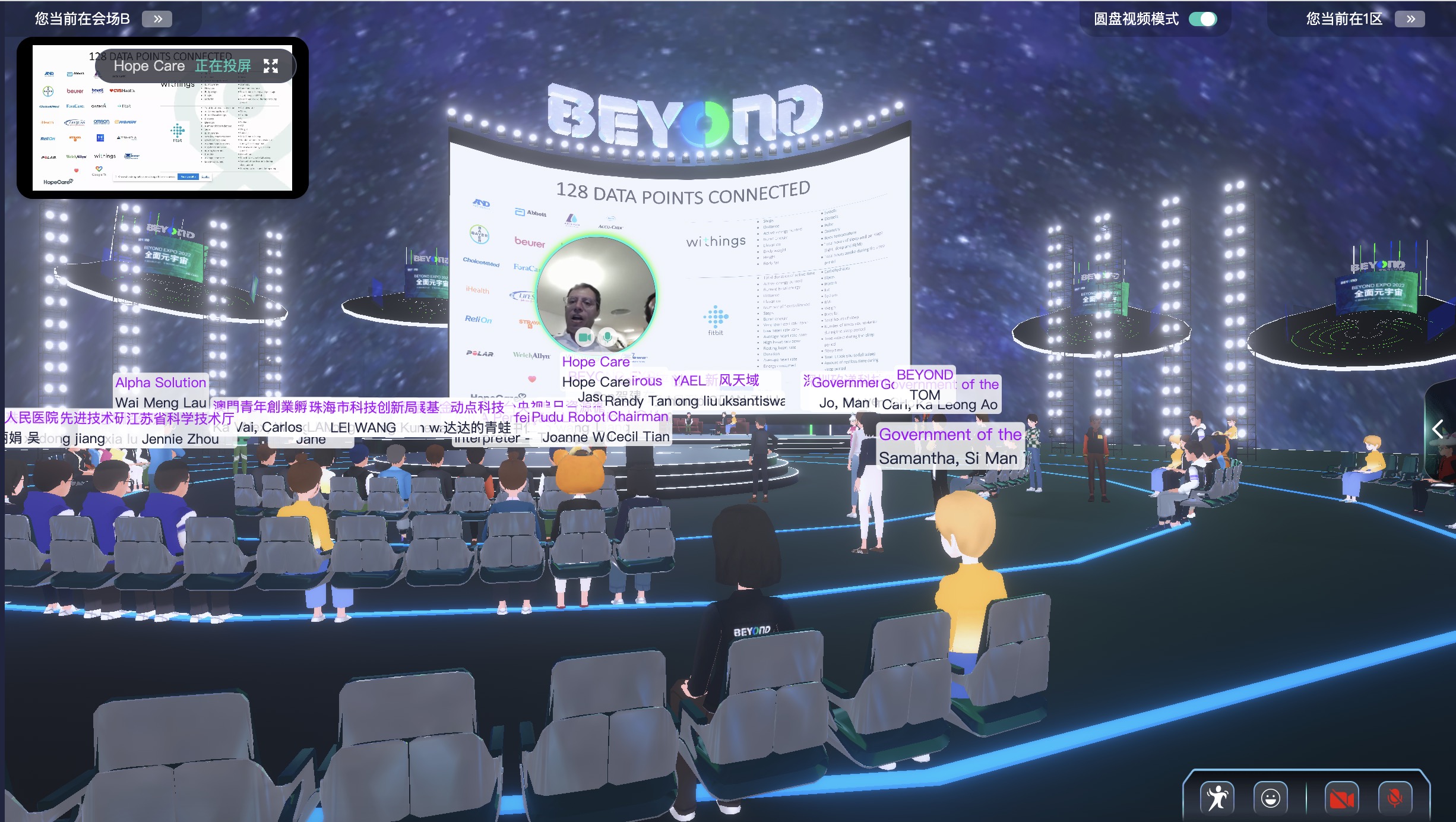 Capital boosts technological innovation and is an indispensable part of the innovation ecosystem.
At present, emerging technologies across various industries have broad prospects, and investment injections have set off waves of positive returns. Fund at First Pitch hosted by the BEYOND Organizing Committee from September 22nd-24th aimed to promote efficient product development while bridging gaps between capital and technological innovation. Two major keynotes were held during the three-day roadshow, with over 150 networking events for attendees to connect with investors from around the world.
Representatives from the world's most prominent investment firms gathered in the metaverse for one-on-one conversations with startup founders without geographical restrictions. On September 25th, the Brazilian and Portuguese project roadshows jointly organized by the BEYOND Organizing Committee and the Macao Economic and Technological Bureau were successfully held on the BEYOND Metaverse. The focus was on Healthcare solutions hailing from the two countries. 12 Brazilian and Portuguese companies took advantage of the opportunity to pitch their projects while building brand awareness across borders.
Exciting Announcement of BEYOND Awards 2022 Winners – The Future is Bright!
As part of BEYOND Expo's agenda to focus on showcasing cutting-edge innovation and facilitating discussions between innovators and investors, the Organizing Committee launched BEYOND Awards to recognize founders and entrepreneurs in tech. This year, there are 4 awards in 2 categories: BEYOND Innovation Awards (which comes with BEYOND Healthcare Awards, BEYOND ConsumerTech Awards and BEYOND Sustainability Awards) and BEYOND Impact Awards. After several months of pitches and evaluations, 34 projects were selected winners from the 300 companies that submitted. On September 25th, BEYOND Organizing Committee held an Award Ceremony in the BEYOND Metaverse and announced the lists of winners across all categories.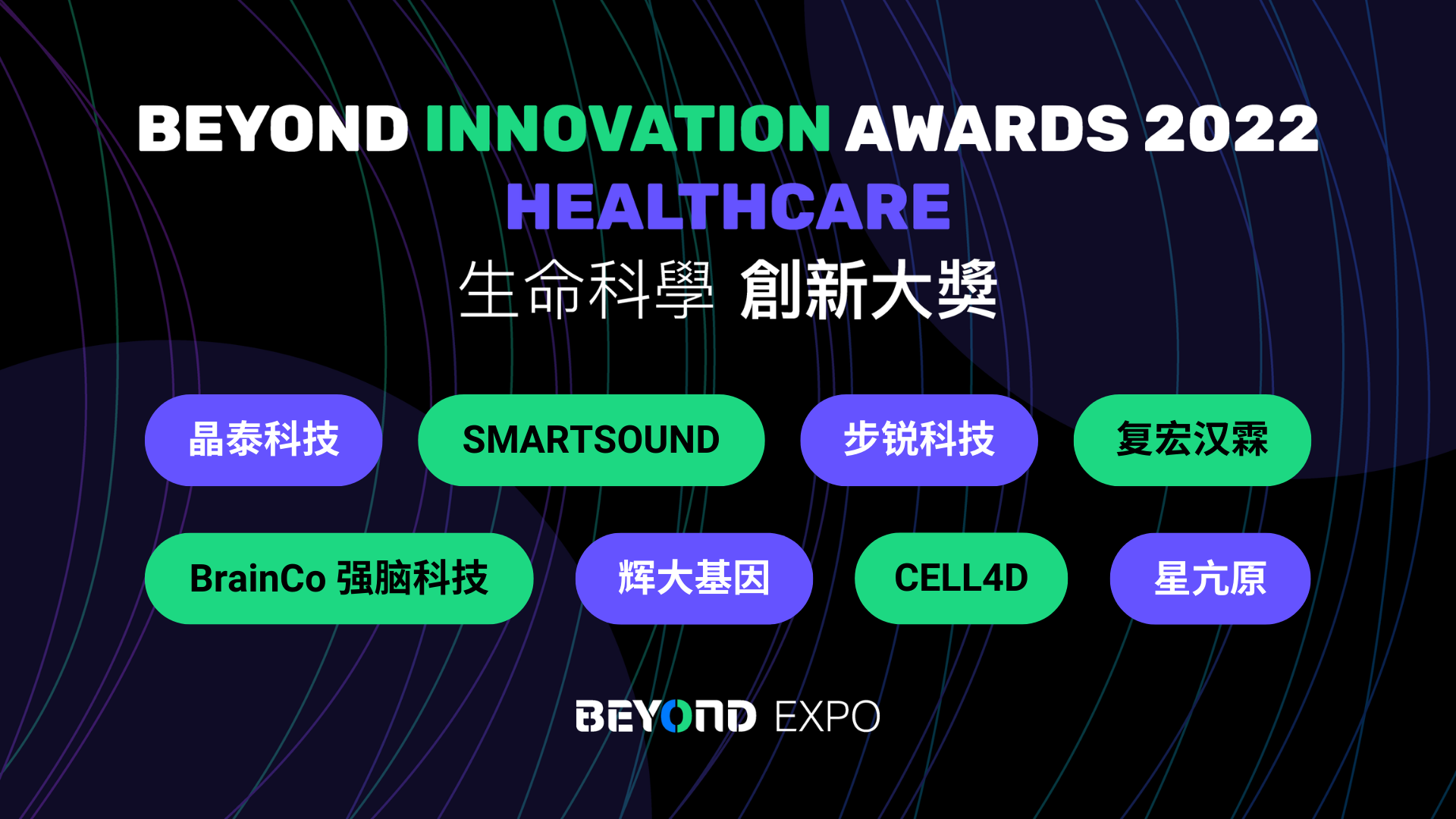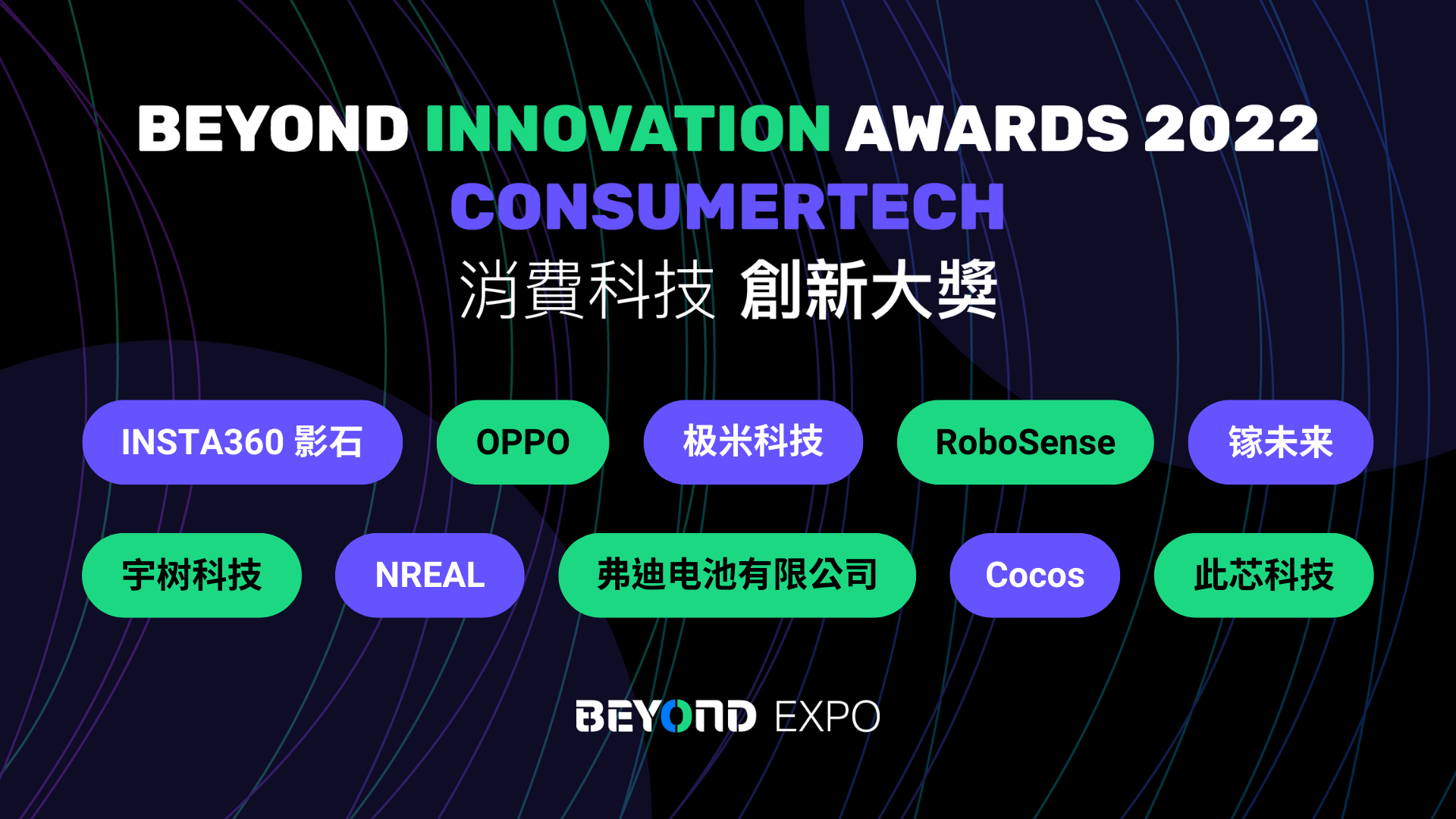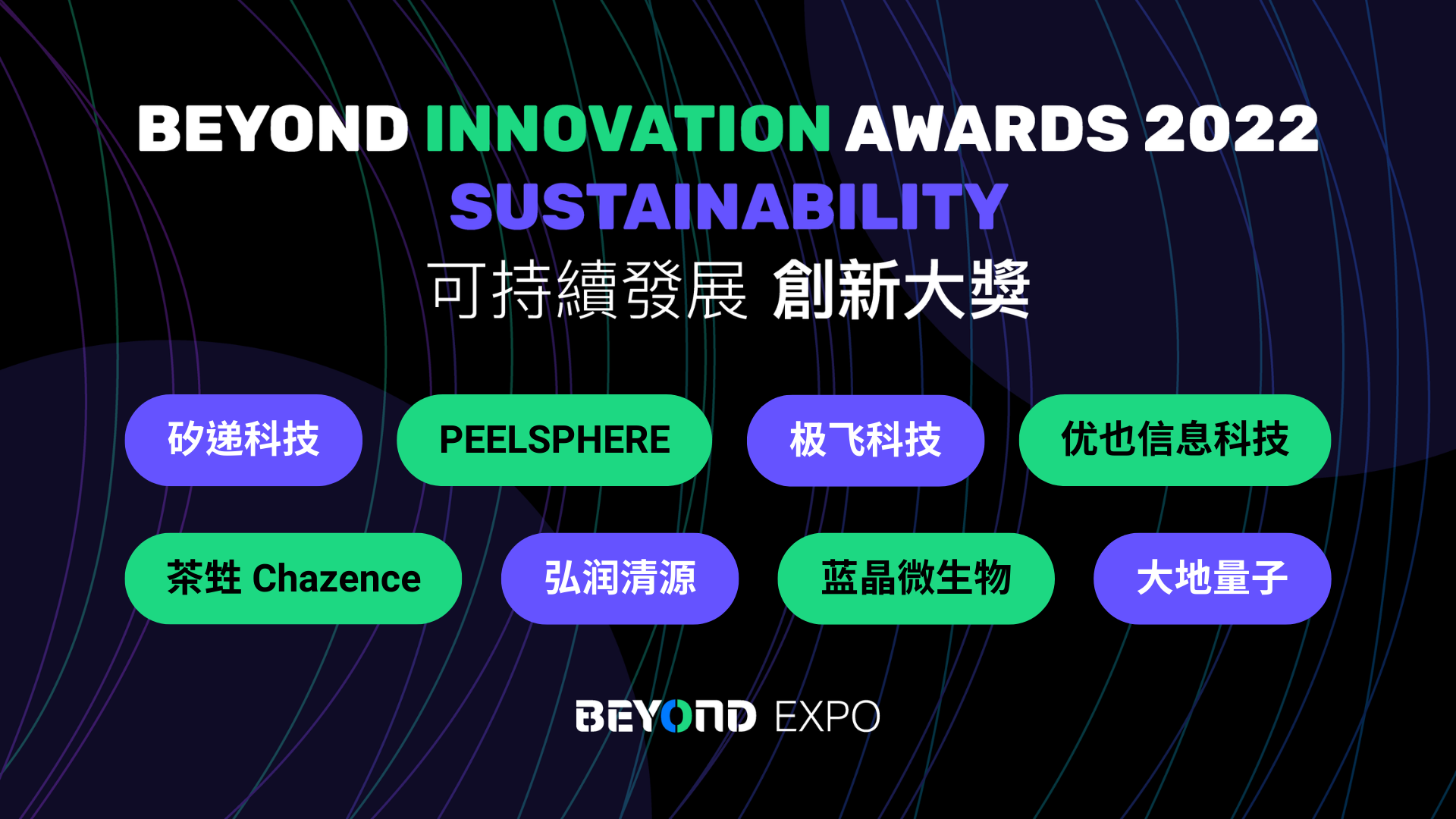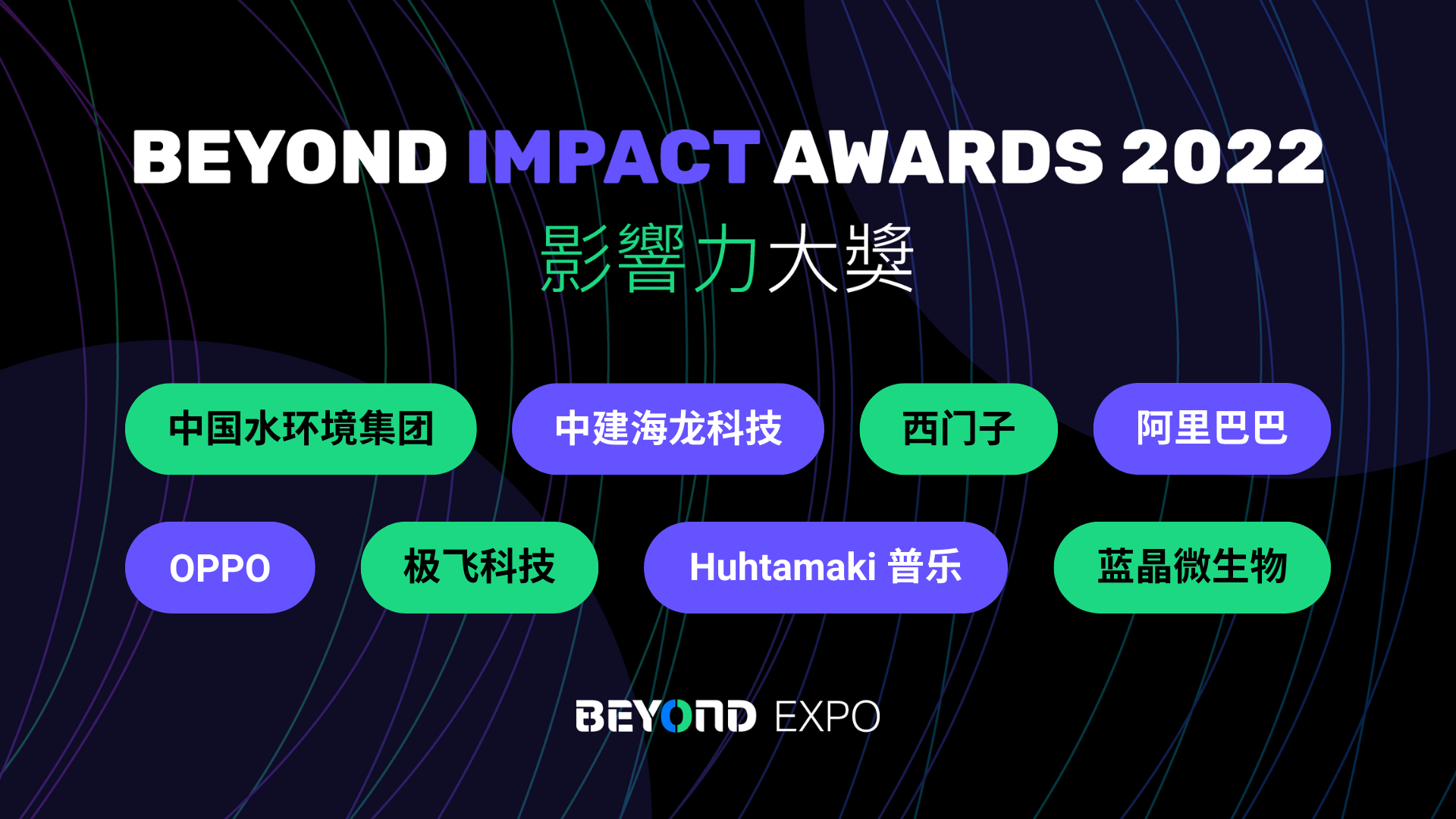 Full lists of BEYOND Awards 2022 winners can be found here.
A Global Platform to Connect the World's Leading Media & Projects with High Growth Potential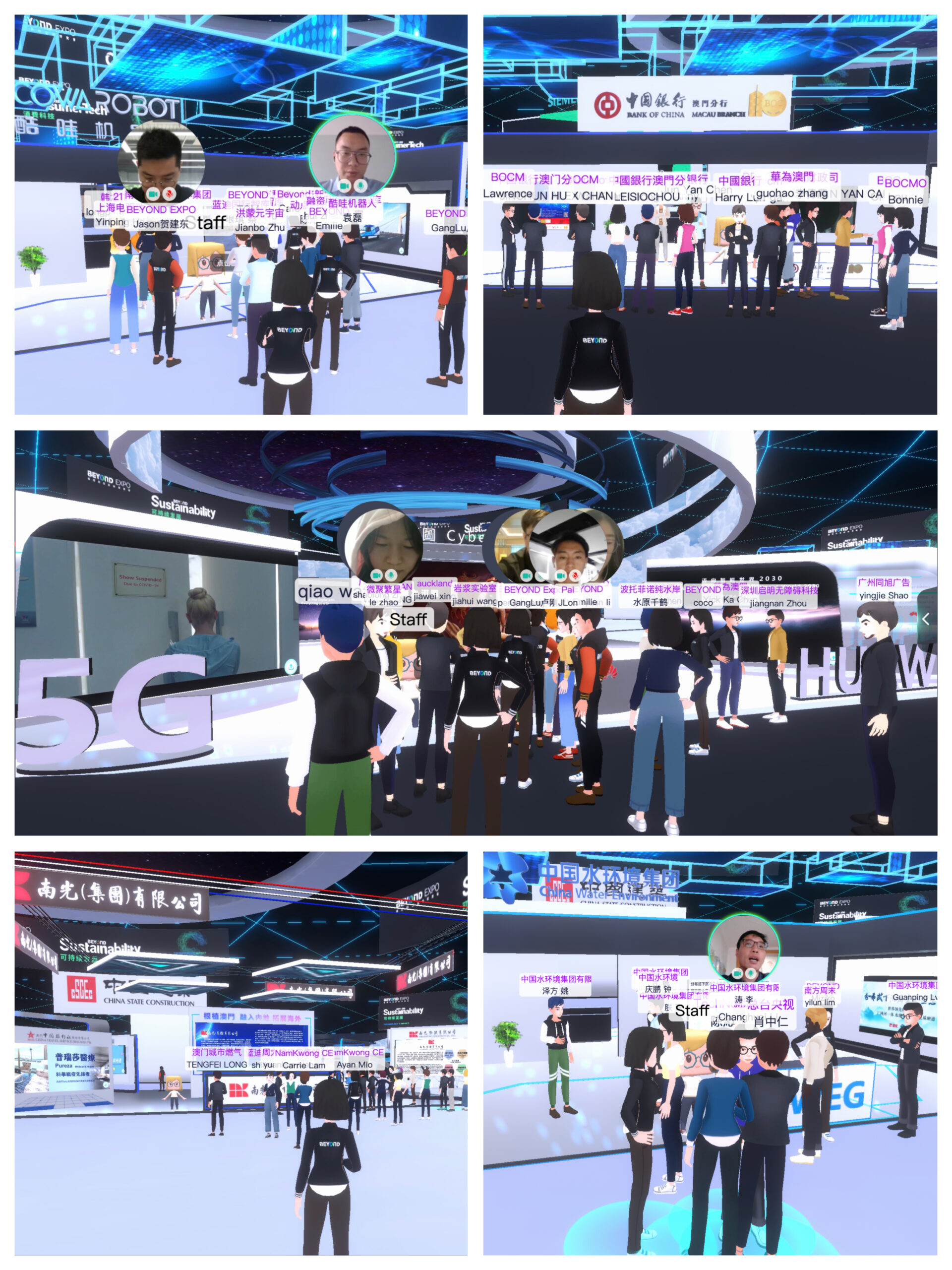 In order to promote opportunities for media and exhibitors to connect, the BEYOND Organizing Committee personally led media representatives to visit Exhibition Areas every day from September 21- 27th and facilitated warm introductions between parties.
To get access to Insider Reports and Company Spotlights, check out recent news published by our media partners, including CCTV, CGTN, Xinhua News Agency, Caixin Global, Caixin, Forbes China, 21st Century Business Herald, TechNode, IT Times, Industrialists, Financing China, Shenzhen Daily, China News, Investor, Shenzhen Business Daily, Nihon Keizai Shimbun, CDC, Wall Street News, Magnesium, China Times, Southern Metropolis Daily, Smart Things, Economic Daily, Nanfang Daily, Metropolis Express , Sina.com, Hong Kong Commercial Daily, Guangzhou Daily, Southern Finance and Economics, Sina VR, Shanghai TV, 35 Dou, Feixiang.com, Metropolis Express, Securities Times, China Report, Southern Weekend, SiliconValley.com, Macao Convention and Exhibition Economic News, Zhuhai Media Group, Interface, Eiological exploration, Biological Drug CMC, and many more.
Celebrities Meet Their Fans in the Metaverse at BEYOND Expo 2022!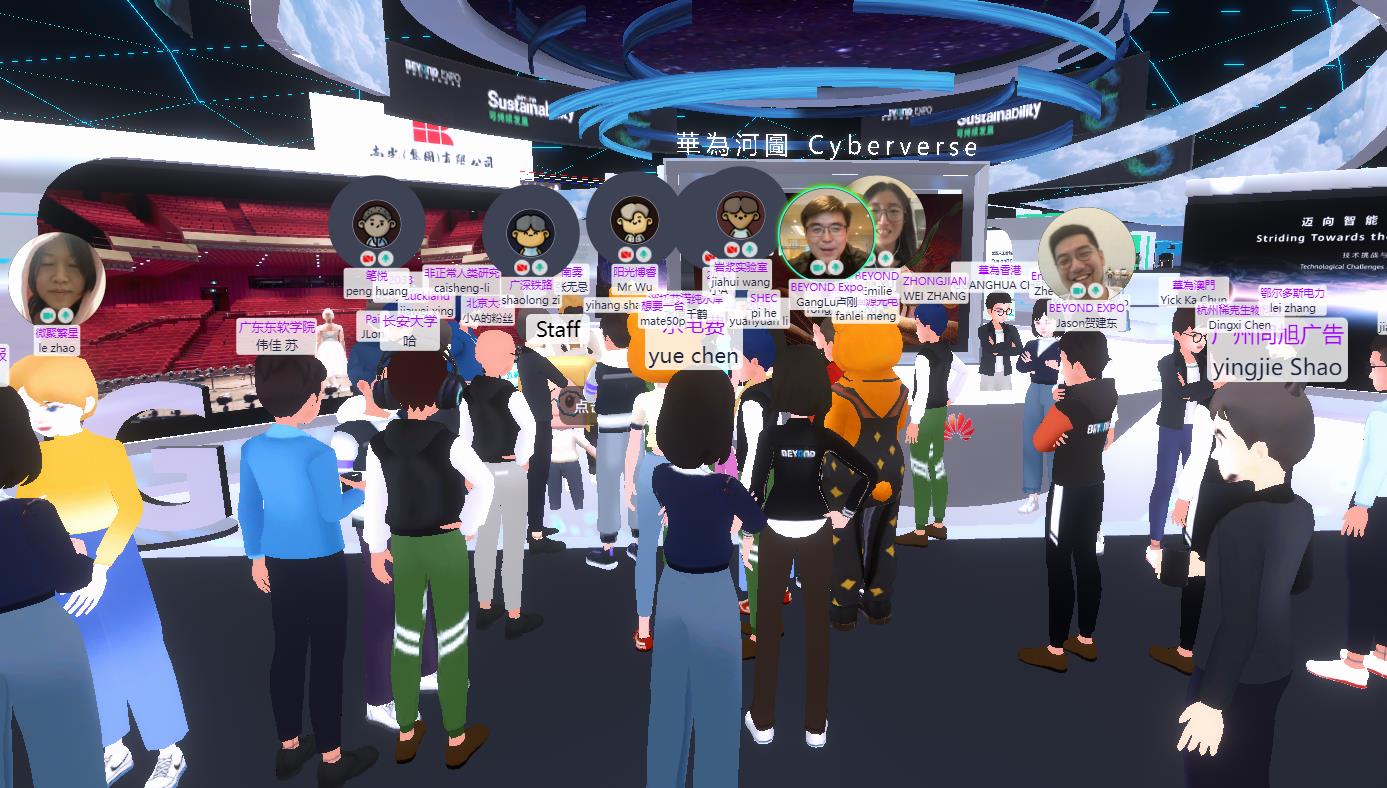 Since the beginning of Opening Ceremony on September 21st, BEYOND Expo 2022 ran 24 hours a day for 7 consecutive days, attracting attention from global leaders, experts, and influencers across all industries! On September 24th and 25th, the BEYOND Organizing Committee organized a special "Weekend Exploration", inviting people from all parts of the world to participate. On the 24th, @eStarPro made an appearance in the BEYOND Metaverse at The Xingjing Mighty Booth in the ConsumerTech exhibition area interacted with fans for group photos! On the 25th, a well-known financial blogger dropped in to the Huawei booth in the Sustainability exhibition area to meet with fans and share his past experiences in finance and technology, @eStarPro also entered the BEYOND Metaverse, sharing their experience of participating in the Metaverse for the first time.
The success of BEYOND Expo 2022 is inseparable from the trust, effort, and dedication of all our partners. The BEYOND Organizing Committee sincerely extends our thanks to the following partners and brought to you by Macao Technology General Association, TechNode, Forte Inc., Nam Kwong International Conference & Exhibition Co., Ltd., supported by the Trade Development Bureau of Ministry of Commerce; The State-owned Assets Supervision and Administration Commission of the State Council; Center For International Economic and Technological Cooperation, Ministry of Industry and Information Technology; Foreign Environmental Cooperation Center, Ministry of Ecology and Environment of China; China Centre For International Science And Technology Exchange; Chinese Medical Association; CHINA ELECTRONIC CHAMBER OF COMMERCE; Guangdong Federation of Industry & Commerce; Council for the Promotion of Guangdong- Hong Kong-Macao Cooperation;Research and Development International (RDI); China State Construction International Holdings Limited; CHINA TAIPING; Bank of China Macau Branch; ICBC (Macau); Nam Kwong (Group) Limited; SenseTime; Government of the Macao Special Administrative Region – Economic and Technological Development Bureau; Government of the Macao Special Administrative Region – Health Bureau; ZGC Group; Department of Science and Technology of Guangdong Province; Shenzhen Science and Technology Innovation Committee; Beijing and Hong Kong, Macao, and Taiwan Cooperation Center of Science and Technology; Shanghai Science and Technology Exchange Center;China Association of Environmental Protection Industry; BRI International Green Development Coalition; Chinese Entrepreneur Commerce Club; China Alliance of Social Value Investment; SME Service Bureau of Shenzhen Municipality Guangdong-Hong Kong-Macao Bay Area Entrepreneur Union; Beijing-Macau Economic and Cultural Exchange Promotion Association; Zhongguancun Private Equity & Venture Capital Association; Impact Hub Shanghai; Hong Kong United Youth Association; Y.Elites Association; Macau Youth Federation,BEYOND Expo continues to work hard to build an international exhibition platform and to offer an immersive experience for all attendees. We look forward to sharing our updates with you soon!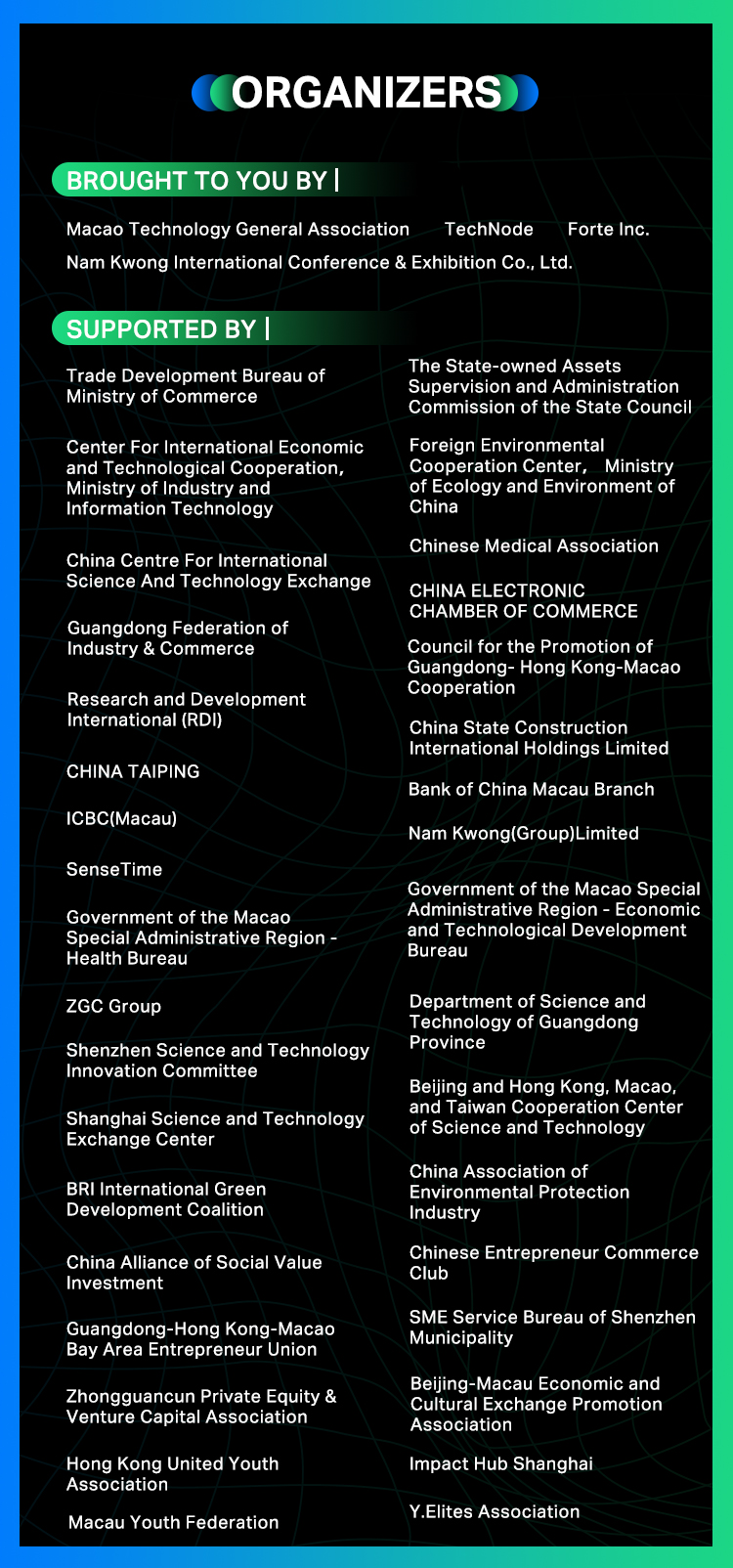 We hope to see you again at the BEYOND Expo 2023 in Macao!