The 3rd BEYOND International Science and Technology Innovation Expo (BEYOND Expo 2023) was held at the Venetian Macao Convention and Exhibition Center from May 10 to 12. The theme of this year's expo was "Technology Redefined."
As BEYOND Expo's exclusive strategic partner for sustainable development, China State Construction International Holdings Ltd(CSCI) has released three major construction technology products, exploring new paths for the industry's innovative development. Academicians, experts and industry elites were invited to jointly discuss cutting-edge topics such as construction industrialization, urban transformation and sustainable development to help promote high-quality development of the construction industry. A sustainable development brand exhibition area was also set up to display advanced construction, as well as scientific and technological achievements.
Cutting-edge technology products make buildings greener
The construction industry is not just an important pillar of the national economy but also a large carbon emitter. Carbon reduction in construction is key to promoting green development in the construction sector.
For three consecutive years, Far East Facade, under CSCI, released high-end curtain wall products at the BEYOND Expo. The Light A, light-weight aluminum-like photovoltaic module introduced this year, can restore the appearance and texture of the aluminum plate by more than 90%, while realizing the power generation of the building itself. It is estimated that the Light A photovoltaic curtain wall can generate 12000kwh per 100 square meters annually on average, which can reduce carbon emissions by 10 tons per year compared with the traditional curtain wall. In addition, Far East Facade also combines passive curtain wall to introduce a light storage integrated unit window, which can be powered off the grid to create a more comfortable and intelligent living environment.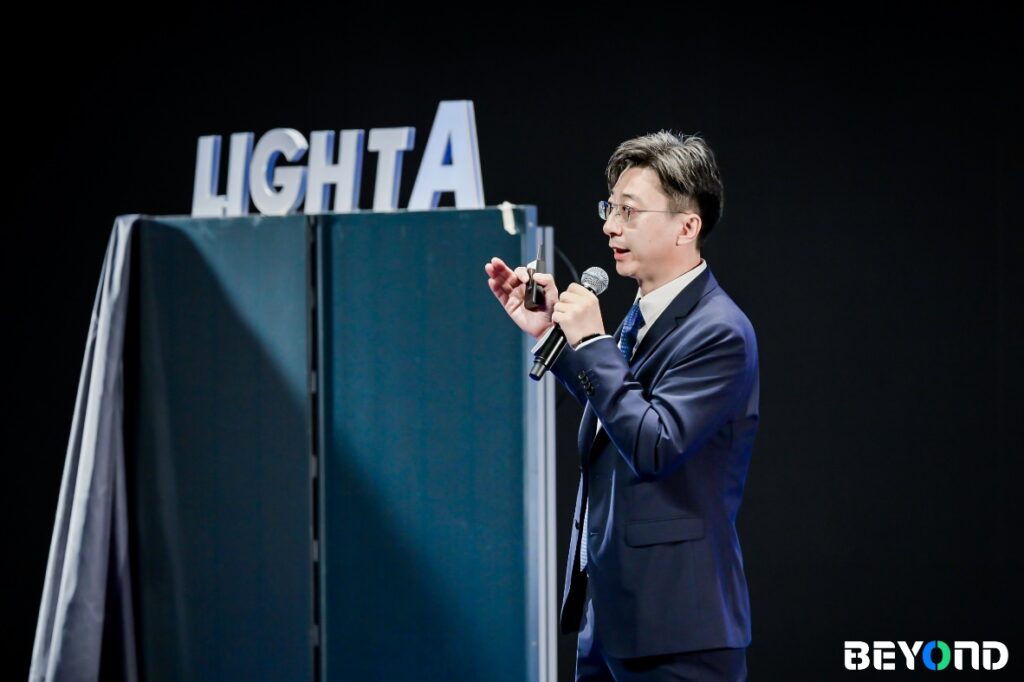 Photoelectric "Aluminum" Curtain City of Light A
 "Build a house like a car." It is the architectural idea put forward by French architect Le Corbusier in 1923. The concrete module product matrix of CSCI has turned the idea into reality. The product breaks the building into independent space modules, and over 90% of the decoration, electromechanical and other construction is completed in the factory. The project site can save more than 70% of on-site labor and reduce over 75% of construction waste by quickly assembling the building as a whole. It is reported that Shenzhen Longhua Zhangkeng Affordable Housing Project, China's first concrete modularity high-rise building, will be completed and delivered by the end of June, providing 2,740 hardcover affordable housing units in just a year's time. It is the highest-story affordable housing project with the fastest construction speed and the highest degree of industrialization in China.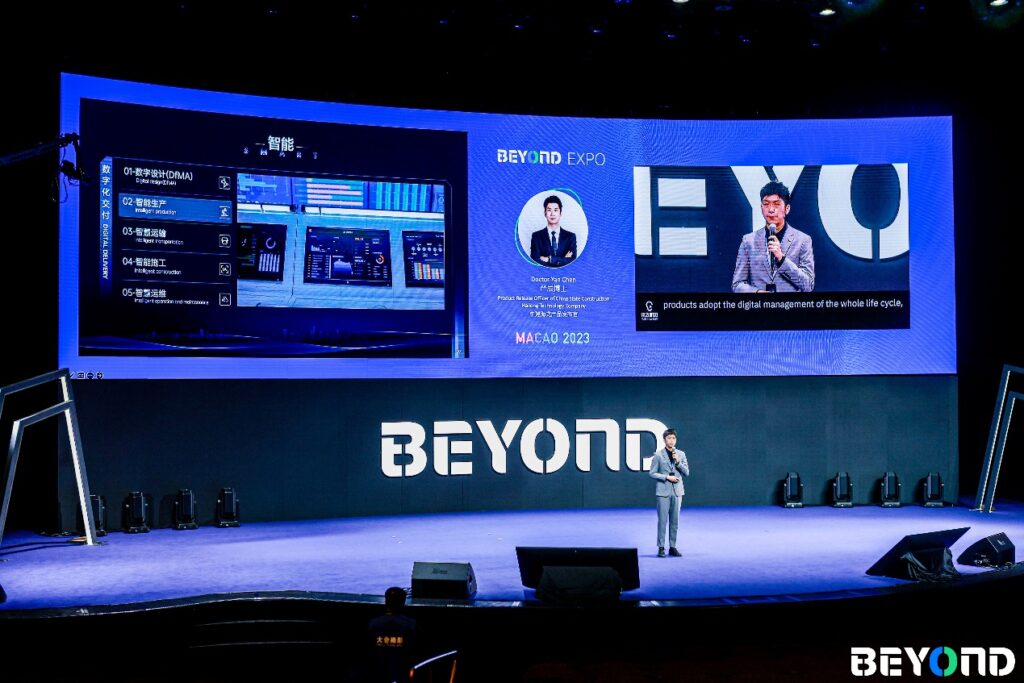 Modern Construction Technology: Building Houses Likes Cars
Scan to BIM digital scanning model, "7 + 3 + 2" omnibearing digital progress management system, AI floor monitoring, hand-held mobile devices to view stereo images in real time. C-SMART 3.0 intelligent site management system brings a new experience of all-weather, omnibearing, full-cycle digital engineering management. The system integrates a variety of independently developed new technologies, and can provide users with 16 digital schemes for safety management.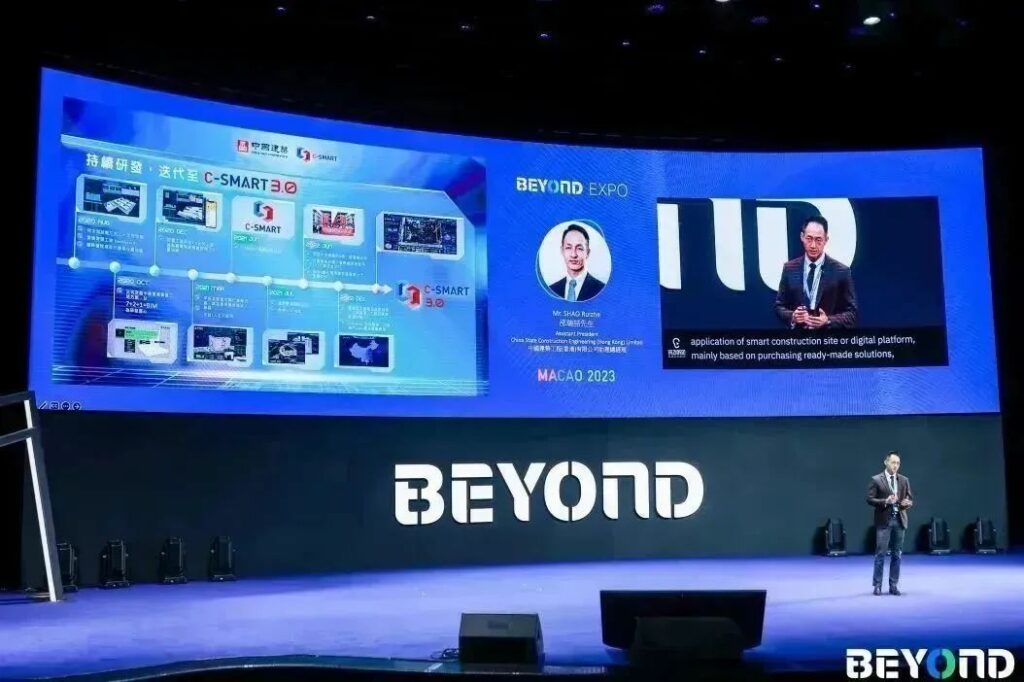 C-SMART Smart Site Management Platform 3.0
"Scientific and technological innovation is an important driving force for the high-quality development of enterprises. The products released by CSCI this time have vitality and competitiveness because they contain original technologies formed through continuous research and development for many years. It is also the result of CSCI reshaping products with a more advanced, more reliable and safer industrial chain," said Zhao Xiaojiang, deputy general manager of CSCI.
Building industrialization and sustainable development go hand in hand
On May 11, CSCI and BEYOND Expo jointly held a forum on construction technology with four academicians delivering keynote speeches.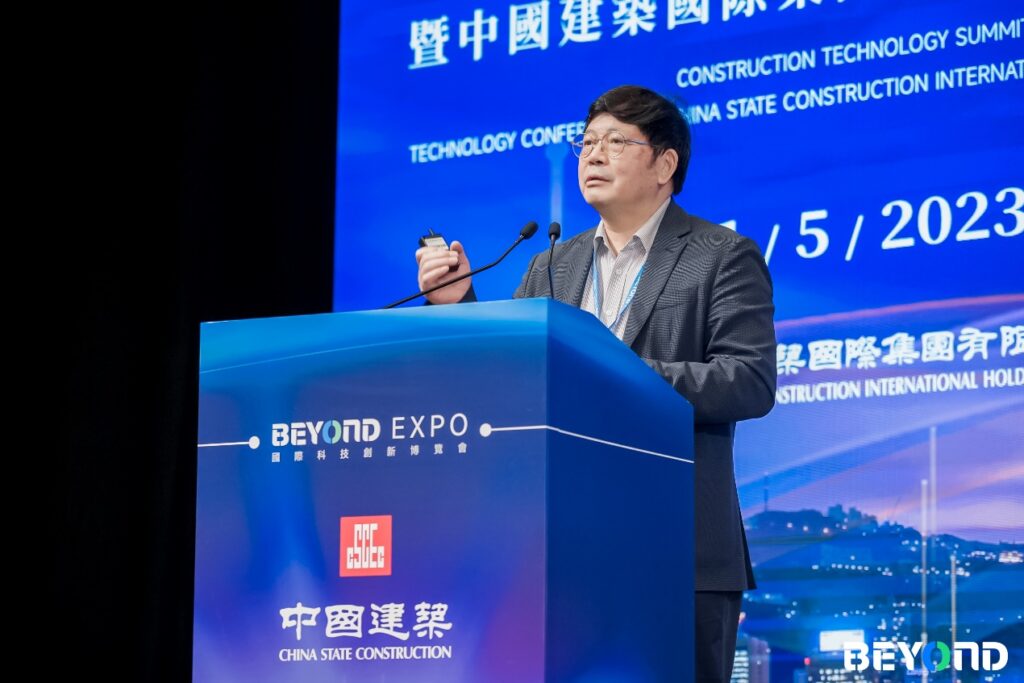 Ou Jinping, Academician of Chinese Academy of Engineering
Among them, Ou Jinping, an academician of the Chinese Academy of Engineering, shared the structural innovation, test data, design ideas and application cases of multi-high-rise steel structure module connection nodes, which were completed in cooperation with China Architecture International. He said that prefabricated buildings are the key in providing important support for the industry's transformation and upgrade. The integration of modularity is the ideal pursuit of the new stage of prefabricated buildings, of which the innovation of module nodes and structural system is the key. China Architecture International has successfully applied innovative technologies in a number of project cases, playing a key demonstration role for the transformation and upgrading of the construction industry.
In recent years, risk of extreme rainstorms and floods in cities has increased significantly, resulting in heavy casualties and property loss. Wang Hao, academician of the Chinese Academy of Engineering, analyzed the prevention and control measures of urban flood control and drainage from the perspective of river basins, and put forward prevention and control ideas of "external treatment of waterlogging" and "external and internal cultivation."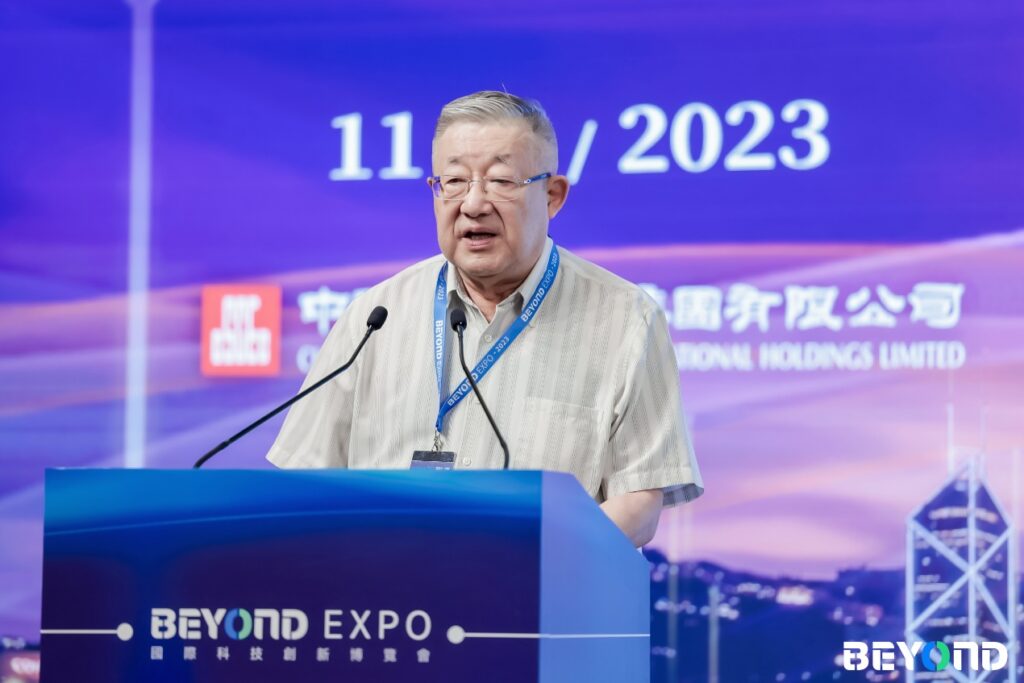 Wang Hao, Academician of Chinese Academy of Engineering
In response to a series of difficulties and challenges faced by urban tunnels and underground engineering, Chen Xiangsheng, academician of the Chinese Academy of Engineering, said: "To vigorously promote intelligent construction and develop underground space at a high level, future urban infrastructure buildings need to combine intelligent construction to carry out resilient urban construction, we should make full use of intelligent technology to form subversive technical applications of building structures from design to operation and maintenance lifecycle, so as to improve the resilience of infrastructure and realize ecological sustainability, social sustainability and economic sustainability."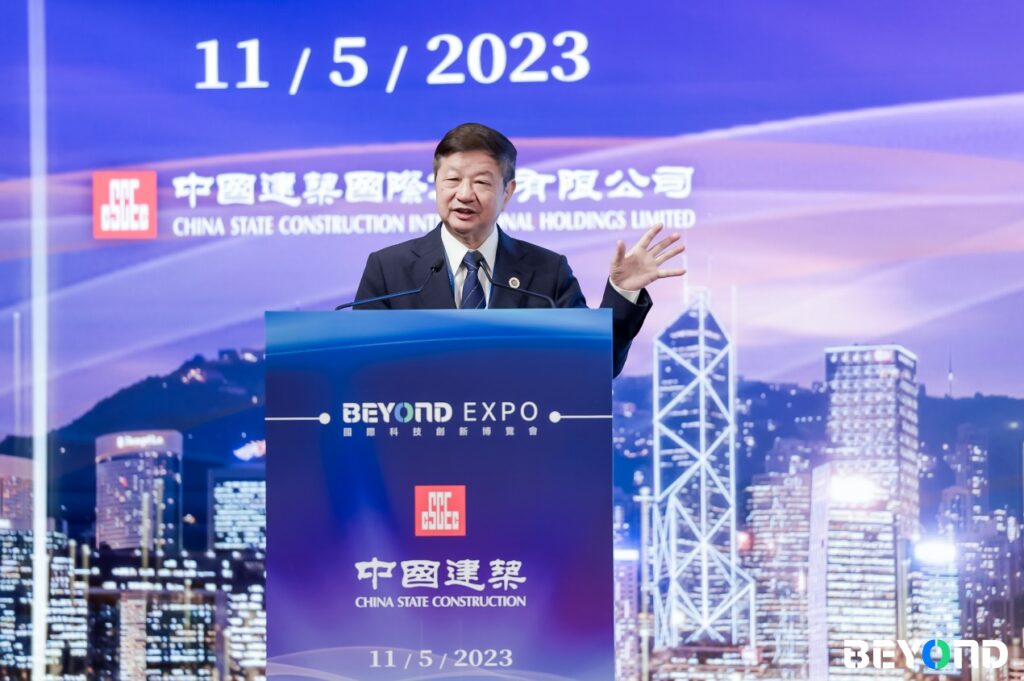 Chen Xiangsheng, Academician of Chinese Academy of Engineering
Yan Jinyue, academician of the European Academy of Humanities and Sciences and professor of the Hong Kong Polytechnic University, conducted an in-depth analysis of energy system transformation, energy innovation, energy ties and coordination, and international and Chinese carbon neutrality goals and paths. He talked about collaborative innovation in future energy, construction and transportation. He pointed out that technological innovation is only a part and needs the attention of decision makers, investors and the whole society for a positive change. A low-carbon goal future is only the first step and requires more follow-up actions, requiring joint actions by different industries.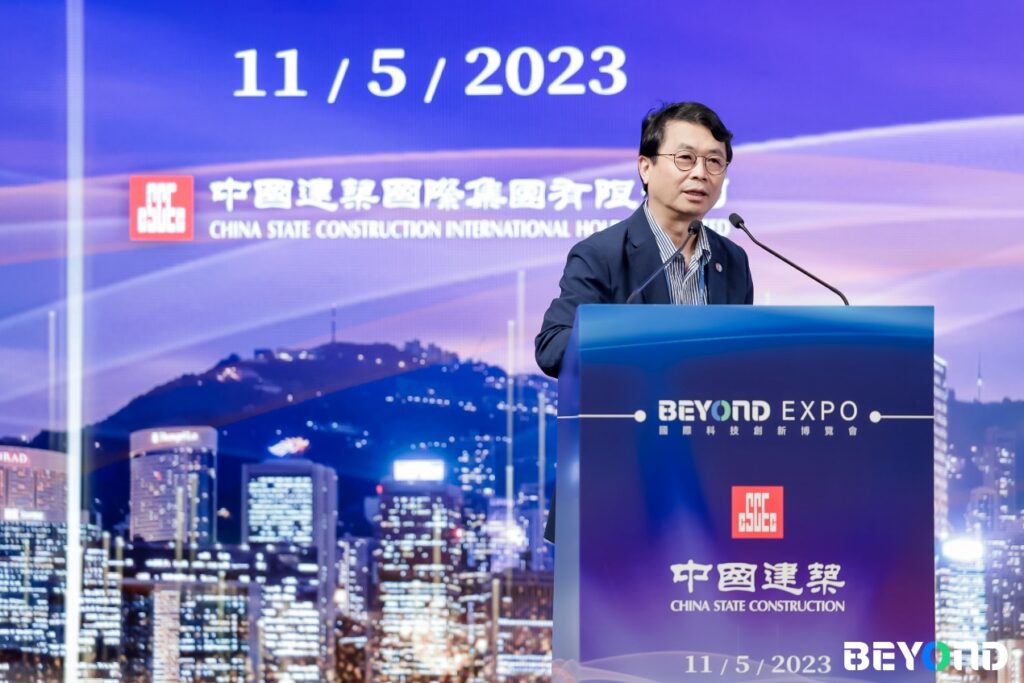 Yan Jinyue, Academician of the European Academy of Humanities and Sciences and Professor at the Hong Kong Polytechnic University
Construction of scientific and technological achievements to speed up industry changes
The exhibition area of CSCI Sustainability Brand showcased various cutting-edge construction technology, including VR experience, mechanical arms, intelligent construction robots, prefabricated building models.
The most striking displays were the six core building technologies: the Modular Integrated Construction (MiC) rapid construction technology, international standard hospital design and construction technology, complex glass curtain wall manufacturing and construction technology, complex environment tunnel construction technology, international standard hotel construction technology, and environmental protection project construction technology.
China State Construction International Holdings-Sustainability Brand Exhibition Area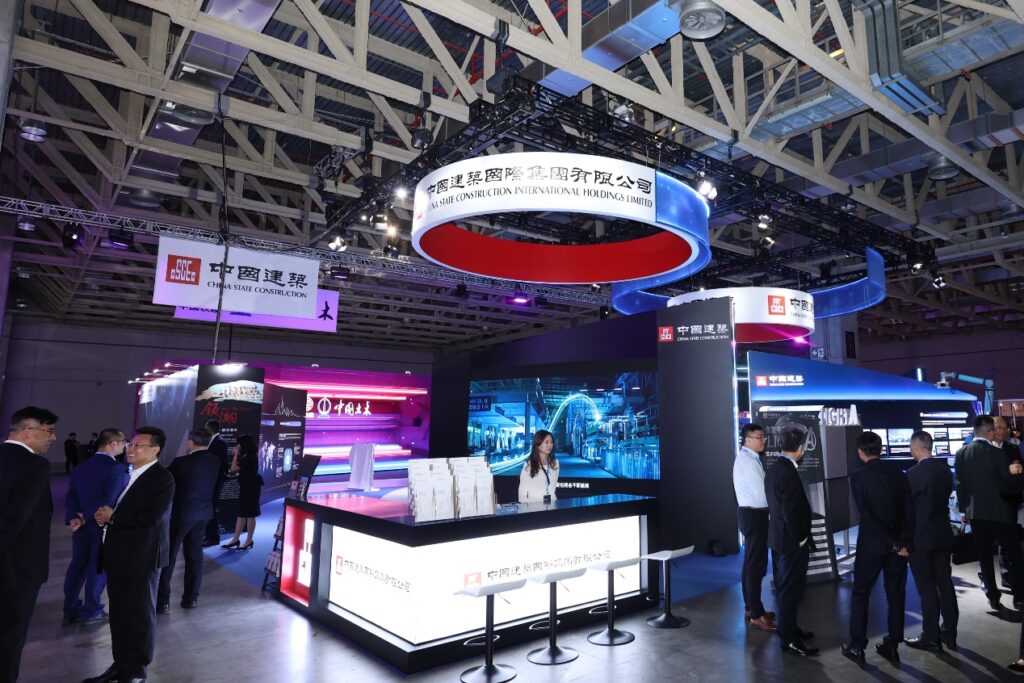 Among them, the rapid construction technology of Modular Integrated Construction (MiC) has been rated as the "Top 10 New Technologies for Engineering Construction in 2022" and is a leading technology in the field of construction industrialization. With more than 50 years of professional experience, complex glass curtain wall manufacturing and construction technology has been applied to world-class and difficult curtain wall projects such as Burj Khalifa in Dubai and Murray Road in Central, Hong Kong, China.
In the MiC technology exhibition area, Mr. Xu, a Hong Kong citizen visited Macao for the exhibition, said: "I thought that the building could only be exposed to the sun and rain, and slowly built layer by layer in a few months. But what I'm seeing now is that the building can be prefabricated in the factory at first, hoisted directly on the spot, and can be completed in a few days, which changes my understanding of the traditional construction industry."
The brilliant achievements at the BEYOND Expo are only a microcosm of CSCI's strategy of practicing scientific and technological innovation. Since 2020, the company has successively established an expert committee comprising of 15 academicians. The Institute of Building Science and Technology has nine research centers and hundreds of experts in its research and development teams — they focus on the two major fields of green and low carbon and full-cycle management of buildings, continuously improving the output and application capabilities. In 2022, the company accelerated its transformation and application of its scientific and technological achievements, driving over 30% of its turnover.