In a challenging market environment, how can entrepreneurs resist the onslaught of uncertainty? Capital with multiple resource capabilities may become their partners to move forward hand in hand and share any risks.
Entrepreneurship and investment are increasingly becoming an organic whole — in the era of model innovation, a single-handed entrepreneur with sufficient resource support may be able to quickly grow bigger and stronger. Today, when entrepreneurs face perpetual validation cycles and more complex industrial propositions, they need more long-term partners with complementary technical capabilities and resources in addition to capital.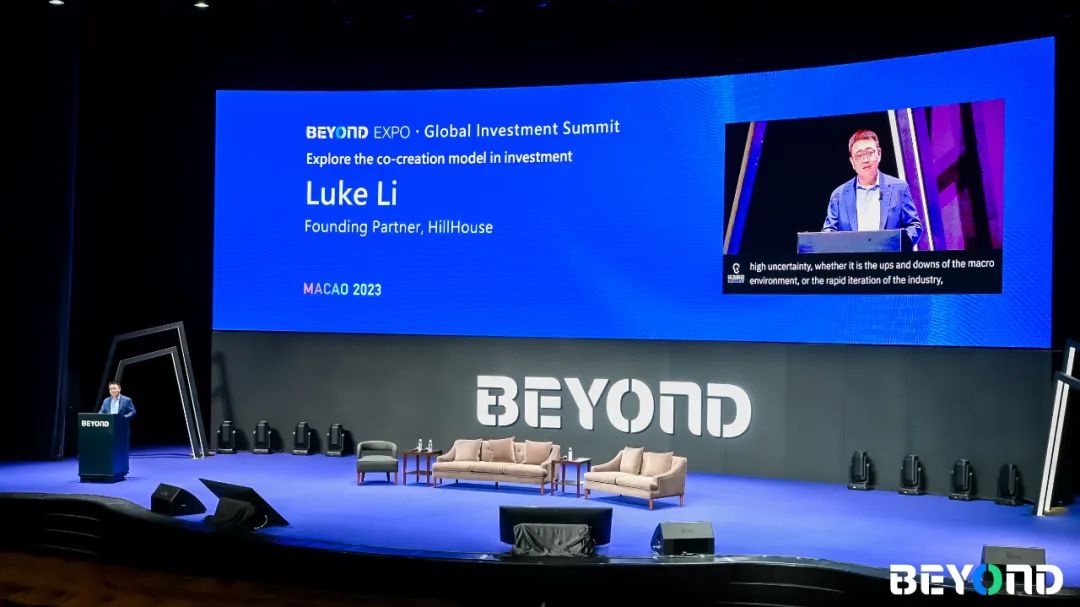 On May 11, at the BEYOND Expo 2023 Global Investment Summit in Macao, Li Liang, founding partner of Hillhouse, delivered a speech titled "Exploring Co-creation Model in Investment."
The text for Li's presentation has been edited for clarity and brevity:The theme of this year's BEYOND Expo is "Redefining Technology," which is also very much in line with our investment industry's body of work. We are entering an era of innovation where technology is leading change. As investors, we also want to be closely aligned with the tech industry and help entrepreneurs achieve a better definition of the future in whatever way we can.
For entrepreneurs, the primary task these years is to deal with a high degree of uncertainty — whether it is the ups and downs of the macro environment, the rapid iteration of the industry, or the acceleration of super technologies such as AI on the current state of technology and the reorganization of production methods. These all aspects are undergoing profound changes, which Hillhouse is particularly sensitive to.
We often say that we are actually entrepreneurs who also happen to be investors. In the pursuit of innovation and value creation, we are highly aligned as long-term partners with entrepreneurs and business owners. Helping companies to enhance their endogenous capabilities and increase their anti-vulnerability is also the way we investors deal with high uncertainty.
As investors, we want to provide not only capital but also the ability to create deep value systematically. This includes long-term capital, access to top talent, industry resources, and more importantly, the mindset and model of co-creating with companies to address current challenges. Of course, an investor's job inherently involves responding to change, and more change breeds more opportunities, and the pulse of innovation continues to march deeper into the industry, which keeps us optimistic about the long-term trend.
The second big challenge is that a large number of industrial cycles are shortening and uncertainty is increasing. The demand side, the supply side, the industry, and the iterative change of technology are accelerating, which brings a lot of challenges and uncertainties on how to deal with them. Many people want to deal with this uncertainty by having something constant. I think it is more important to strengthen their ability to counter the vulnerability of the wrong. This needs to be upgraded by various new technologies, new methods, and ideas to stay competitive.
A lot of uncertainties have been changing in the past two to three years. And some companies invested by Hillhouse have fully utilized the ability of digital upgrade to revitalize the invisible data assets on their balance sheet and accelerate the whole cycle of iteration. Uncertain demand status, how companies can develop R&D plans and control inventory levels is also a topic.
Hillhouse introduced many portfolio companies to apply digital methods to iterate the R&D of each process to make the production and inventory cycle stronger, faster and better. The rapid change of the market is just like a typhoon in transit. Every summer, 20 to 30 typhoons make landfall. Each typhoon has only two weeks from the beginning to the end. It is extremely difficult to predict when and where the typhoon will occur, so you have to prepare your capabilities in advance. Hillhouse is a lean team with a professional background that can help entrepreneurs do more co-creation.
The third big change is actually some of the challenges arising from the paradigm shift in many innovations. People often overestimate the big short-term changes and underestimate the longer-term changes.For example, in the energy transition that has occurred in the past two or three years, the essence of the energy transition is actually the replacement of natural resources by manufacturing. And in this process, there is a need for carbon reduction, environmental needs, and more different requirements for advanced manufacturing, as well as how to really believe in the long-term changes and do a good job of matching resources.
Another example is AI, which is very popular nowadays. AI is another new challenge. The approach of Hillhouse is to promote and apply the capabilities of some of the latest technology teams to various existing industries, while calling for the emergence of new opportunities. Just like the capabilities emerging from AI, Hillhouse hopes to see more innovative opportunities emerging.
The last challenge and change is that the arrangement of a globalized supply chain and the understanding of the globalized market need a more long-term experienced partner to help entrepreneurs to think and cope.Eight or nine years ago, Hillhouse systematically established DVC, a deep value empowerment team, and also relied on a wide range of portfolio companies and extensive industrial layout to gather a large number of innovative ecological elements and continuously enrich our toolbox. We hope to work with a wider range of partners to build an ecological linkage network for entrepreneurs, innovators, and entrepreneurs, allocate resources efficiently and be a more reliable peer on the way forward.
The road of co-creation may be more difficult. Our exploration is just beginning, but it is fun for us to create value together with you in this way, and we welcome you to walk with us.
About BEYOND
Since 2020, BEYOND Expo has been held twice with great success. It has become one of the largest and most influential international technology expositions in Asia, attracting 800+ exhibitors and 55,000+ attendees worldwide. More than 150 industry forums featuring 500+ innovative business leaders as speakers will provide a global platform for insightful technology exchange.
BEYOND has officially announced that "Technology Redefined" is the theme for BEYOND Expo 2023, which was hosted in Macao from May 10 to 12. BEYOND Expo 2023 reached a new high in terms of scale, attendee influence, diversity of industries, companies, number of exhibitors, and overseas visitors. There were more than 100 events and networking sessions. We have connected with global tech innovation enthusiasts and facilitating in-depth interaction in all fields, including enterprise, product, capital, and industry to promote the global tech scene in the Asia-Pacific region and the world.
For more cooperation, please contact us at:
Business Partnerships: [email protected]
Media Partnerships: [email protected]
Other Inquiries: [email protected]