"Planning for Southeast Asia Expansion: Markets and Opportunities" was a panel at the Origin Conference featuring Lee Koon Tan, Group President of Wellous Group Ltd; Julian Tan, Founder & CEO of FastCo, moderated by Rita Fatiguso of Il Sole 24 Ore.
The panelists first shared about the background of their companies which are operating across several markets in Southeast Asia.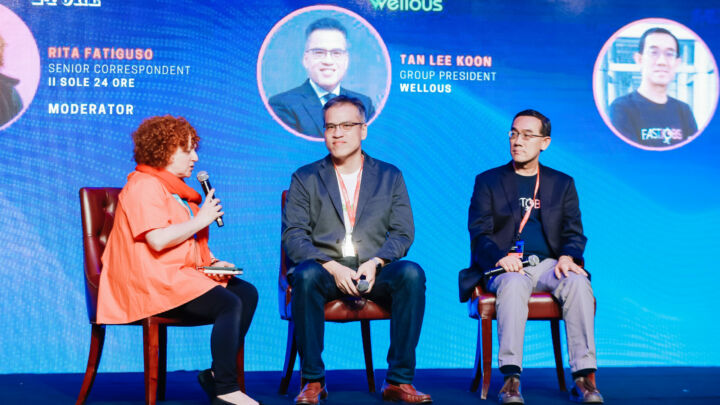 The panelists also shared how their companies are able to expand their businesses regionally, serving their customers with better solutions enabled by the Internet and higher smartphone penetration rate. They also shared their companies' plans and strategies. They also discussed about the opportunities, latest trends in their respective industries, how to navigate in the diverse Southeast Asia region, among other issues.
The text below has been edited for clarity and brevity:
Lee Koon Tan, Group President of Wellous Group Ltd
The company was founded in 2016 in Malaysia. We manufacture, design and we create our own formulation for health food products, distributing via social commerce platforms to most of the countries in Southeast Asia. Malaysia, Singapore Hong Kong and the rest. We are also glad that the company is growing fast over the last couple of years and we are filing for listing. Hopefully, that happens in the next couple of months, in the second half.
For a long period of time, there are people who don't really understand how to have an efficient, effective, preventive way to keep themselves healthy.
It's just because that sector has been underserved. People usually go to hospitals when they fall sick. But if I don't fall sick, I don't go to hospitals. Before the era of Internet, I only get some advices from parents or relatives or friends who have some knowledge about [how to stay healthy] which is not ideal. And it's not comprehensive. Because social commerce platforms are available now, they enable us to really hear what the customers really want, what people want. That is not just confined to rich people. In actual fact, it's the reverse. Rich people always have resources they can always go and reach out to whatever resources they need. It's the people who in the mass sectors that don't have that opportunity. So for the first time, we are able to hear what they really want and we are able to explain to them individually. What your body can be benefiting from these things and how it works and why it works. So I think that transformed the industry and created a new industry that we are currently in.
We are also benefiting from Covid-19. The purchasing behavior of consumers changed immediately and drastically during Covid. It pushes everybody to buy online. People are also getting a lot more health conscious. They are finding ways about how they can protect themselves, how they can protect their family. I think that two years was really crucial for that. And from what we see, even post-Covid, that behavior doesn't go back. People are just so used to online purchases and they'll continue to do so and people are used to protecting their health. They're not going to say that okay because Covid is over, I don't need that.
Julian Tan, Founder & CEO of FastCo
I've actually been in the tech industry for the last 15 years. I used to run 701 search which is an online classifieds marketplace in the region. We had marketplaces in Malaysia, Vietnam, Indonesia, the Philippines as well as Thailand. So when I was running that business, I traveled around the region. I realized that there are a lot of job portals that were focused on the white-collar [workers]. There was nothing really for the blue-collar, the non-executive sector and that's why later on when I exited the 701 Search, I decided to start the non-executive blue-collar job portal. First in Singapore and then today we are in the region, in Malaysia and the Philippines. We offer two lines of business. One is FastJobs which is a job marketplace that companies use it to hire permanent or contract staff. we recently launched FastGig which is a "workforce on-demand" service where we are able to supply workers on short notice or on short shifts for our clients.
We also have FastLearn which we have launched in Singapore but we have yet launched in the region. We've tested it out in Singapore where we actually work with training providers to curate relevant courses to help our job seekers to upskill themselves. We want to help our job seekers to plan their career development. Today you may be a waiter but if you have additional skills like you know how to use [Microsoft] Excel or PowerPoint you can become a restaurant manager one day.
About BEYOND
Since 2020, BEYOND Expo has been held twice with great success. It has become one of the largest and most influential international technology expositions in Asia, attracting 800+ exhibitors and 55,000+ attendees worldwide. More than 150 industry forums featuring 500+ innovative business leaders as speakers will provide a global platform for insightful technology exchange.
BEYOND has officially announced that "Technology Redefined" is the theme for BEYOND Expo 2023, which was hosted in Macao from May 10 to 12. BEYOND Expo 2023 reached a new high in terms of scale, attendee influence, diversity of industries, companies, number of exhibitors, and overseas visitors. There were more than 100 events and networking sessions. We have connected with global tech innovation enthusiasts and facilitating in-depth interaction in all fields, including enterprise, product, capital, and industry to promote the global tech scene in the Asia-Pacific region and the world.
For more cooperation, please contact us at:
Business Partnerships: [email protected]
Media Partnerships: [email protected]
Other Inquiries: [email protected]