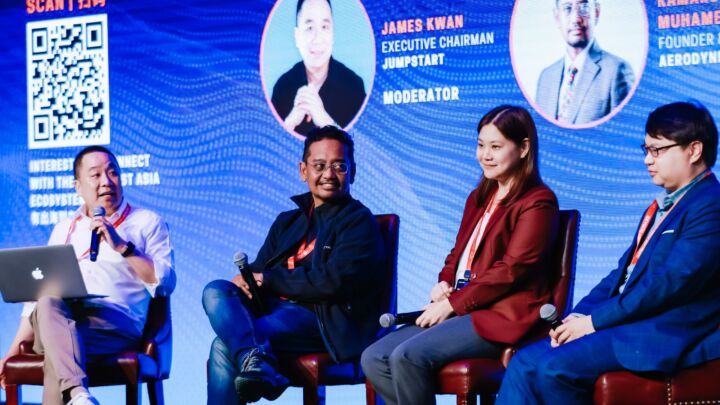 "Next Generation: Different Breeds of Unicorns" was a panel at the Origin Conference featuring Kamarul A. Muhamed, Founder & Group CEO of Aerodyne Group; Oranuch Lerdsuwankij, Co-Founder & CEO of Techsauce; and Lin Xiangliang of ESCO Lifesciences Group, moderated by James Kwan, Executive Chairman of Jumpstart Media.
The panelists first discussed about what are the key ingredients needed to build a successful startup in modern Southeast Asia. They also shared their company's strategies and plans, and the latest trends in their respective industries, among other issues.
The text below has been edited for clarity and brevity:
Kamarul A. Muhamed, Founder & Group CEO of Aerodyne Group
The first thing that startups should do is to look at the key problems. Are we solving these problems? Find key gaps in society that we can make a significant impact and focus on those and find the right technology. Develop the right technology, build the right team, and build the right people in your organization to deliver the solutions.
Everybody knows that some of the big drone players actually comes out of China. The best drone hardware companies like DJI are based in China and there are a lot of others.
The drone itself is really a tool to capture data or a vehicle for you to do delivery. But at the end of the day, the real value is how you actually make a meaningful impact to society and that's actually what we do. We reinvent, we look at our business model. We started off as as a company that is what we call a DaaS, drone as a service. We trademark the name as well that's our company. So initially it was just drone as a service company so we grew significantly as well but that is actually just an easy part. So everybody starts to do that as well so around the world there are a lot of companies started to do DaaS as well. Then we realized that running a drone company is not just about flying. The real value is about data then we added our software as a service as well so that we can provide a one-stop solution to our customers.
Now moving forward, we have now expanded even beyond that. We are looking at the adjacent of all these services that we provide. For example when we do agriculture. In the beginning, we provide agriculture solutions using drone and provide analytics that people can harness insights from the health of their trees to how to increase their yields, how to reduce operational costs, and so on. Now we realize there are other adjacent work that we can do with regard to agriculture. I will not go into details but the evolution here is actually about looking at gaps throughout the value chain of where we are operating and giving that a greater value to our customers.
On fundraising:
We are living in a very strange time. A very soft market, there are a lot of uncertainties. Things we need to do – tighten your belt, be prudent. When it comes to fundraising, don't raise more than you need. For example, in the first seven years or six years of our operation we only raise a small amount of money so you raise gradually. Maybe break it up because right now the situation is different. It's strange so I think that's what we need to be looking at. Don't be so hard about valuation right now. It's about growth. Focus on that.
Oranuch Lerdsuwankij, Co-Founder & CEO of Techsauce
Southeast Asia is very fragmented, we have more than 650 million people across this region. To be a successful startup not just only in the [home] market but outside. One of the most important things, whether they are B2C or B2B, is the local culture. Understanding the local culture, and customization is very important. Like B2C, they need to understand the market and the behavior of each market but for B2B, they need to understand who is very important in this market. For example, if you want to connect with the big corporate in Thailand or Indonesia, knowing who is very important to help you to connect with the big corporate in the country.
If you want to expand not just only in Thailand or Indonesia, or the other country in Southeast Asia, I recommend you to study more about the local market, customize your solution and connect with the right people.
Lin Xiangliang, Group Deputy CEO of ESCO Lifesciences Group
I think Southeast Asia is a interesting place. We have a huge diaspora but still as a region on a bloc on its own. Whilst our governments are trying to work through its harmonization that is still going to take some time before we really have full economic harmonization across Asean countries.
The market isn't huge in terms of like or like big in the USA or China, neither are there exit strategies in terms of listing up right in a way. So a lot of Southeast Asian countries still look towards Hong Kong or even Australia where this may be closer by to exit or even USA.
Given the global geopolitical or localization, actually, Southeast Asia has a very interesting role to play. many companies within China are then looking towards Vietnam as well as actually other countries within Southeast Asia to actually be the window to the world to then export out. Southeast Asia to really be the window towards the world and the Nexus between East and West.
I think that geographical advantage is interesting on its own and because the market size is fragmented itself. The best companies that we have seen or unicorns are operating in a niche that they can become be the first in class in the world rather than being a fast follower so I think those are the interesting areas for unicorns in Southeast Asia.
About BEYOND
Since 2020, BEYOND Expo has been held twice with great success. It has become one of the largest and most influential international technology expositions in Asia, attracting 800+ exhibitors and 55,000+ attendees worldwide. More than 150 industry forums featuring 500+ innovative business leaders as speakers will provide a global platform for insightful technology exchange.
BEYOND has officially announced that "Technology Redefined" is the theme for BEYOND Expo 2023, which was hosted in Macao from May 10 to 12. BEYOND Expo 2023 reached a new high in terms of scale, attendee influence, diversity of industries, companies, number of exhibitors, and overseas visitors. There were more than 100 events and networking sessions. We have connected with global tech innovation enthusiasts and facilitating in-depth interaction in all fields, including enterprise, product, capital, and industry to promote the global tech scene in the Asia-Pacific region and the world.